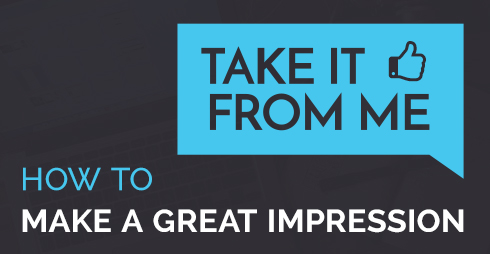 Thursday, March 12, 2015 / Boston
Do you have questions about what it takes to stand out in the competitive design field?  Are you looking for tips on promoting yourself with your resume and portfolio, at interviews, and while networking? Join AIGA Boston for the third event in our Take It From Me design practice series. Hosted at MOO in Boston, this panel discussion will help emerging creatives stand out to potential employers. Panelists with a variety of perspectives will offer their insights on what they look for while hiring. The panel discussion will be followed by a Q&A session and networking reception. Participants will leave with valuable resources to help them stand out in the field.
Panelists include: 
Brian Pope, Creative Circle
Lisa Vaughan Gralnek, Head of Marketing - Creatives, MOO
Tim Radville, Senior Brand Designer, Continuum
A representative from Arnold Worldwide
Mat Budelman, Product Designer, Evertrue (and AIGA President)
Laura Grey, Boston University (moderator) 
AIGA Member Exclusive!
AIGA members will be entered to win a raffle for Moo printing vouchers!

Sunday, March 22, 2015 / Easton

Join AIGA Boston for its innaugral Student Symposium at our newest student chapter at Stonehill College!

Meet students from our chapters and from around the Boston area for workshops, presentations, and a gallery reception.

Lunch provided.

=================================

Schedule

10:00 – 10:15
Welcome

10:15 – 10:45
Lecture
Don Tarallo on Design Activism
A presentation of a fellowship design project done in partnership with the Providence Youth Arts Collaborative to explore the role of graphic design to instigate positive social change in urban youth.

10:45 – 11:45
Workshop, pt. 1
Systems Thinking: Mapping the Social Ecosystem & Diffusion of Innovation WORKSHOP

In this workshop students ideate solutions that can instigate social change within a given social system. (led by Don Tarallo)

11:45 – 12:15:
Lunch

12:15– 1:15
Workshop, pt. 2
Systems Thinking: Mapping the Social Ecosystem & Diffusion of Innovation

1:15 – 1:45
Jennifer Liston Munson
Presentation and Q&A with Jennifer:
Senior Exhibition Graphic Designer, Museum of Fine Arts, Boston

1:45 – 2:15
Elias from Em Letterpress
Presentation and Q&A
Em letterpress, founded in 1999 to discuss letterpress

2:15 – 3:15
POSTGIG Gallery Opening + Dessert Reception
Hailing from Boston, POSTGIG is a traveling exhibition of contemporary music posters, curated by Clif Stoltze, author of 1000 Music Graphics.  The show features original works by Modern Dog, Aesthetic Apparatus, Patent Pending, The Small Stakes, Seripop, Hammerpress, The Decoder Ring, and many more.

2:30
POSTGIG Gallery Talk 
Gallery talk by Clif Stoltz

=================================

About the Designers+Presenters

Donald Tarallo

Donald Tarallo (BA Studio Arts, Clark University; MFA Graphic Design, RISD; Postgraduate studies at Basel School of Art and Design, Switzerland) has taught at Clark University, RISD, the Fraunhofer Institute's Digital Media program, and Samsung Art and Design Institute, and has worked as a graphic designer and photographer. Before then, he worked as an Art Director and photographer in Oslo, Norway. Since 2000, he has maintained a freelance practice focusing on visual identity and design, where he developed a new identity system for Sotheby's. During his time in Seoul he was a design manager for Interbrand, Korea, where he worked on numerous global branding and visual identity systems. He is currently doing freelance identity design and photography work, as well as teaching at the Guangzhou Academy of Fine Arts in China. His work has been awarded by the AIGA and been published in China, Korea and the US.

Clif Stoltze

As founder and creative director of Stoltze Design, Clif has nurtured a highly collaborative environment that emphasizes a process based on research, sound strategy and thorough exploration. This inclusive approach yields compelling communications that effectively articulate and reinforce the message or product. Clif has taught at Rhode Island School of Design and Massachusetts College of Art and frequently lectures at schools and design organizations around the country. He has served as AIGA Boston vice president and was honored as the recipient of their 2005 Fellow Award. Reflecting his love of music and album art, Clif's book 1000 Music Graphics was published by Rockport in May of 2008 and he is also curator of POSTGIG, a traveling exhibit of contemporary music posters.

Jennifer Liston Munson

Senior Exhibition Graphic Designer, Exhibitions and Design Department, MFA Boston, 2001 to present

Received her B.F.A. from Massachusetts College of Art, and her M.F.A. from the School of the Museum of Fine Arts in 1997 after studying at Loughborough College of Art and Design, Leicestershire, England. She has exhibited at commercial galleries and institutions, including CEPA Gallery, Buffalo, NY, University of Massachusetts Art Gallery, Lowell, Judi Rotenberg Gallery, and the Museum of Fine Arts, Boston. She has also been the recipient of the Massachusetts Arts Lottery Grant and the Traveling Scholars Award for the School of the Museum of Fine Arts.

Elias from Em Letterpress

Elias Roustom studied architecture in undergraduate school, and practiced for a while, until his need to be directly involved in what he was making was too much to ignore. A lifelong interest in the arts led him to study printmaking, the book arts, typography and photography, and before he knew it he was buying printing presses... He started EM Letterpress in 1999 and has been pushing and riding the wave of the American letterpress revival since. His personal work involves writing, photography, & drawing, book design and printmaking. Teaching has always been a passion and opportunities teach are taken as they come. EM Letterpress started with a hand-crank press and a lever cutter. Now there's four platen presses and a large format cylinder press, and all the support equipment to do just about anything that can happen with ink, foil, or toner on paper. Production & service centers around letterpress printing, and includes foil stamping, embossing, die cutting, offset, engraving and digital. EM Letterpress is expanding now to offer stationery & photography service and product to the wedding industry.
Thursday, March 26, 2015 / Cambridge

A panel of designers and education professionals will discuss how design methods can be used to foster collaboration, problem solving, and critical thinking with a focus on education. Panelists will offer their expertise on various applications of design thinking in education, and how it can be used to engage students, while putting process and perseverance back at the center of student work.

Speakers:
Katherine Londergan, Senior Business Design Lead, IDEO
Lisa Franz, Founder, The Wright School
Ela Ben-Ur, Professor of Design, Olin College
Tracie Costantino, Associate Dean of Faculty, RISD
February 18, 2015 / By Nick Di Stefano
| | |
| --- | --- |
| | February 2, 2015 / By Nick Di Stefano |
January 23, 2015 / Emily Hamre

A recap from Kim Erwin's Experiencing the New lecture about engaging team members and stakeholders in the design process.