Celebrating New England creative entrepreneurs
AIGA Boston is featuring a variety of local businesses related to design and art to highlight and promote the work of designers and artists around New England.
Support your peers, find a gift for a designer, or just browse the list for unique gifting and collaboration opportunities.
These past few years have been especially difficult. The COVID-19 pandemic has disproportionately impacted small businesses, particularly women-owned and BIPOC-led businesses.
Check out the 2021-2022 list below to find some new businesses to endorse.
---
Meet Some of Our Local Makers:
Maeve Nelson Designs
Boston, MA

About Maeve Nelson Designs | Hand painted or illustrated giftables, wedding favors, coasters, playing cards.
Online at: Maevenelsondesigns.com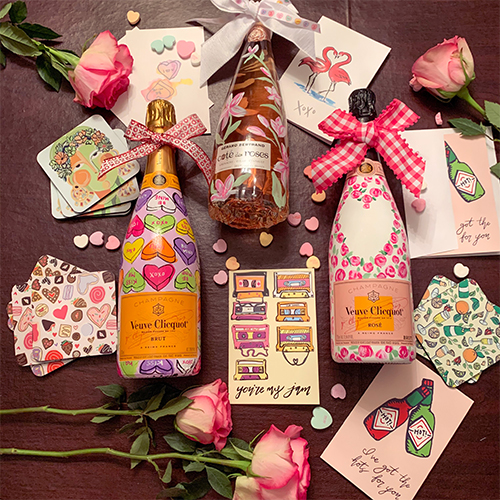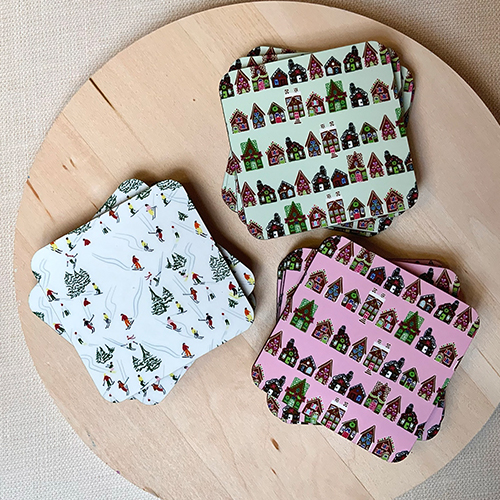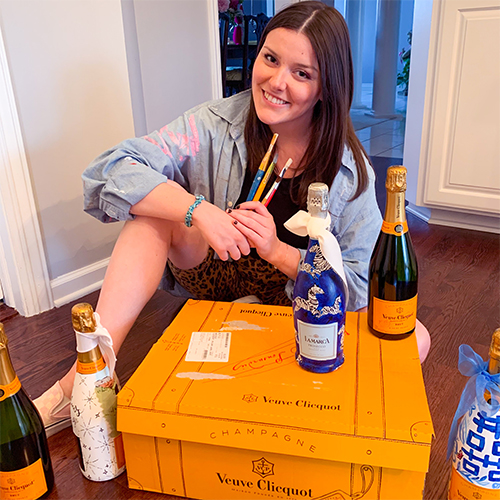 ---
Whole Circle Studio
New Haven, CT

About Whole Circle Studio | Whole Circle Studio offers modern quilts (both samples and custom orders) and accessories—such as enamel pins and notecards—based on quilt designs.
Online at: https://www.wholecirclestudio.com/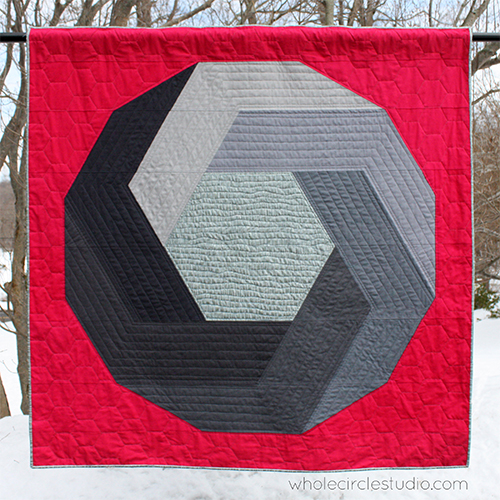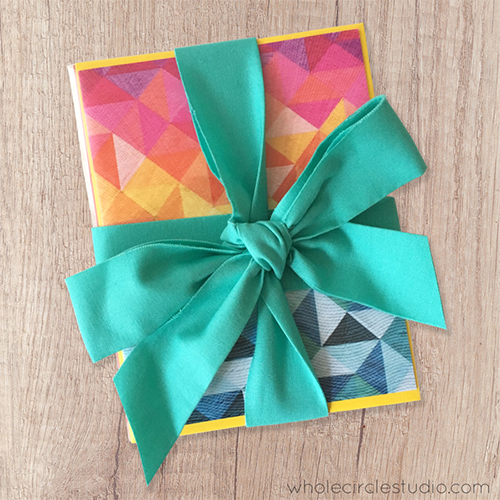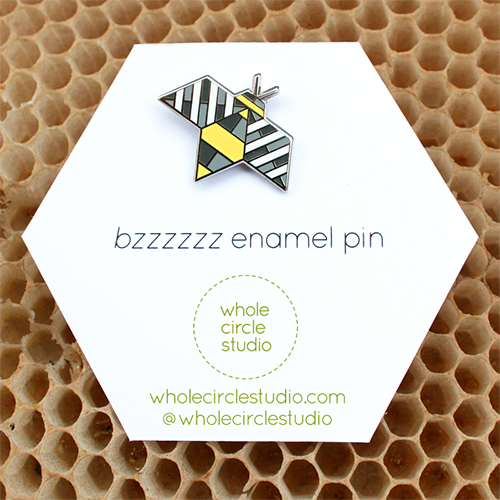 ---
Katherine Small Gallery
Somerville, MA

About Katherine Small Gallery | In addition to smaller and larger exhibits about graphic design, one will find for sale a selection of new, used, and rare books and magazines about graphic design and typography from publishers all over the world.
Online at: Ksmallgallery.com
Visit the gallery: 108 Beacon Street, Somerville, MA 02143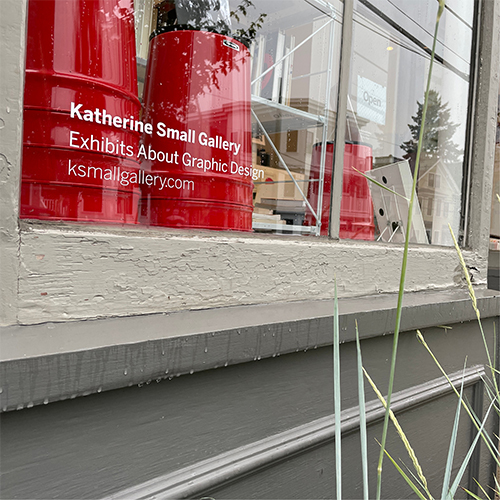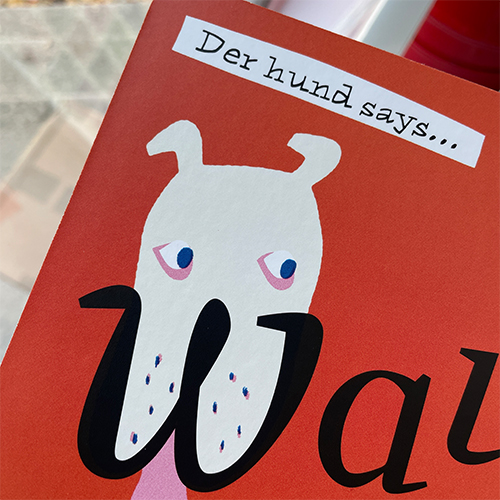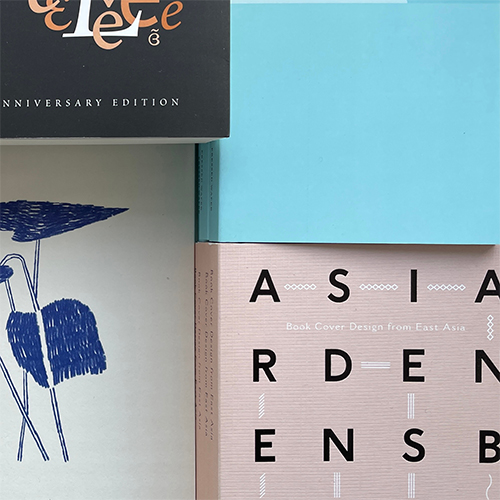 ---
tiny farmhouse by Amy McCoy, LLC
Rehoboth, MA

About tiny farmhouse by Amy McCoy, LLC | Cheery and fun note cards, note books, aprons, and tea towels designed to brighten your day. Featuring original illustrations and patterns, everything is produced in an environmentally responsible way. Aprons and tea towels are printed using eco-friendly inks in a facility that pays a living wage. Note cards are printed on hemp paper, and notebooks are printed on Forest Stewardship Council-certified paper.
Online at: www.amymccoy.com
Her work can be found at select retail locations. Contact the shop for more details!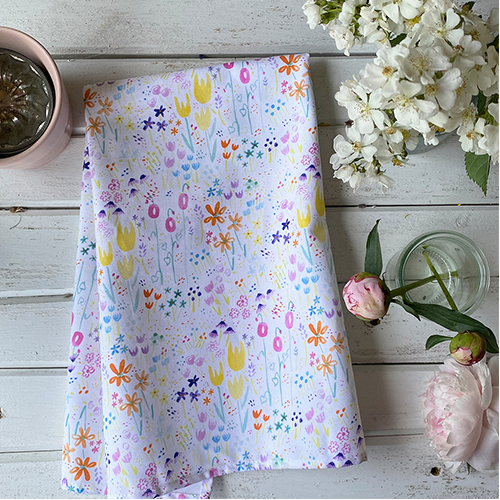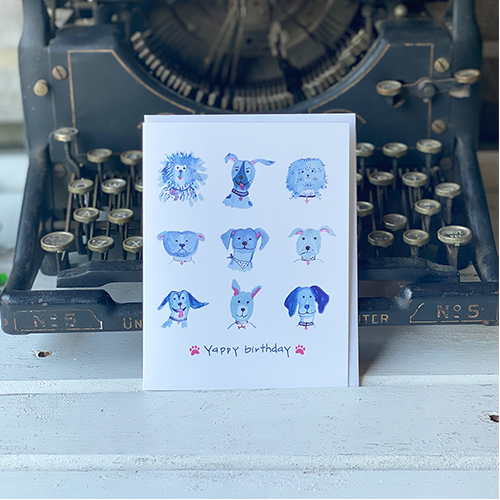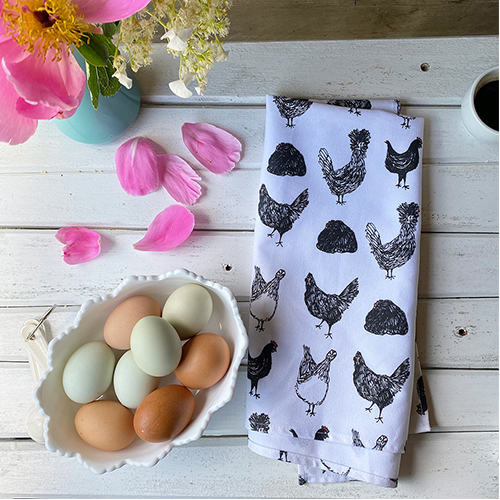 ---
Quincy, MA
About Grocery Store Floral, by K1.Media | Grocery Store Floral is a project from my graphic design studio, K1.Media. GSF explores nontraditional preservation of grocery store flowers through photography and digital collage. I sell both limited and open editions prints of my Floral Collages (chromogenic prints on Kodak metallic paper). I also offer commissioned collages, chromogenic prints of floral arrangements I have made, greeting cards, ornaments, and a 2022 desk calendar (those last two will be added to my site soon!).
Online at: www.grocerystorefloral.com
Her work can be found at select retail locations. Contact the shop for more details!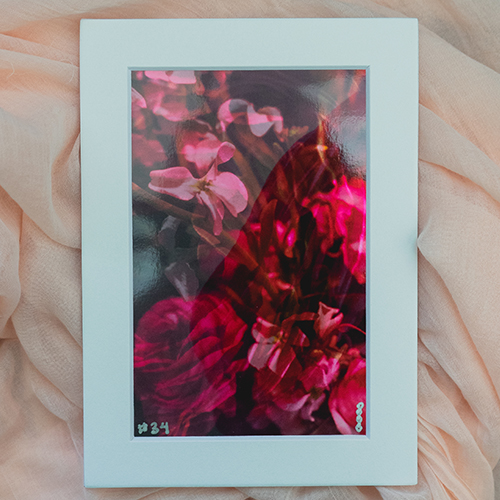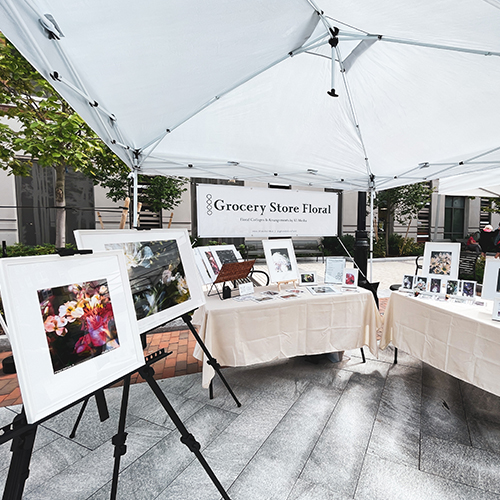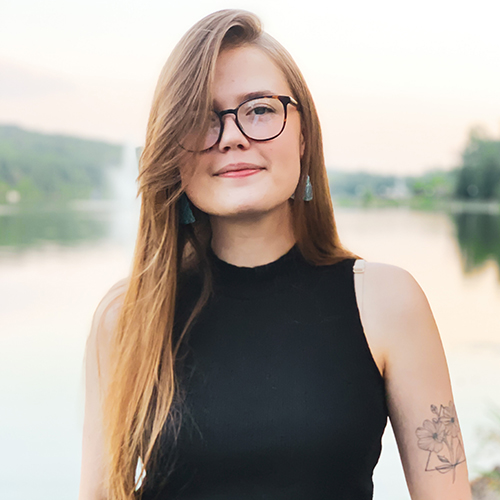 ---
Tisha Mark Fine Art
Wakefield, MA

About Tisha Mark Fine Art | Tisha Mark tells stories in oil paints within the context of seascapes and landscapes, depicting places that are both remembered and imagined. She draws inspiration from the coastline, salt marshes, and forests of her current home in Massachusetts, as well as from memories of the rural landscapes where she grew up in Northern Illinois. She enjoys studying light, and often creates with a limited color palette to emphasize shifts in light and atmosphere. Her paintings feature a variety of dynamic textures, from soft brush strokes to bold palette knife markings, intended to capture the energy of a moment in time.
Online at: www.tishamark.com/welcome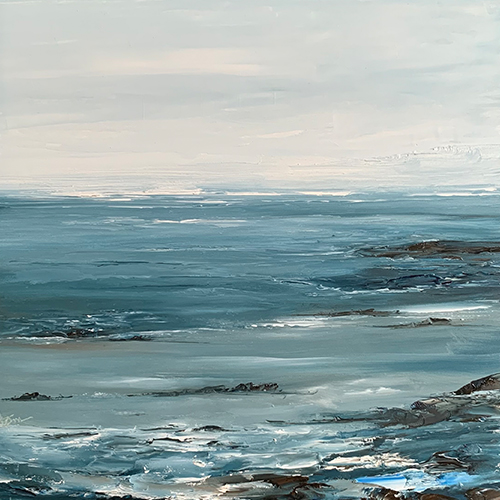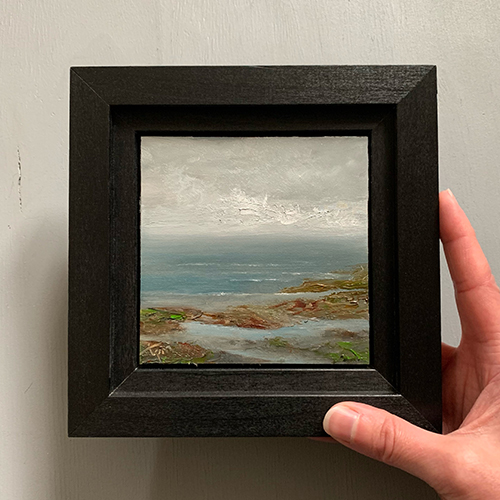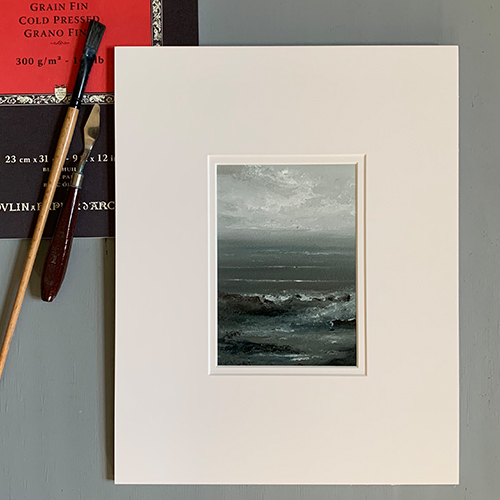 ---
yeiou paper objects
Arlington, MA
About yeiou paper objects | Yeiou paper objects is 3D paper art that celebrates home and the importance of Place in our life stories. My Paper Places collection of map art explores the shapes of our towns and cities and where home might be within those boundaries. Custom paper house portraits capture the details that make a house a home in heirloom paper sculptures.
Online at: https://www.yeiou.com
My Paper Places map art is sold at:
Tiny Turns Paperie
1 Bow Market Way, #28
Somerville, Massachusetts 02143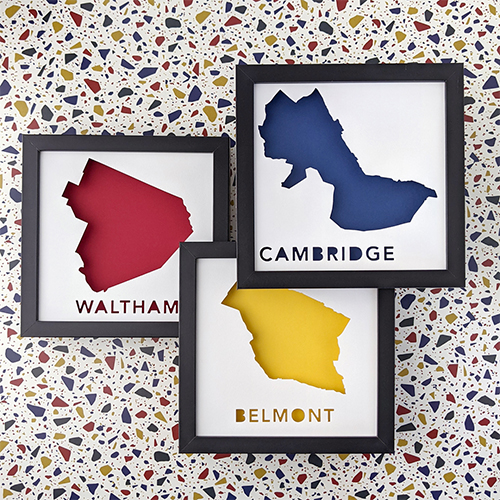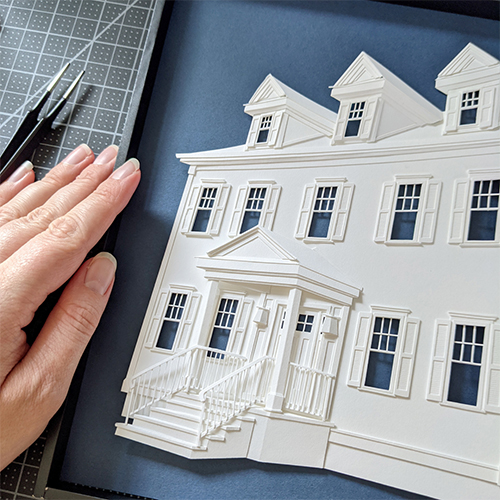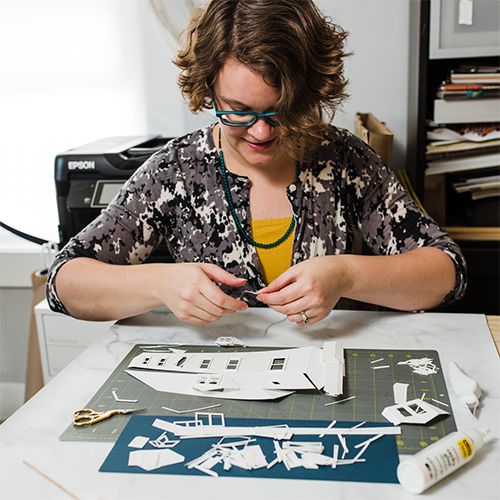 ---
Sharin Schober ART
Boston, MA

About Sharin Schober ART | Abstract paint/ primarily mixed media (sand and paper) and acrylic on canvas of any size. Most paintings inspired by nature.
Online at: www.sharinschober-art.com
Her work can be found at select retail locations. Contact the artist for more details!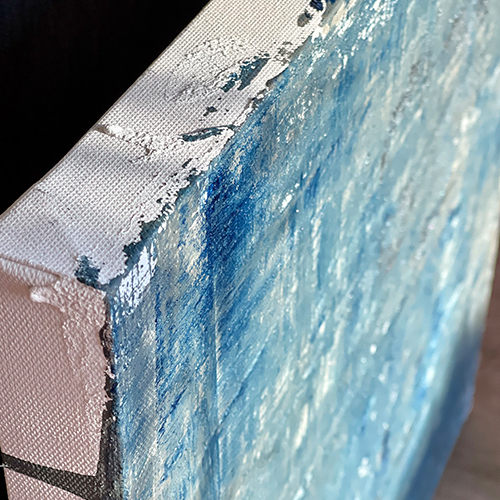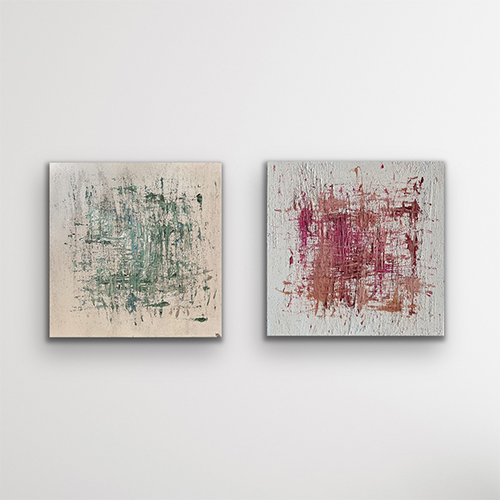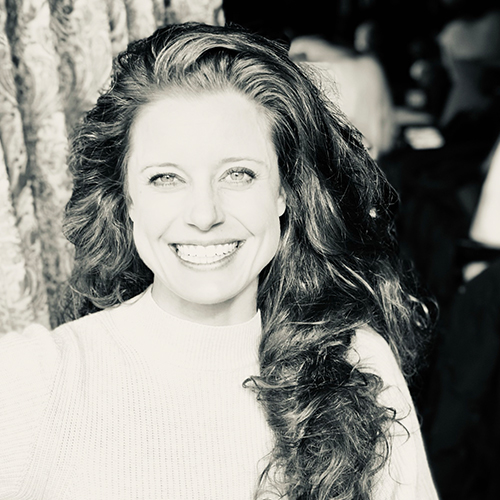 ---
Little Bear Illustration
Marshfield, MA

About Little Bear Illustration | With a focus on woodland creatures and their adventures across enchanted, dreamlike landscapes, I create illustrations that bring the viewer back to the magic and wonder of childhood when even the stars themselves are within reach.
Online at: littlebearillustration.com
Her work can be found at select retail locations:
Made It! Plymouth and Provincetown, MA
Loft and Vine Boston, MA
Craftland Providence, RI
Homeslice Hudson, MA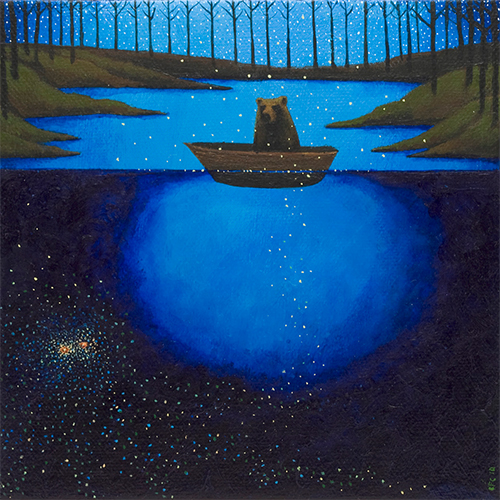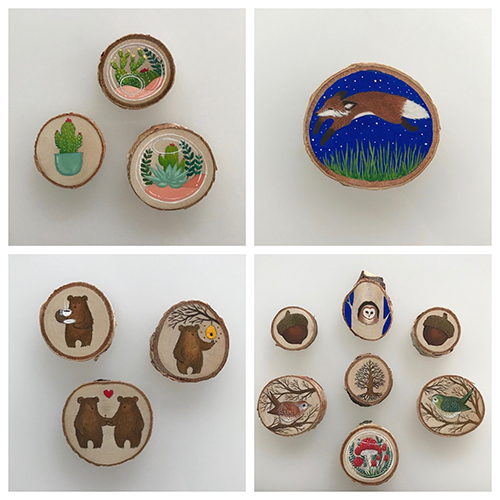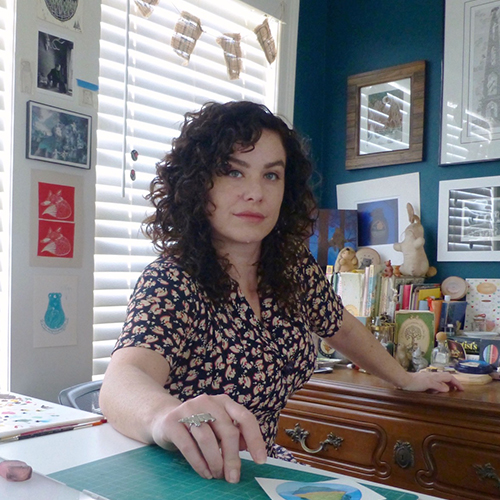 ---
JaneMade
Hingham, MA

About JaneMade | A full service creative studio that exists beyond the linear. Specializing in brand design, packaging design, web development and copy + content.
Online: https://janemade.co/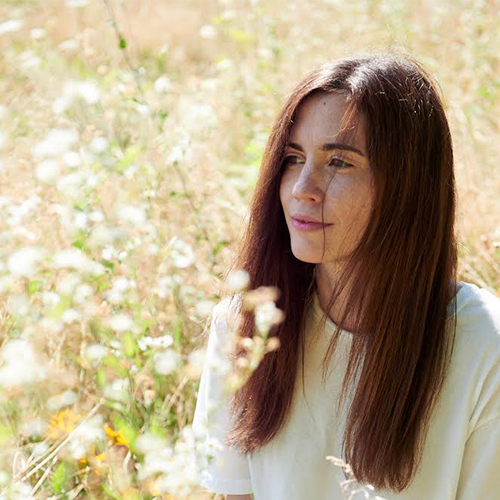 ---
Kaleidowall
Cambridge, MA

About Kaleidowall | Kaleidowall is modern, abstract origami wall art handmade for spaces large and small. These minimal, paper wall sculptures are framed and ready to hang, but custom pieces can also be commissioned.
Online: https://www.kaleidowall.com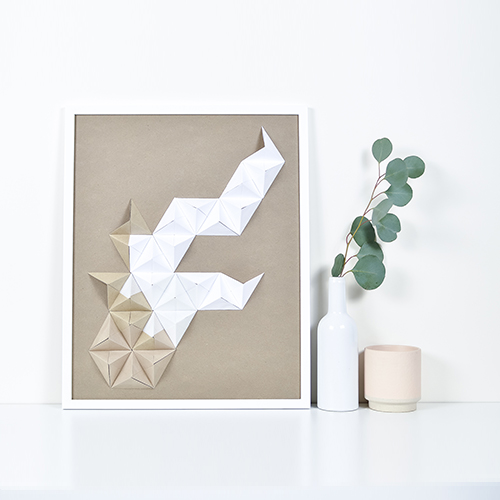 ---
Lunch City Studio
Somerville, MA
About Lunch City Studio | Lunch City Studio is a collection of art by Courtney Drake. Courtney creates building portraits, cityscapes, maps, and color palettes. Every piece is designed to connect people and places. Our shop also features plastic-free goods from women, LGBTQ+, and BIPOC-owned businesses. You'll find art prints, greeting cards, mugs, tea, plants, chocolate, candles, notebooks, soap, and other treats.
Online: lunchcitystudio.com
Visit the Studio: 265 Washington Street, Somerville, MA 02143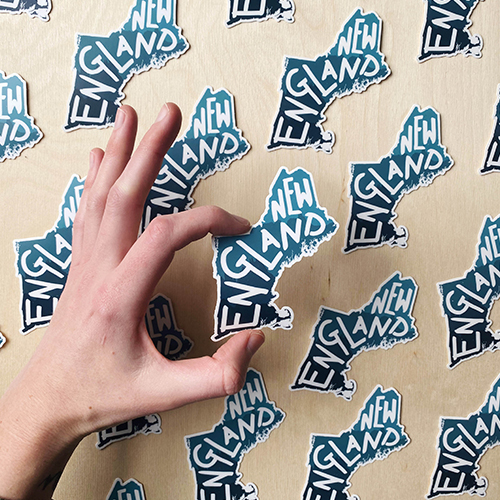 ---
Emma B. Garcelon
Portland, ME

About Emma B. Garcelon | I design and create hand-printed textiles and original art prints. My products are sustainably minded and inspired by Earth. My current focus is on a collection of tea towels and napkins printed with leaf designs inspired by leaves I have collected and pressed.
Online: https://www.emmabgarcelon.com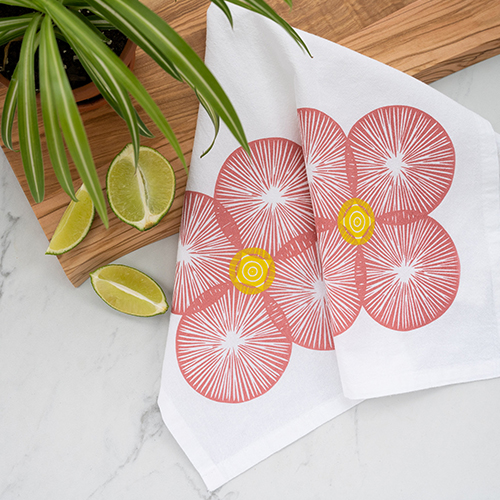 ---
Nahi
Boston, MA

About Nahi | Graphic and Web Design; Digital Strategy
Online: nahimade.com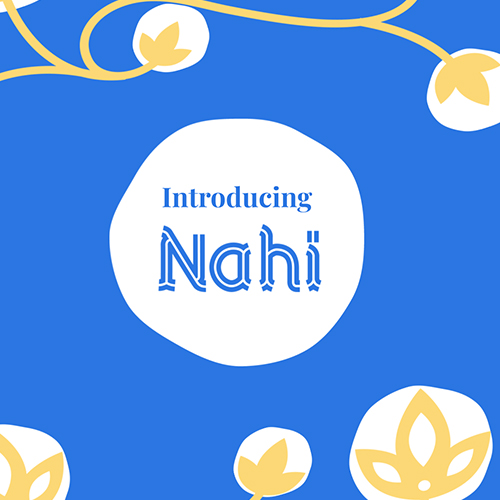 ---
Maria Servellon
Boston, MA

About Maria Servellon | Video Production, Directing, Camera Operating, Production Design, Screenwriting, Producing, Editing, Photography, Content Creating, Exhibitions, Screenings, Lectures, Panels, Artist Talks, Commissions, Teaching, Tutoring, Contracting, Consulting, Artist-in-Residency, Jury, Curating.
Online: mariaservellon.com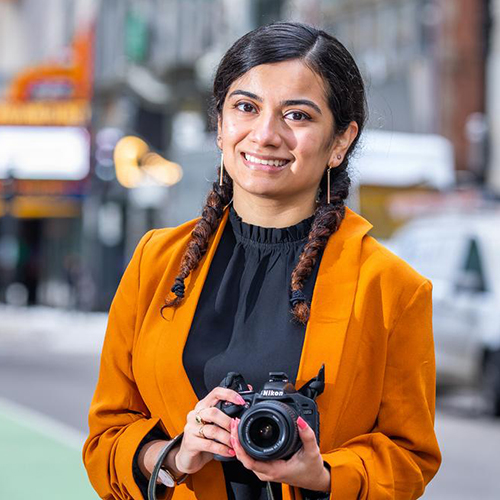 ---
Hue Paper Co
Portland, ME

About Hue Paper Co. | Hue Paper Co. is a paper goods studio based in Portland, Maine. I created hue to share my lifelong love of stationery and design, and to create products that celebrate the simple beauty of mark-making. Each and every hue card is hand-painted and completely unique!
Online: https://www.huepaperco.com/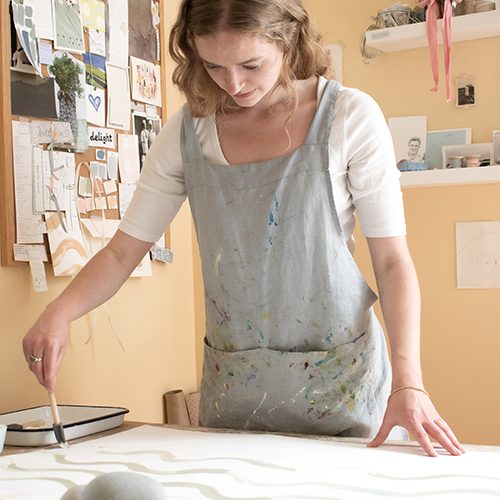 ---
John Robert Roy
Providence, RI

About John Robert Roy | Thoughtful and minimalistic paintings and sculpture.
Online: Johnrobertroy.com
John's studio is located in North Providence, RI and open by appointment.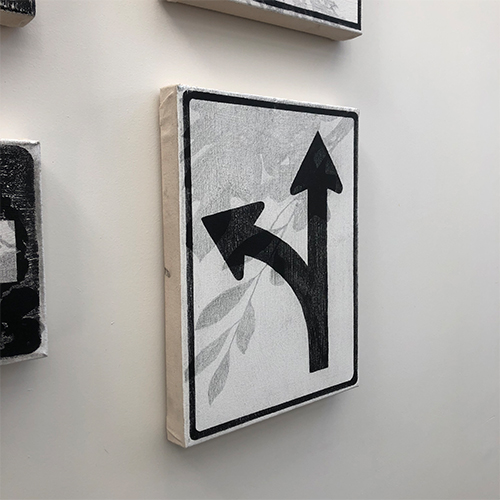 ---
interrobang letterpress
Jamaica Plain, MA

About interrobang letterpress | 2022 celebrates 30 years of traditional graphic design from the largest collection of hot metal type in Eastern Massachusetts. Work is designed and set by hand and on the last Linotype in the area. I also design books digitally and manage their production.
Online: interrobangletterpress.com
Visit the Studio: 18 Kenton Road Jamaica Plain, MA 02130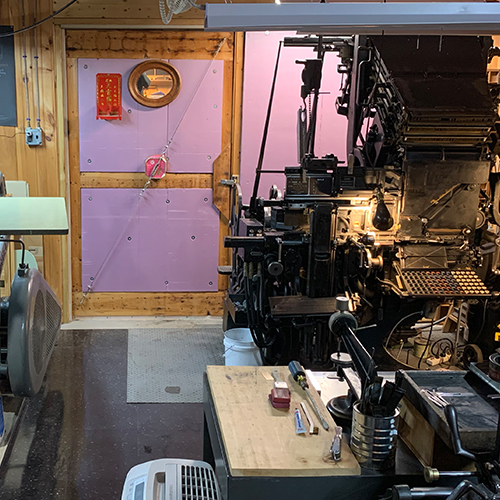 ---
Blue Kite Press
Boston, MA

About Blue Kite Press | Blue Kite Press is a creative studio in Boston, MA that designs bright and colorful illustrations to decorate housewares, stationery, and gifts.
Online: https://bluekitepress.com
Her work can be found at select retail locations.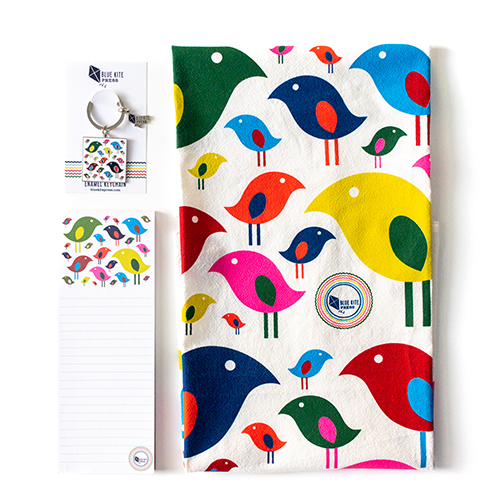 ---
Kristiina Almy Art and Design
Boston, MA

About Kristiina Almy Art and Design | Fine art oil paintings and designs produced on various products as well as art prints.
Online: https://www.kristiinaalmy.com

---
Restwell Goods
Originally from Providence, RI

About Restwell Goods | Restwell is a journaling company helping people slow down and create more space for what they love. Through handcrafted, refillable leather journals and guided journaling prompts written by compassionate and inspiring authors, we provide beautiful and thoughtful journaling tools to help you explore yourself and help you define and lead a more intentional life.
Online: www.restwellgoods.com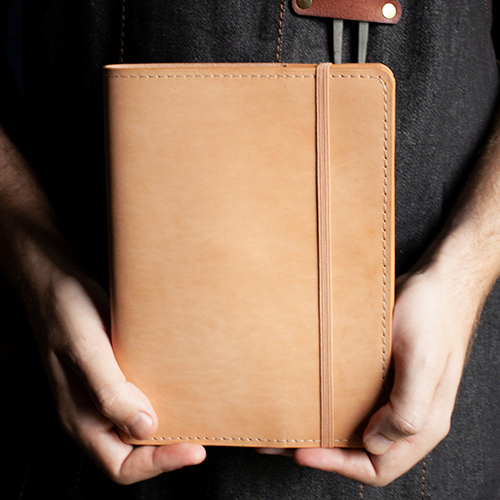 ---
Tibbie's Treasures
Framingham, MA

About Tibbie's Treasures | I make custom face masks, and design fabric bags that incorporate whimsical fabrics.
Online: https://www.etsy.com/shop/TibbiesTreasures

---
Kingston Gallery
Boston, MA

About Kingston Gallery | A contemporary art gallery in SoWa, showcasing a diverse range of artwork in a mutually supportive environment that encourages experimentation and growth. 100% of the income from sales of artwork in the gallery benefits artists.
Online: www.kingstongallery.com
Visit the Studio: 450 Harrison Ave, No. 43. Boston MA 02118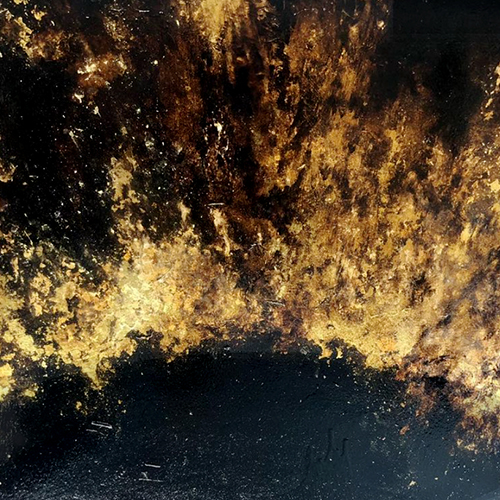 ---
Allison Tanenhaus
Providence, RI

About Allison Tanenhaus | Music videos, public art projections, gallery installations, cat stickers!
Online: https://allisontanenhaus.com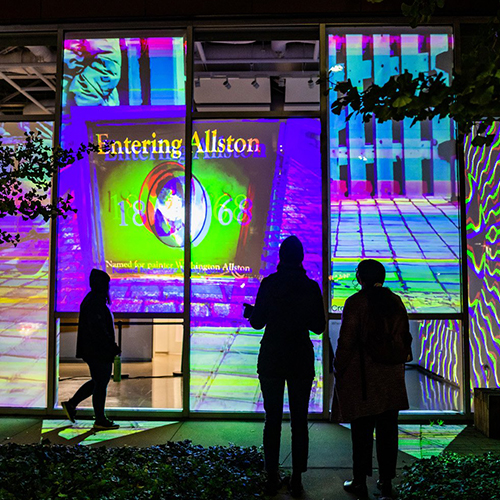 ---
Sophie Rae Art
Boston, MA

About Sophie Rae Art | I primarily prefer to create larger scale works that allow me to question the relationship between my upbringing and the world today. Through overlapping layers of thought, I begin a painting from simply a vision of color and an idea, and continue layering until a conversation of color and phrase forms within each work. These visual conversations frequently include overlapping themes of love and death, animals and anatomy, and religion and emotion. Uniting all of these ideas, and often seen throughout my work is my signature skull imagery. I believe the skull is an icon of humanity, vibrancy, and is what connects us all as human beings. My work's purpose is to attempt to breath life into this iconically stoic symbol and make sense of humankind.
Online: www.sophieraeart.com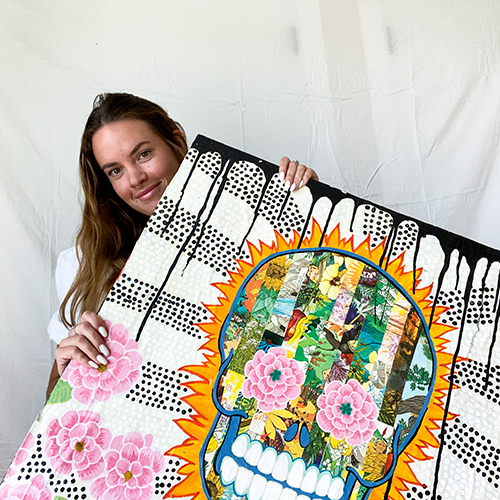 ---
Make a Mess
Boston, MA

About Make a Mess | Prints, patches, pins, often lgbt+ themed items
Online: http://makeamess.shop

---
R. Marth Studios/Gluesticks and Polaroids
Boston, MA

About R. Marth Studios/Gluesticks and Polaroids | Abstract resin paintings and resin based home decor
Online: rmarthstudios.com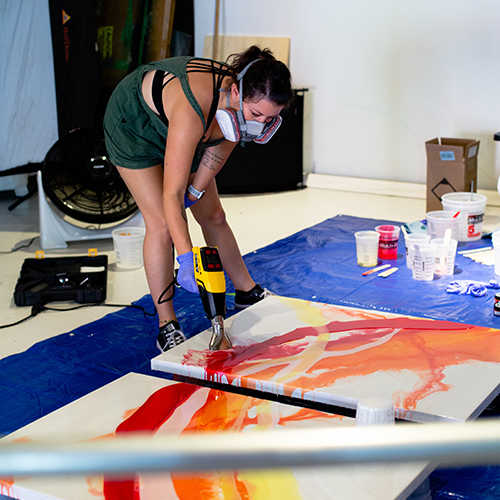 ---
Holling & West
Malden, MA

About Holling & West | We want to help you keep real, tangible connections through all of life's ups and downs. And we think there's no better way than with punny illustrated greeting cards, colorful typographic wall prints, and productivity notepads and stationery! All the things you need to plan your time, celebrate your friends, and to decorate your home for when they come to visit!
Online: hollingandwest.com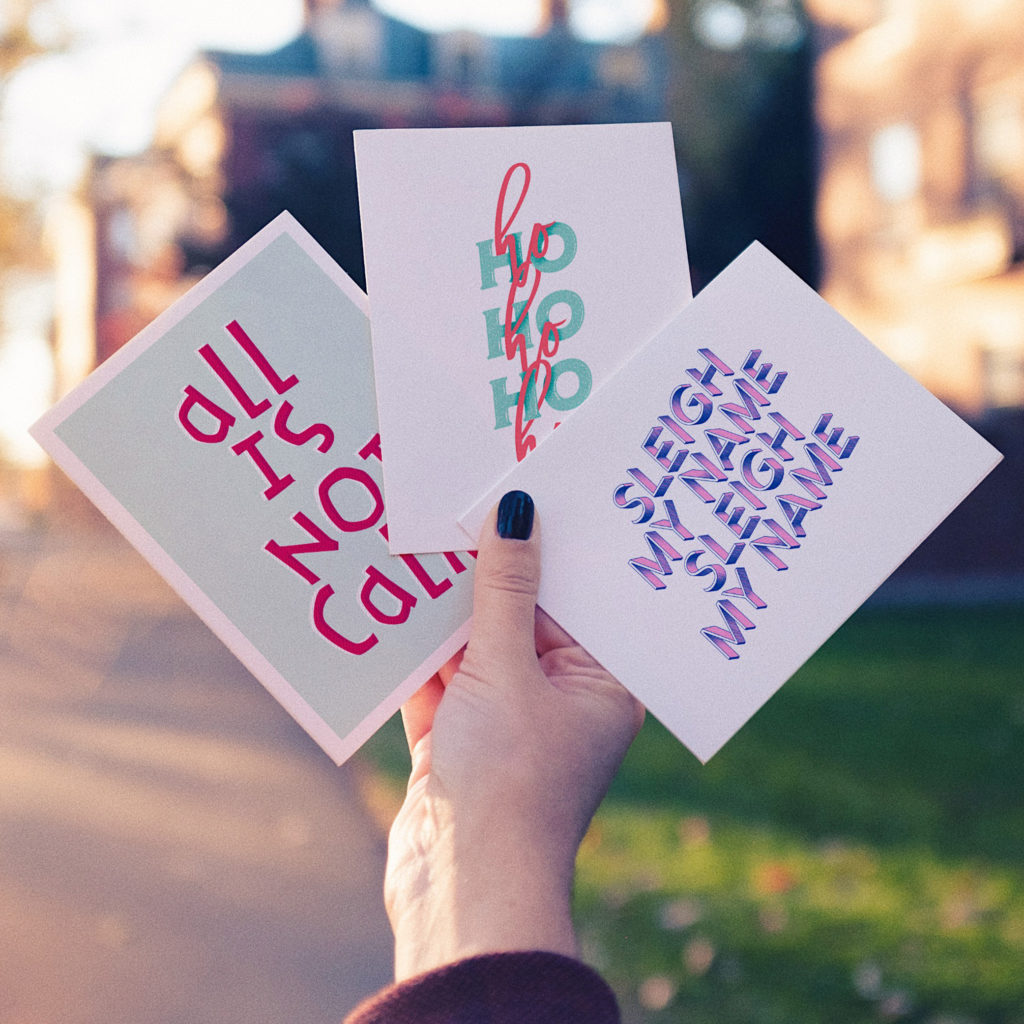 ---
Emily Lynn Perelman
Brookline, MA

About Emily Lynn Perelman | I explore graphic symbols through a variety of medium such as digital illustration, printmaking, cut paper, and spray paint. Much of my work is created by exploring the intersection between mindfulness and creativity. Viewers often describe my work as surreal, psychedelic, and otherworldly.
Online: emilylynnperelman.com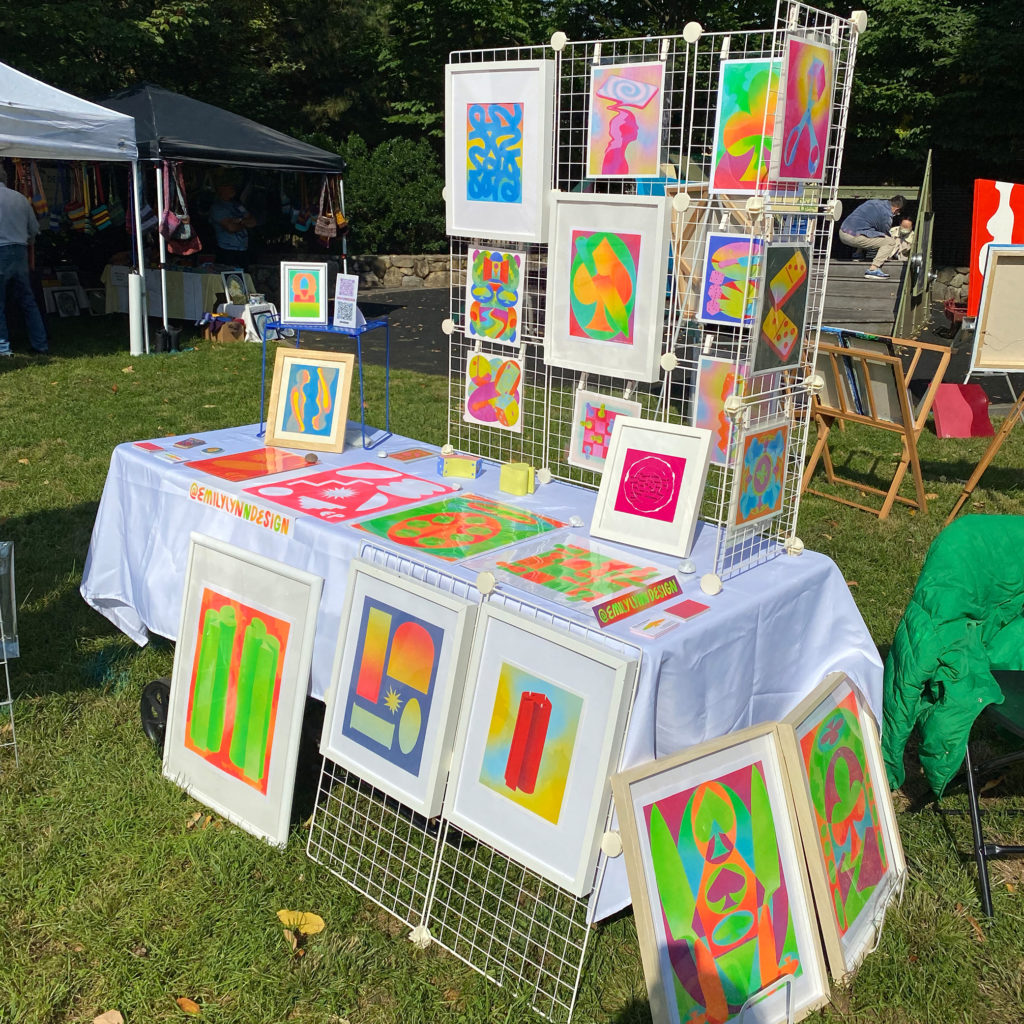 ---
Likemind Design
Dracut, MA

About Likemind Design | Murals and brand design with pep and punch! Likemind Design was founded in 2019 with a mission to elevate the brands of small, independently-owned businesses just like us.
Online: likeminddesign.com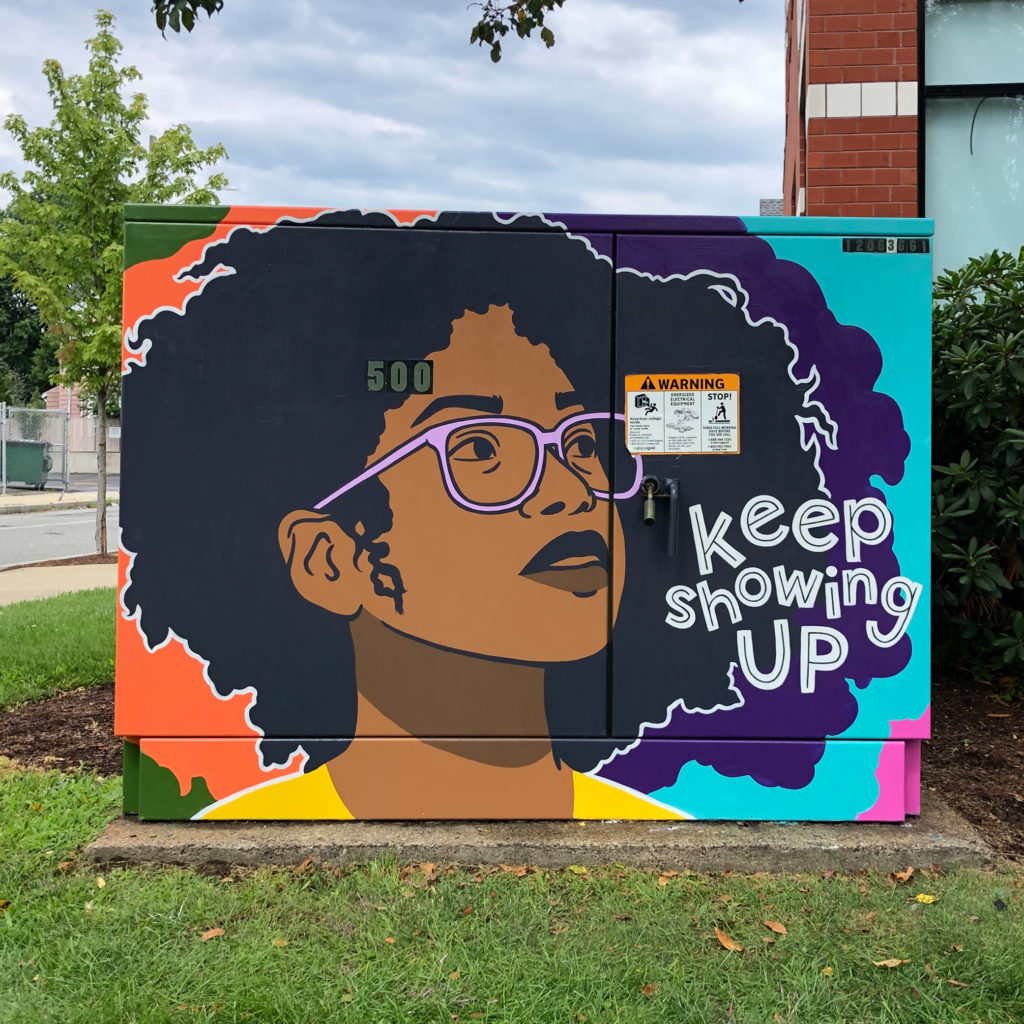 ---
Draw Down Books
New Haven, CT and Cambridge, MA

About Draw Down Books | We are an independent publisher and online bookshop. Our books are sold at fine shops in the United States and internationally. Draw Down Books is a designer-run publishing platform based in New England, producing publications that focus on graphic design, photography, typography, illustration, and architecture. Draw Down also sells a curated collection of art and artist books, zines, and design-related publications.
Draw Down is run by Christopher Sleboda and Kathleen Sleboda. Christopher Sleboda is currently a faculty member in the School of Visual Arts at Boston University, where he teaches graphic design in the undergraduate and MFA programs. The pair also annually teach a course in experimental form-making at the Rhode Island School of Design in Providence, Rhode Island. In additional to running Draw Down, the Slebodas also make images for print and screen under the studio name Gluekit. Kathleen Sleboda is Nlaka'pamux and a member of the Coldwater Indian Band of Merritt British Columbia.
C Sleboda profile: https://www.bu.edu/cfa/profile/christopher-sleboda/
K Sleboda profile: https://eyeondesign.aiga.org/designer-educator-publisher-kathleen-sleboda-on-online-archives-and-plural-narratives/
Online: draw-down.com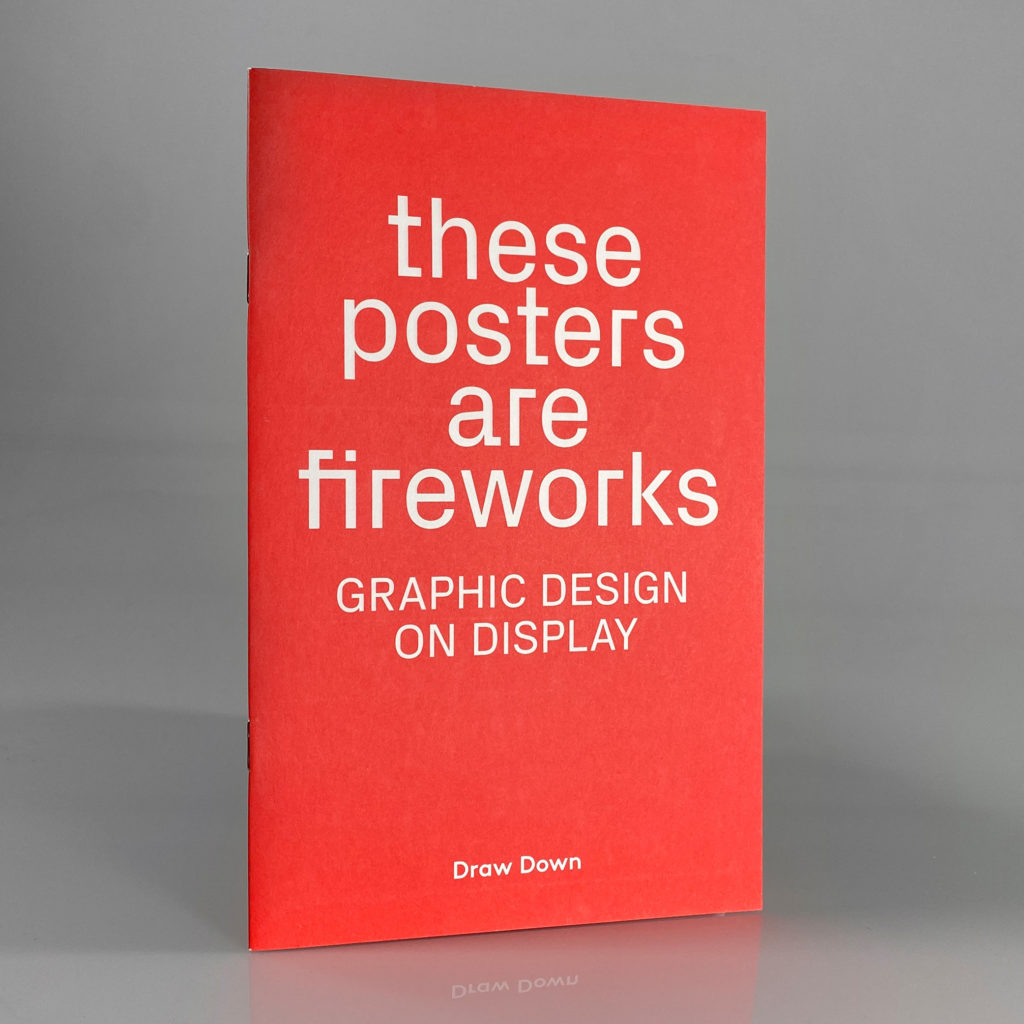 ---
ChromaQueen
Boston, MA and Providence, RI

About ChromaQueen | ChromaQueen is a photo editing services company, specializes in photo retouching and color correction for print and digital media. The Discerning Designer's Resource for Retouching & Color Correction Services
Online: https://ChromaQueen.com | Art Reproduction Services | Food Retouching | Color Correction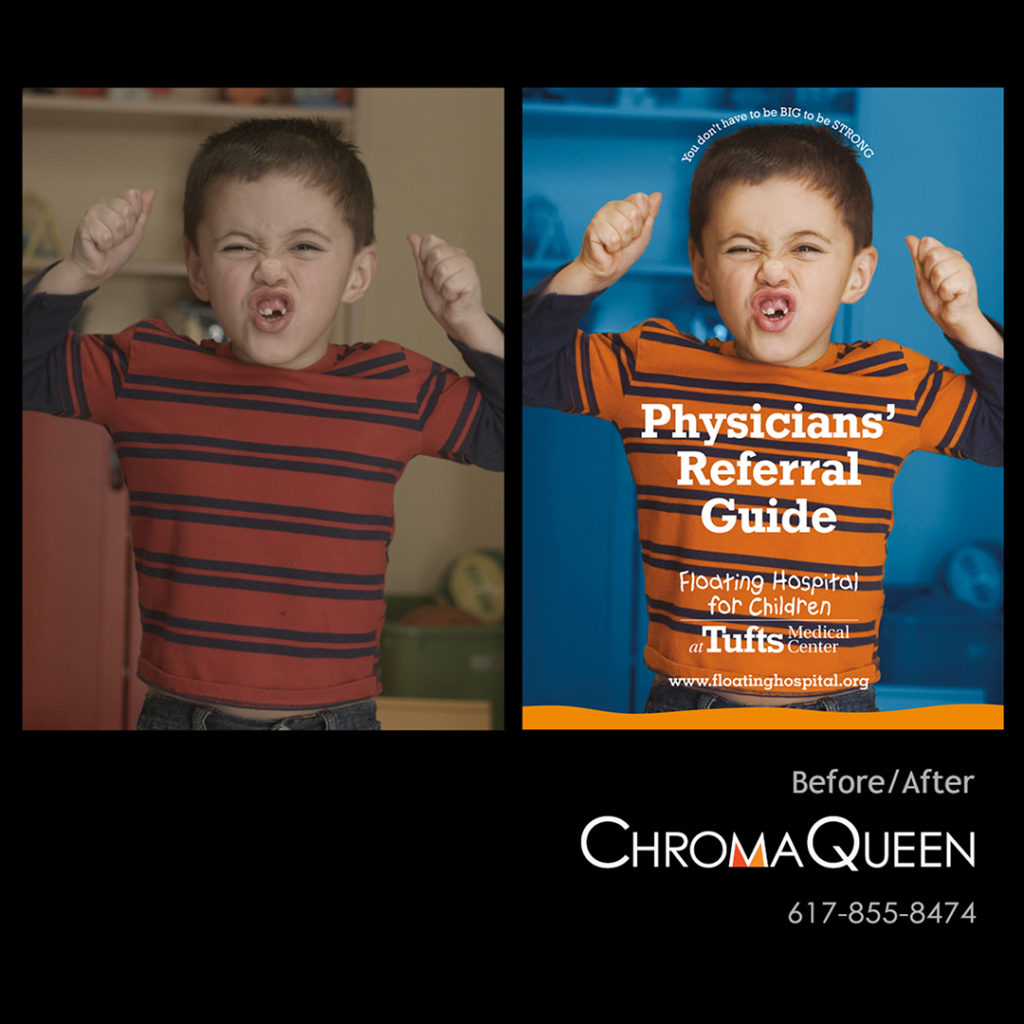 ---
Half Seven Projects
Boston, MA

About Half Seven Projects | Music centered art, with emphasis on paintings, prints and merch design. I love to lean into various seasonal experiments and work with different types of mediums to make more limited edition projects- including block and silk screen prints, floral crafts and other items!
Online: Halfsevenprojects.com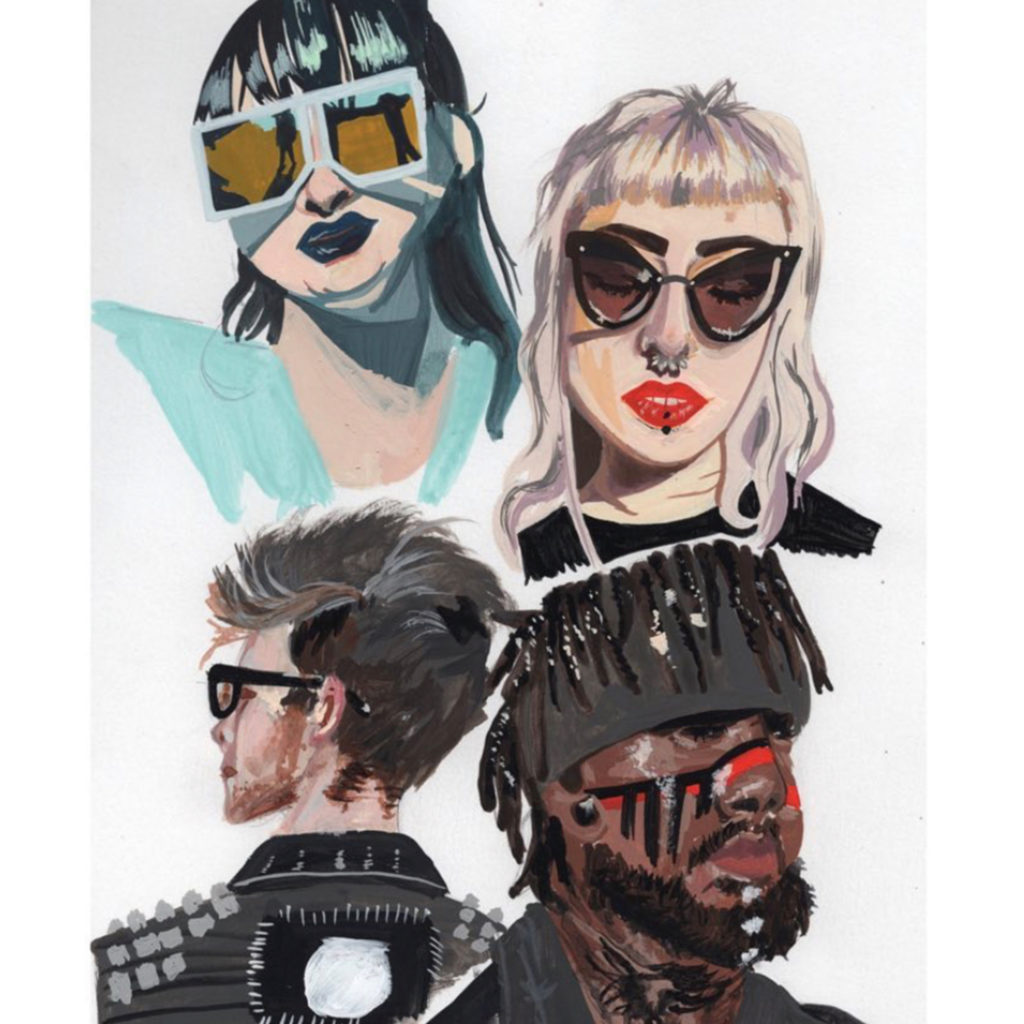 ---
Melody Phaneuf Paintings
Boston, MA and Gloucester, MA

About Melody Phaneuf Paintings | Melody Phaneuf Paintings is a woman owned gallery and teaching studio in Gloucester, MA. Melody Phaneuf is well known for her evocative still life, landscape, and portrait paintings. Her colorful oils combine observation with imagination and memory. Her still life paintings are inspired by mythology and symbolism, while coastal landscapes embody the soul of Cape Ann—many veiled in moonlight or wrapped in the moist atmosphere of winter. Melody accepts commissions and offers painting classes and art coaching.
Online: https://melodytheartist.com | https://melodytheartist.com/workshops-events/
Visit the Studio: 3 Centennial Ave, Gloucester, MA 01930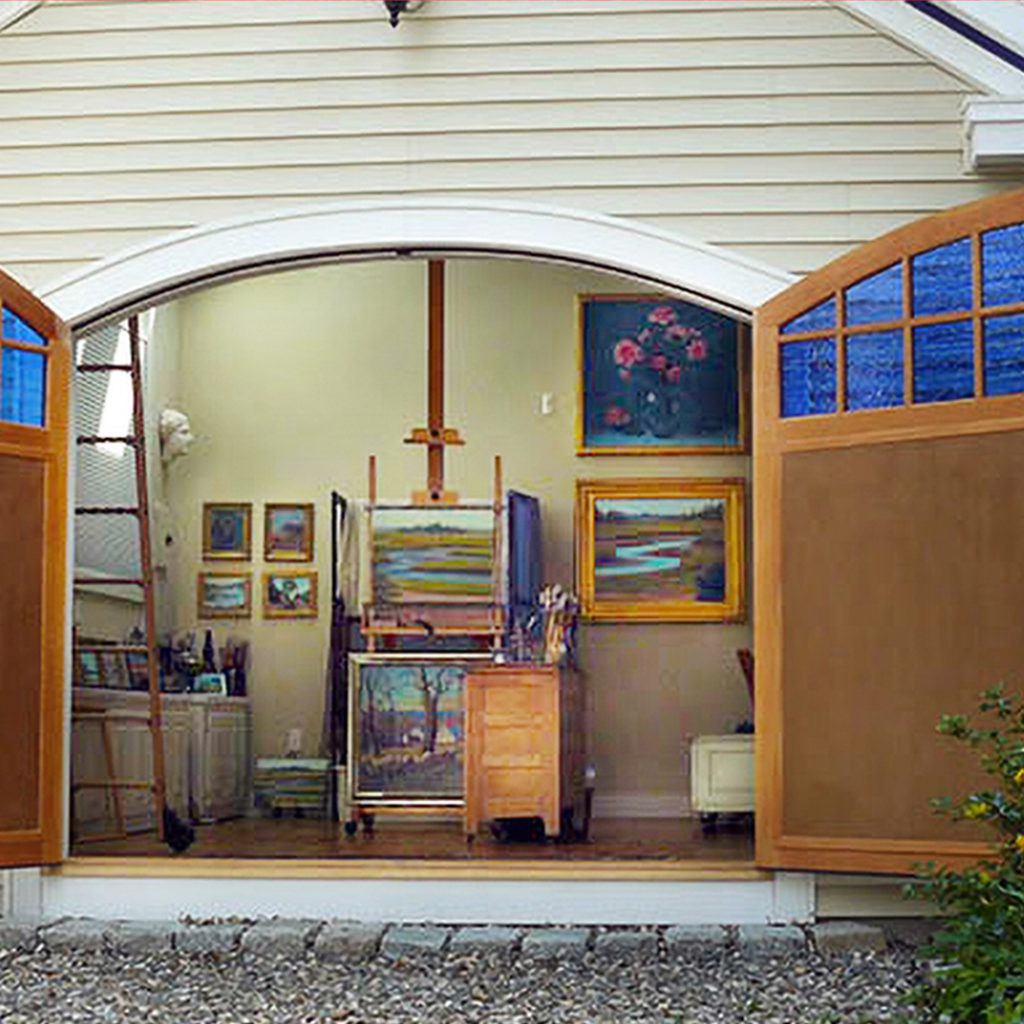 ---
Motionless Visions
Worcester, MA

About Motionless Visions | Motionless Visions is the independent creative studio of artist Adam Cutler. Drawing inspiration from extreme bands, '90s comics, and 16-bit video games, he deftly treads a line between eerie and whimsical to produce prints, books, stickers, and original art.
Online: www.motionlessvisions.com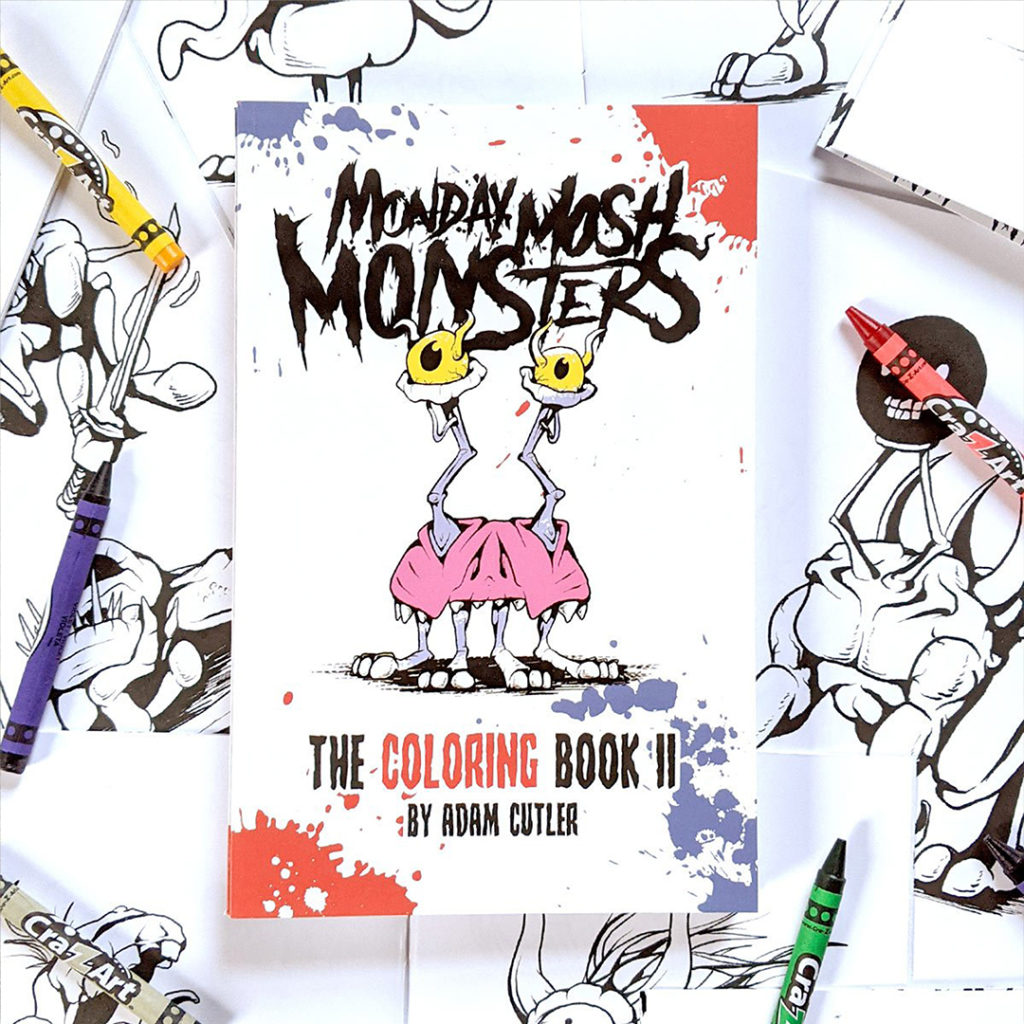 ---
Julia Emiliani Creative
Boston, MA

About Julia Emiliani Creative | Julia Emiliani is an artist, illustrator, and designer based in Boston, MA. She runs Julia Emiliani Creative, which specializes in providing custom illustration and design services. In addition, she creates original paintings and prints of the things she loves. Find her work available for purchase online or at select retailers in the Boston area!

Online: www.juliaemiliani.com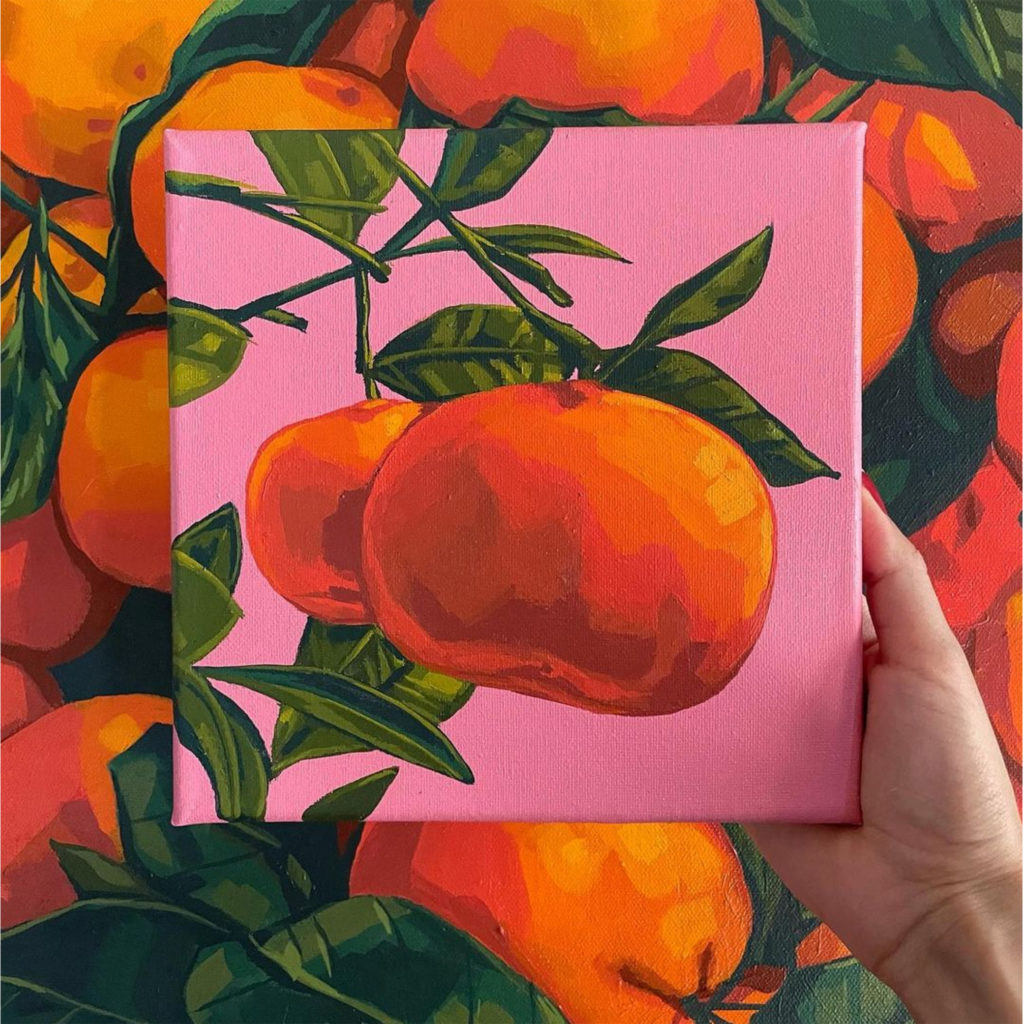 ---
rrrusha
Boston, MA

About rrrusha | Handmade & custom watercolor cards, divebooks, journals and underwater creations!

Online: www.etsy.com/shop/rrrusha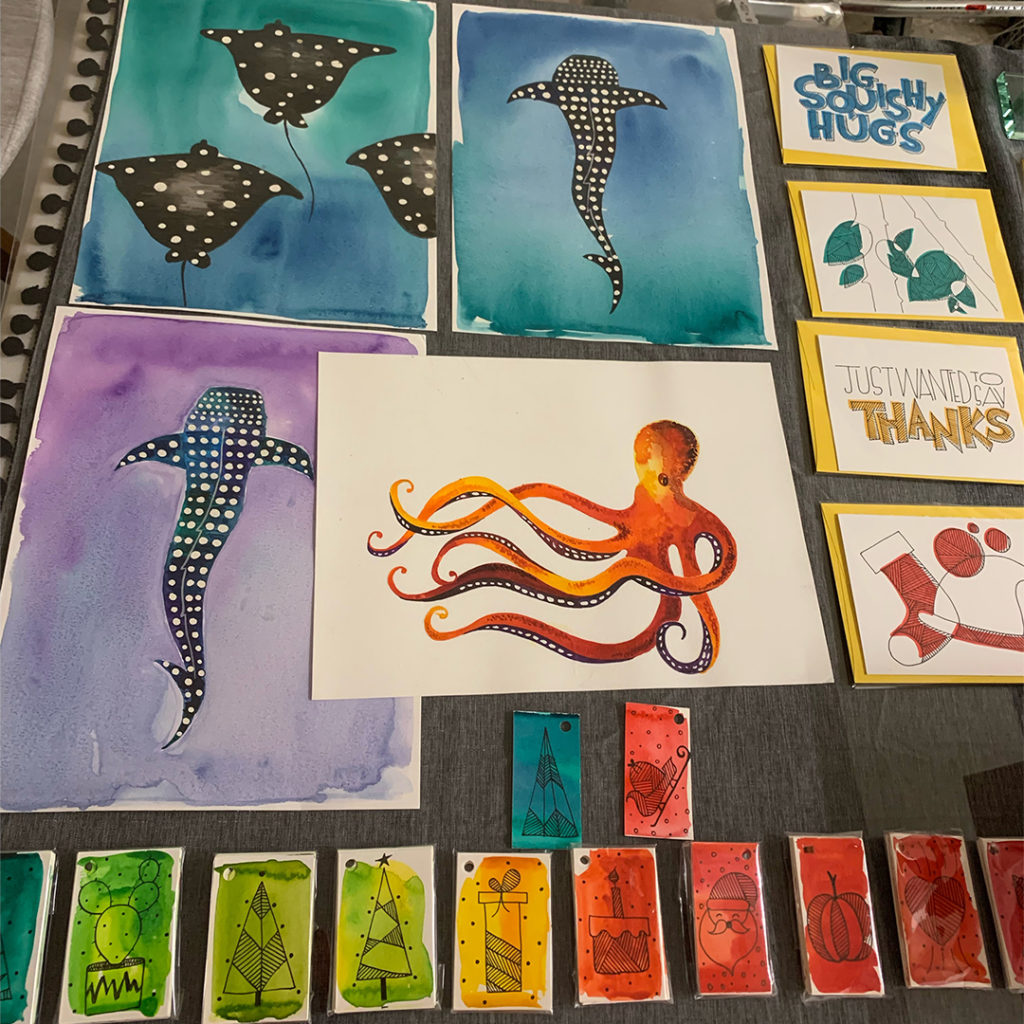 ---
Leila Simon Hayes
Boston, MA

About Leila Simon Hayes | I create contemporary abstract patterns that evoke a sense of play and ease. My surface pattern designs are born from remixing and reimagining black and white ink drawings into bold, colorful, unusual patterns that muse on playful scale and color combinations alongside an exploration of rhythm and movement. The items in my shop range from accessories and apparel (bandanas, totes, baby onesies, etc) to stationery (journals, cards, calendars) and home/lifestyle products (prints, mugs, quilts). I practice environmental sustainability where I can in my art practices and my goods, and plant a tree for every order placed in my shop.

Online: leilasimonhayes.com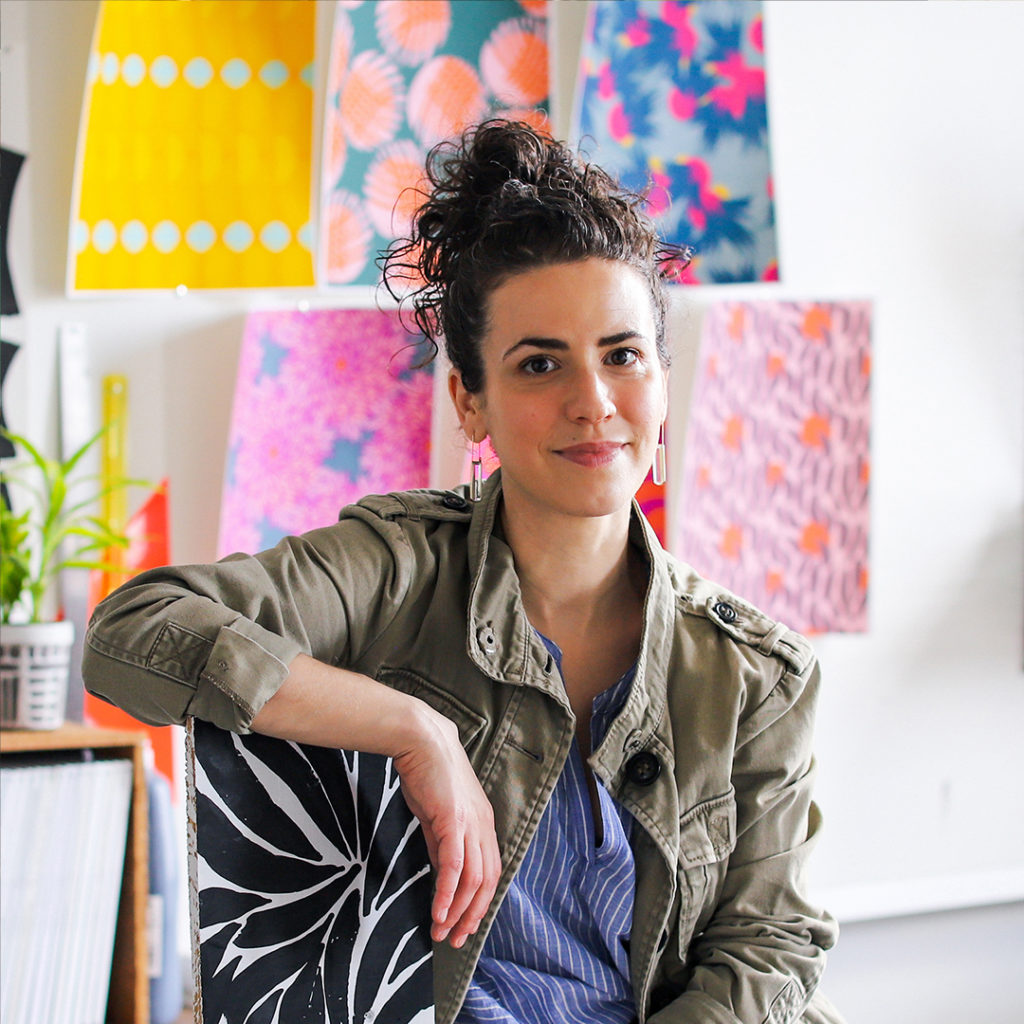 ---
Ariel Kessler – Mixed Media Art
Watertown, MA

About Ariel Kessler – Mixed Media Art | Original mixed media art. My art is a combination of painting, printmaking, collage and sculpture. Colorful and whimsical, I sell originals, limited edition giclee prints and greeting cards, sculptures and ornaments.

Online: www.ArielKessler.com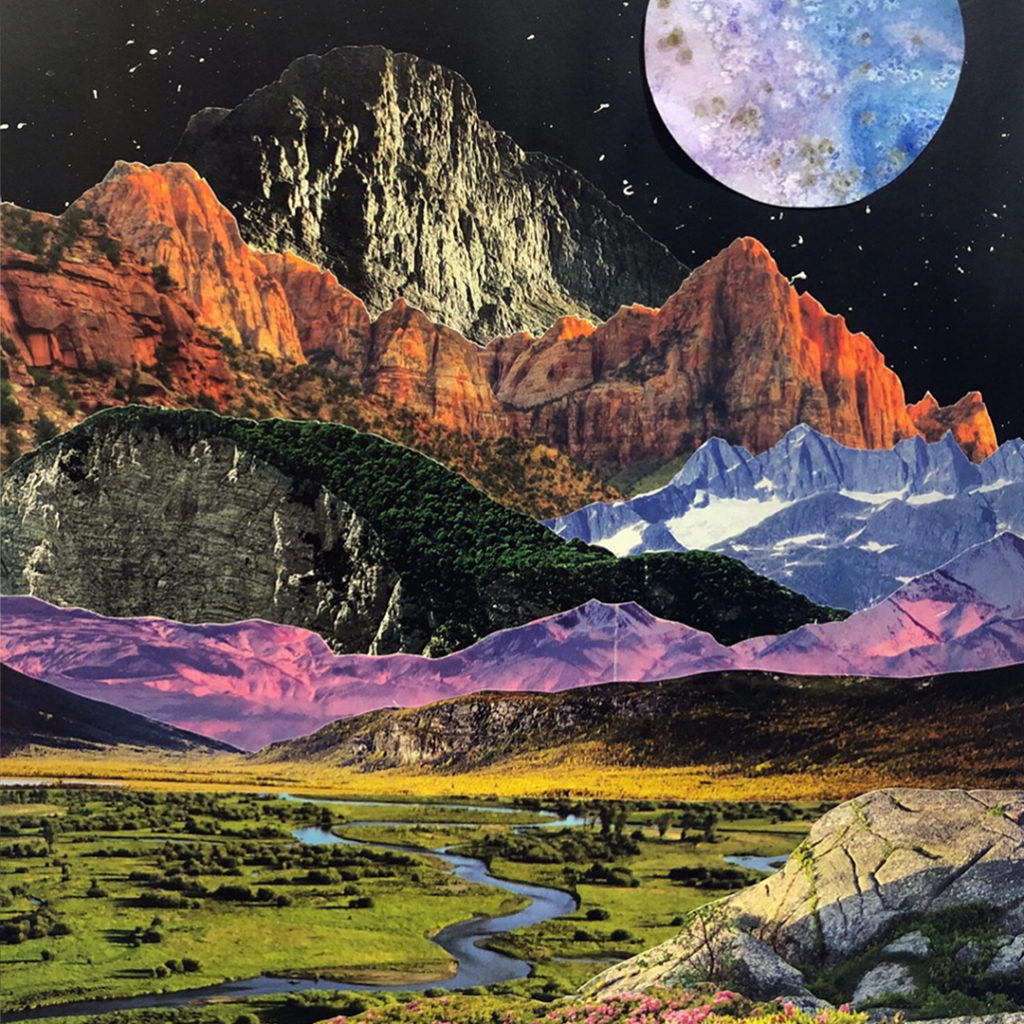 ---
Lori Magno Studio Designs
Boston, MA

About Lori Magno Studio Designs | Primarily jewelry designs in responsibly sourced silver, gold, copper, bronze, steel, enamel, found objects, enamel, and anything else that catches my eye.

Online: www.lorimagno.com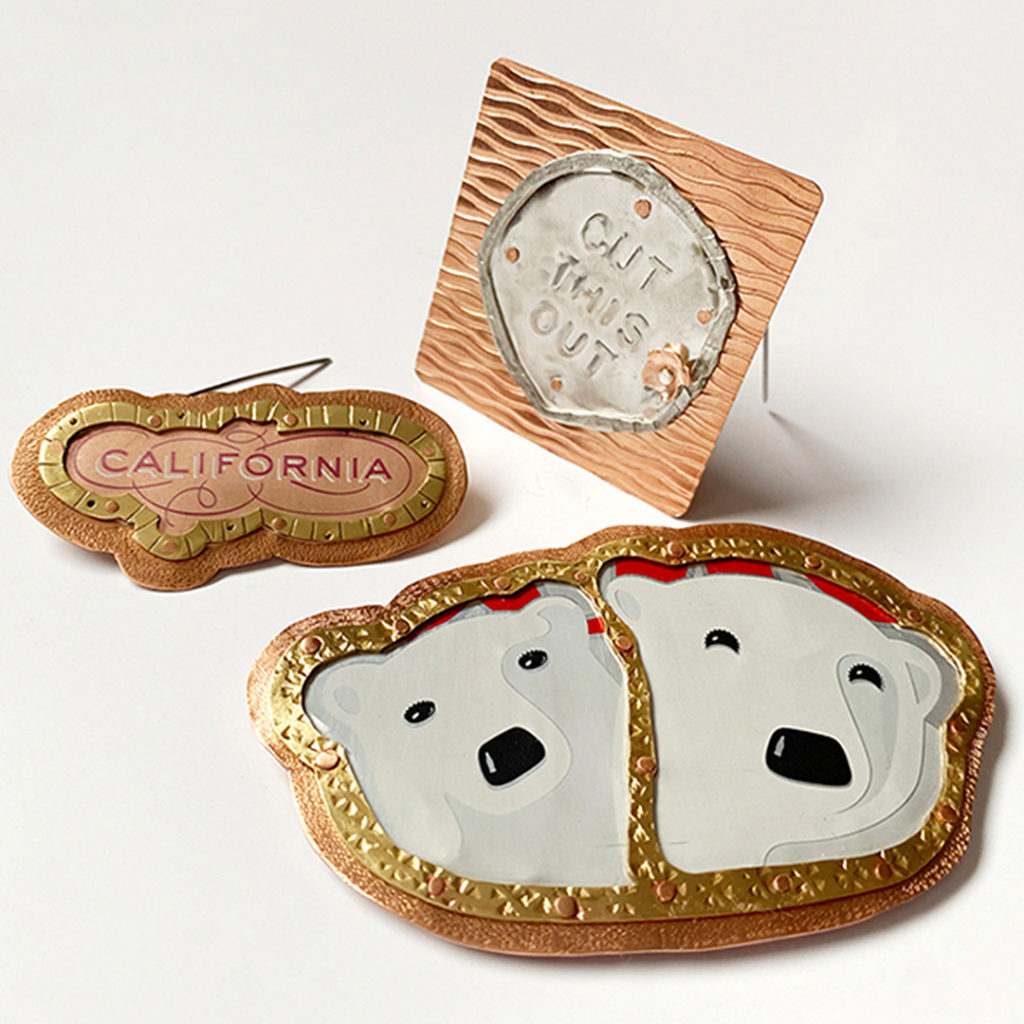 ---
Third Craft Pottery
Boston, MA

About Third Craft Pottery | My work incorporates my background in architecture in my ceramics. The ceramics I make is intended for everyday use.

Online: https://www.etsy.com/shop/thirdcraftpottery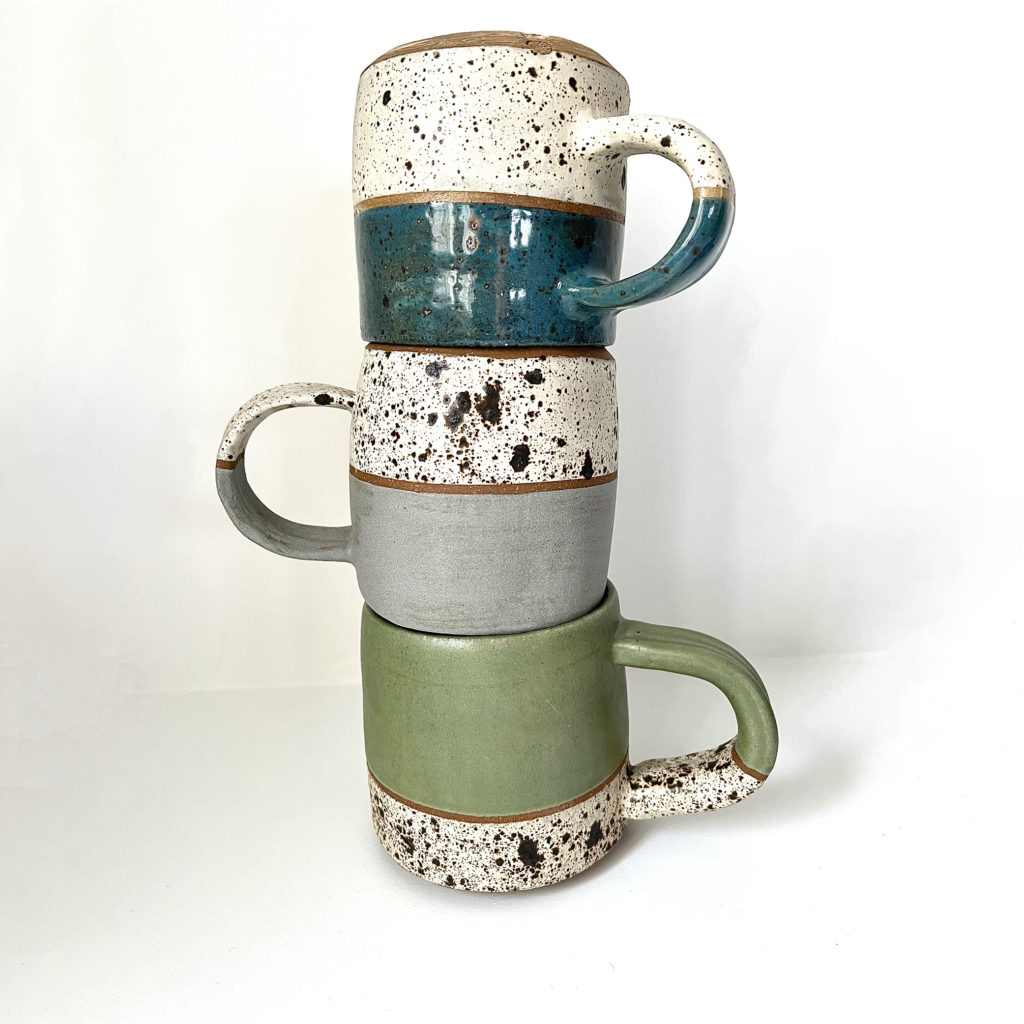 ---
Carlie Febo Photography
Boston, MA

About Carlie Febo Photography | As a photographer, Carlie strives to portray moments of authenticity, vulnerability, joy, and connection. She spent her childhood borrowing her mother's camera so she could capture the people around her. She studied photography in college at Lesley College of Art & Design and has been shooting professionally since then alongside her art museum-education career. Carlie's photographs bring out the true feeling of an atmosphere and the people who make a community come together. She is interested in capturing local artists, makers, events, spaces, and communities. She encourages photoshoots that touch on self-love and empowerment. She offers sliding scale and payment plans for those who find cost to be a barrier. She chooses to work with people, organizations, and businesses that prioritize anti-racism practices, equity work, and centering accessibility.

Online: http://carliefebo.com/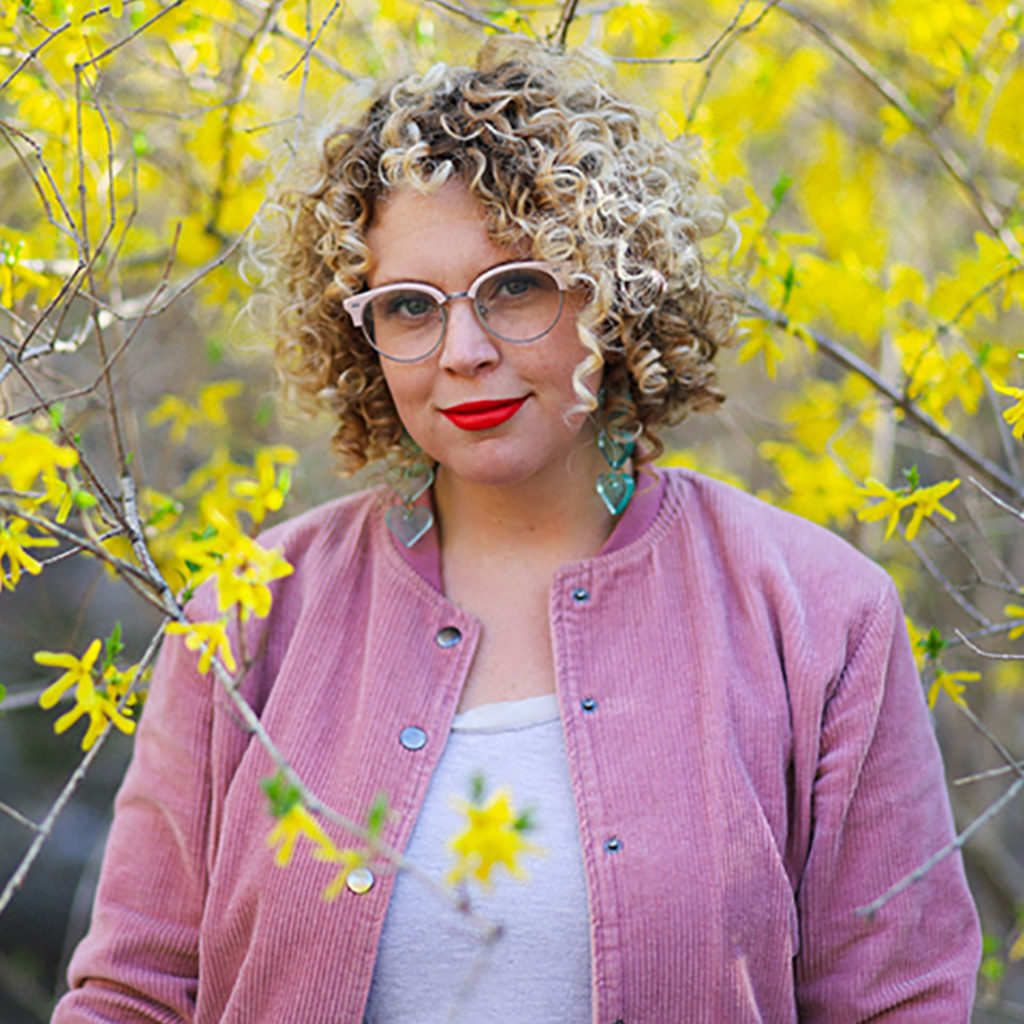 ---
Clovis
Boston, MA

About Clovis | Clovis is a unisex athletic and loungewear brand inspired by the timeless style of equestrians. We strive to use sustainable materials, manufacture in the U.S. where possible, and many of our designs are unisex. From sweatshirts and tees to sweat-wicking athletic 1/4 zips, everything is custom, made from quality materials and designed to transition you from the places you play to wherever the rest of the day may lead. Clovis was originally designed to create affordable clothes and riding gloves for equestrians, but the brand has quickly shifted to cater to a variety of sports like golf and tennis. Our tops make great layering pieces for skiers, and they're very comfortable to run and workout in!

Online: www.shop-clovis.com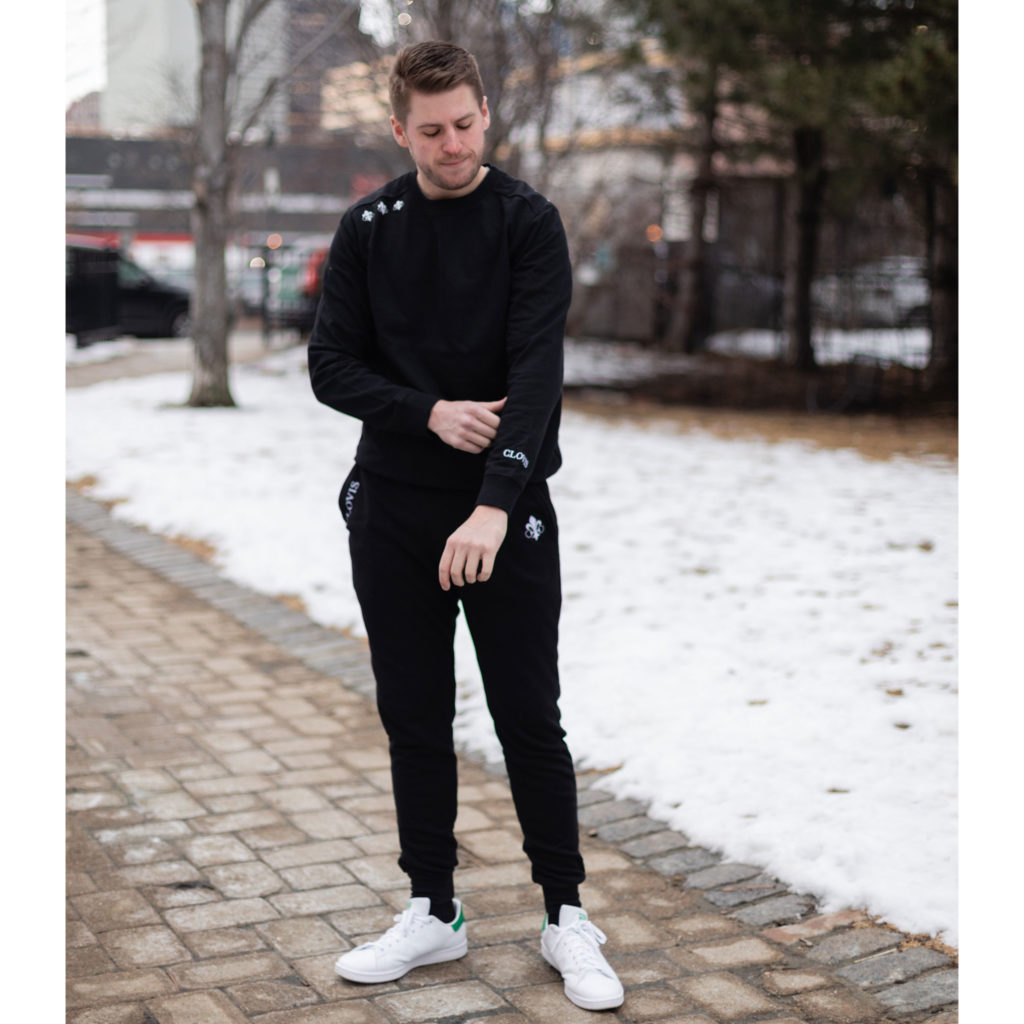 ---
Pop Zoo: Contemporary Pet Portraits + More
Jamaica Plain, MA

About Pop Zoo | I make custom, hand-painted pet portraits that combine contemporary realism with a little Pop, capturing each pet's singular personality.

Online: www.thepopzoo.com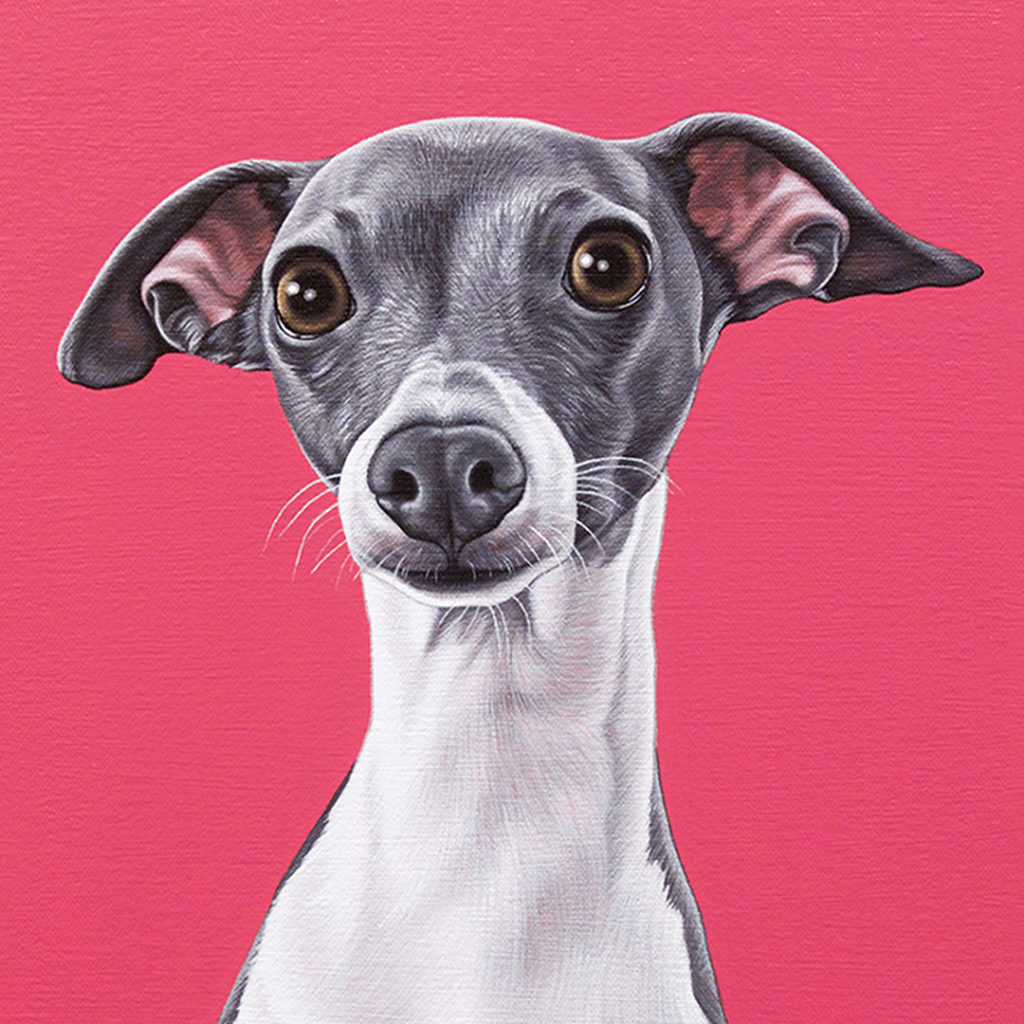 ---
The Blank Canvas Company
Boston, MA

About The Blank Canvas Company | The Blank Canvas Company is a creative brand that empowers women & boss babes through custom art and brand design. Founder, Brand Strategist, & Artist, Erica, pairs her passion for inspiring others with her knack for creating vibrant art in order to ignite and unleash your inner badass. Female empowerment and good vibes are at the heart of the original canvases, art prints, stationery, painted planters, stickers, and magnets she designs.

Online: theblankcanvascompany.com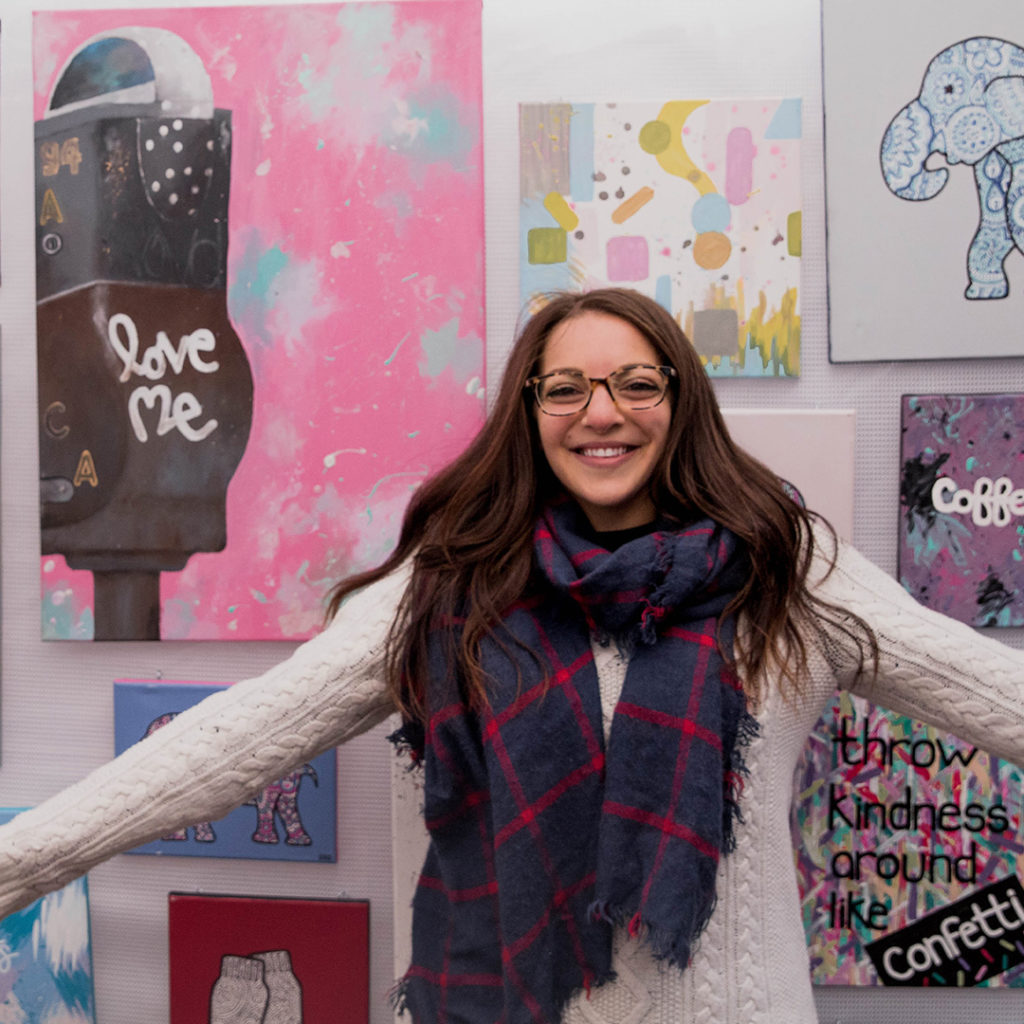 ---
Kitsch Collins
Boston, MA

About Kitsch Collins | My work is colorful, whimsical, humorous and detail-oriented. If we work together on a project for your business or brand, count on lively linework and a bright color palette. If you're encountering my work online or at one of my stocklists, be prepared to look through a ton of dog and cat stickers.
Online: www.kitschcollins.com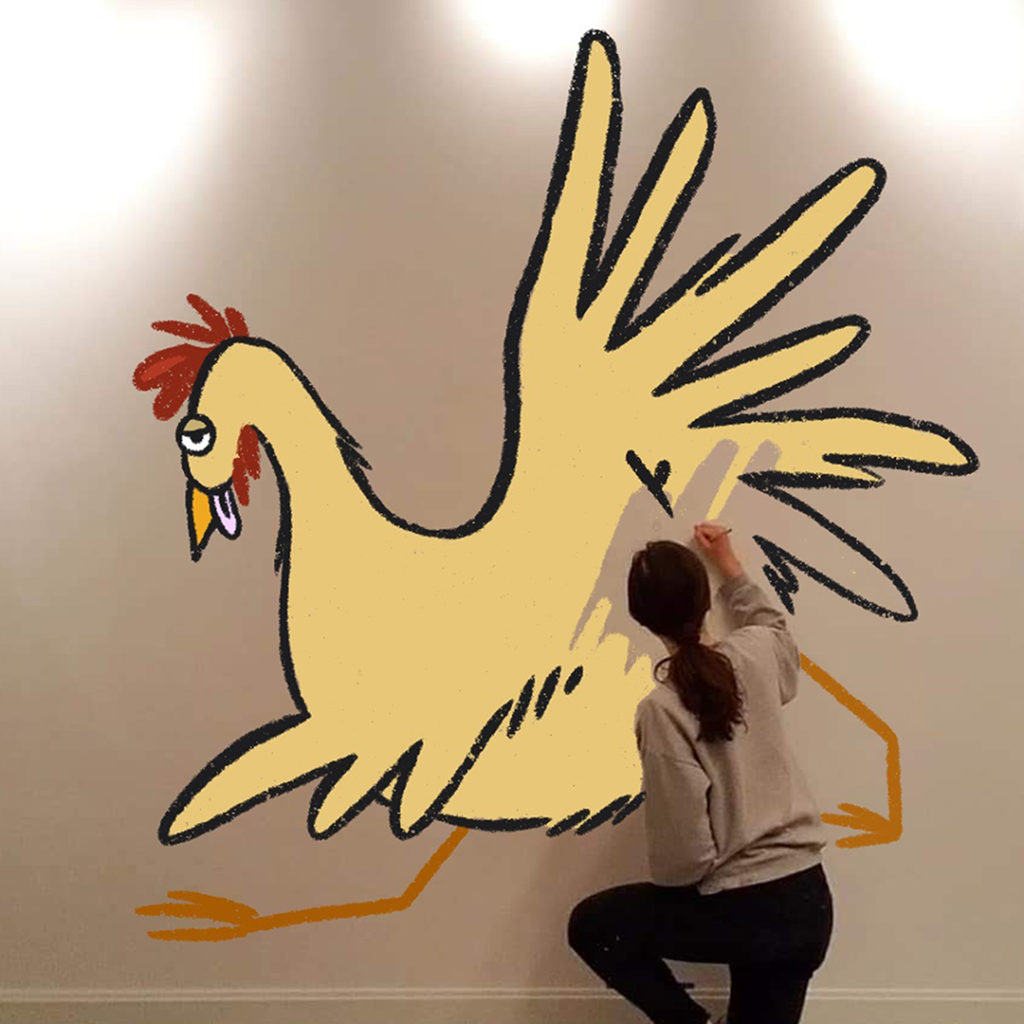 ---
Just Another Bad Artist
Boston, MA

About Just Another Bad Artist | I'm just another bad artist and I draw lots of bad skulls, flowers, portraits, and mysterious animals. I also sell art, pins, foil prints, and more.
Online: www.justanotherbadartist.com/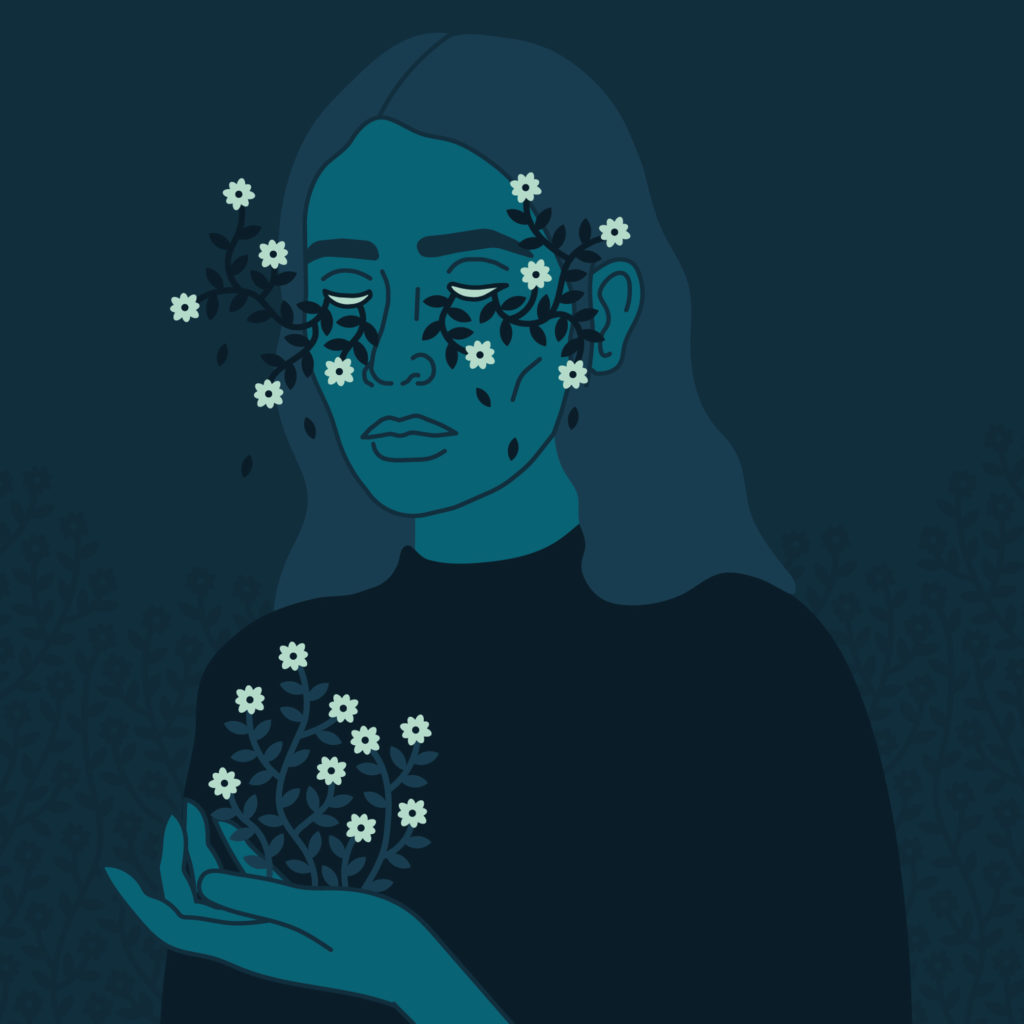 ---
Joelle Riffle
Boston, MA

About Joelle Riffle | Hi, I'm Joelle, a freelance graphic designer based in Boston. I work with small businesses, nonprofits, and artists on websites, brand identities, exhibitions, publications, and more to help their visions and work come to life.
Online: joelleriffle.com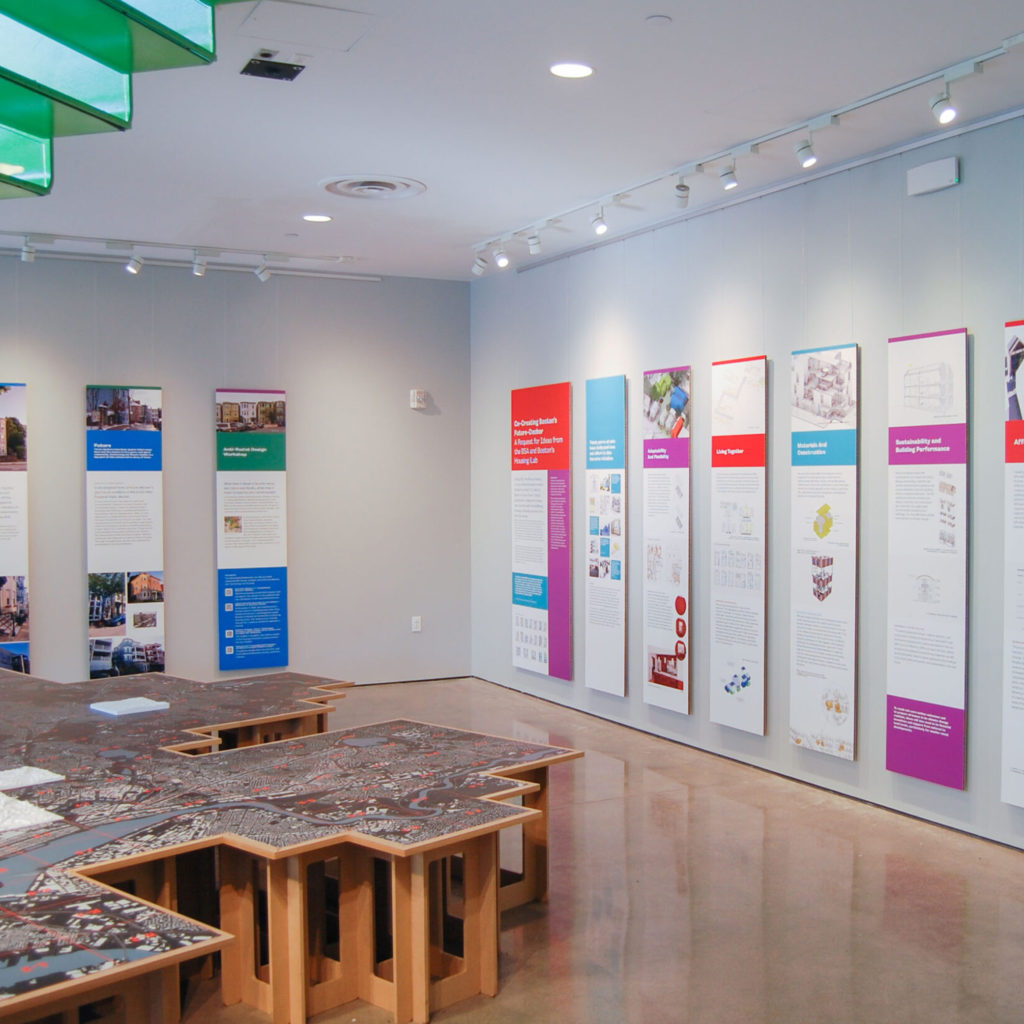 ---
Claire Bula Designs
Newburyport, MA

About Claire Bula | I create custom wedding invitations, event paper goods, art prints, create branding & identity systems, and do custom paintings in watercolor and acrylic. I also have off the shelf or custom stationary, greeting cards, and planners.
Online: https://clairebuladesigns.com/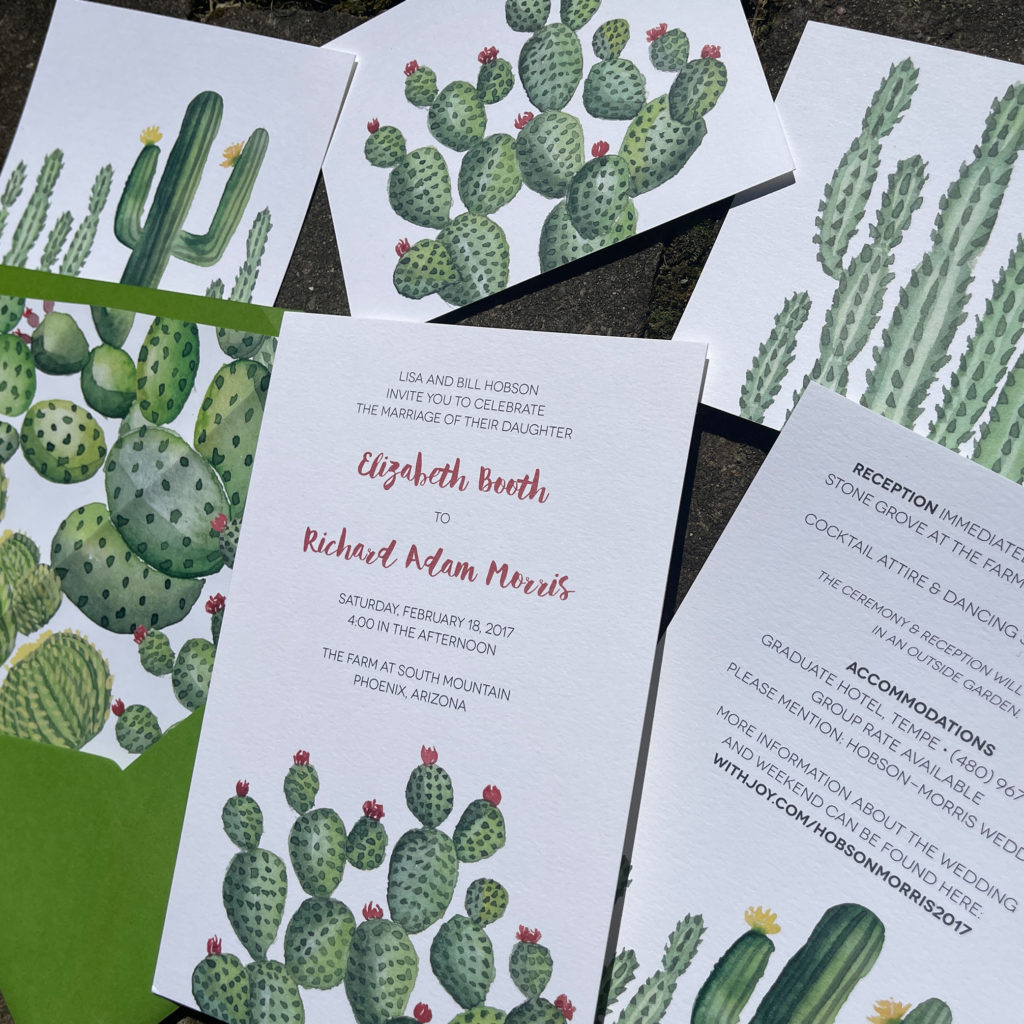 ---
Interested in being added to the list?
You can submit an application here. The application is open to all designers and artists in New England. Featured businesses do not need to be AIGA members.