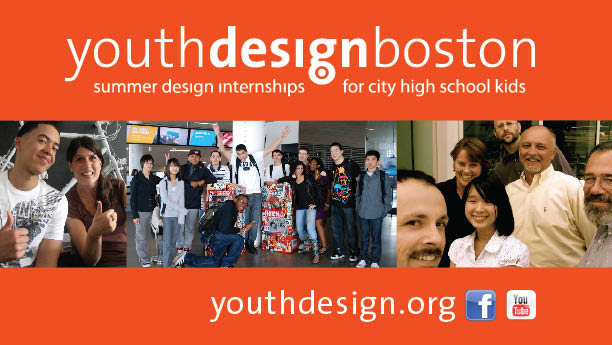 Giving Back To The Future: Youth Design Boston
Youth Design is a unique summer internship and mentoring program that introduces urban public high school teens to the creative economy through paid internships with professional design mentors. Youth Design students make valuable contributions to their mentoring workplaces through a hands-on learning experience that shapes their educational and professional paths.
Background
AIGA Boston is a founding partner of Youth Design Boston. Since it was piloted in 2003, 35 students have graduated the program, a high percentage of which, pursue college-level focus, as well as careers in art and design. AIGA Boston is proud to support this program, which exemplifies AIGA's commitment to the community, our youth, and the future of design. AIGA helps Youth Design identify design professsionals and dedicated mentors of the highest caliber, so that students are introduced to best practices in both business and the creative process of design. Nothing is more impactful for students who desire an educational or career path in the field of design, than to build meaningful, one-on-one relationships with leading designers working in a multitude of studios, and professional firms.
More Information
A Youth Design press kit is available upon request. This press kit includes a DVD which showcases students, mentors, and our program partners, as well as local and national press recognition and further information about the program. To request a press kit, or for more information, contact us at info@boston.aiga.org.
Donate
The number of talented youth attracted to, and deserving of participating in this program is three times larger than the number of jobs that we can make available. Our goal is to grow the program to 25 students in Boston every summer, as well as spread the program nationally to cities all around the country. Click here to download our 2010 Youth Design Funding Opportunities to learn more.
Volunteer
There are a variety of ways to participate, big and small. Work directly with our YDB students, with our partner schools, or collaborate with the AIGA mentoring firms. Contact us to find out how you can help.
Mentor
If your design studio or corporate design department is interested in hosting a student for the summer, click here to download our 2010 Youth Design Fact Sheet to learn more. You can read about the mentor experience in this Boston Globe article, which gives insight into the day-to-day of hosting a Youth Design intern.