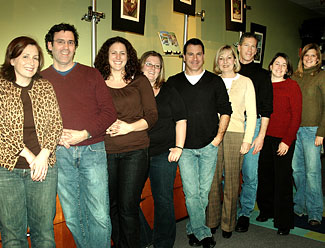 The White Rhino core "herd" includes (L-R): Kristen Cooper, Senior Art Director; Richard Ballantyne, Production Director; Amy Forni, Account Manager; Kimberly Cloutier, Senior Art Director; Dan Greenwald, Founder/Creative Director; Pat Elsea, Controller; Jim Call, Vice President/General Manager; Anne Piessens, Director of Client Services; and Amy West, Account Coordinator. Additional Rhino Teri Barrows, Senior Account Manager, heads up the West Coast office. White Rhino also partners with a network of superb freelancers including web developers, designers, photographers, and writers.
In the technology hub of Burlington, Massachusetts, amidst the jungle of office parks, malls, and chain restaurants, the last thing you would expect to see is a creative agency. Situated within the concrete corridor known as "Northwest Park," you will find an unusually bright and shiny metallic sign, a welcome addition on the one-floor modernist building at 42nd Avenue – home to White Rhino Productions.
The location isn't the only thing unique to this studio. Founder and Creative Director Dan Greenwald has managed and cultivated a versatile and experienced studio of forward-thinking creatives for nearly 17 years. Since its inception in 1990 (then called "Daniels & Lord"), the studio boasts recognition for its print, direct, television, and interactive communications by earning Clio, Telly, BoNE, Hatch, and NEDMA awards.
Although White Rhino's clientele is a mix of B2B and some B2C companies, Dan says the agency has a uniquely creative focus on B2B clients. "We do not settle for the typical work that most B2B agencies do, but thrive on marketing complex B2B products and services," says Dan. According to him, White Rhino's team "has the experience and knowledge to understand the most intricate ideas and products."
White Rhino won its first AIGA BoNE Best of Show award in 2001 for their Tru-Fit television spot "Trophomotion" – which also won the agency a gold Clio and a silver Telly. Two more BoNEs were thrown their way in 2005 and 2007 for their HistoryShots graphical prints.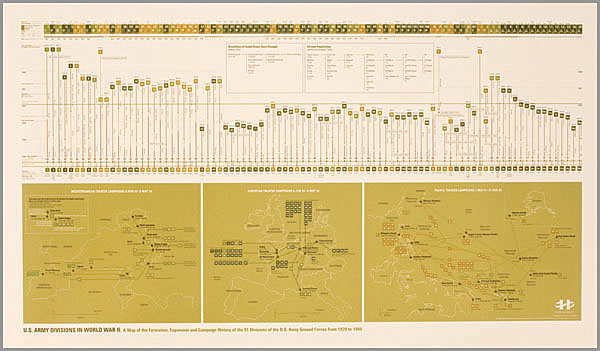 White Rhino's 2007 BoNE award for Best of Show: US Army Divisions in World War II
Further accolades include two gold Hatch awards for their Tru-Fit interactive CD and interactive invitation, and a gold from NEDMA in 2006 for their SAP event promotion "Pizza Box." The SAP "Pizza Box" also went on to become a finalist in the DMA Echo Awards.
White Rhino has been published in Grafik Magazine (2006), Information Design Workbook: Graphic Approaches, Solutions, and Inspiration Plus 20 Case Studies, by Rockport Publishers (2008), and The Information Design Handbook by RotoVision Publishers (2008), for their HistoryShots work. Their "Survival of the Fittest" print advertising campaign for DealerTrack is currently featured on Adsoftheworld.com, an advertising archive and community showcasing the best and most interesting work worldwide.
White Rhino's awards and published work speak to the agency's unique and effective spin on communicating their client's objectives. Their clients include high-tech, healthcare, natural foods, financial services, media and publishing, music and entertainment, and professional services industries.
View White Rhino's 2007 BoNE Show awards:
Best of Show: US Army Divisions in World War II
Rest of Show: Conquest of Mt. Everest
To see more work: www.whiterhino.com
For more information: info@whiterhino.com