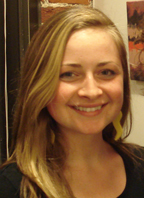 8 March 2009
To whom it may concern,
I am writing to thank you for accepting me for the Tim Moore Study Abroad Scholarship. I was so excited to hear the news. This summer I will be traveling to Mexico, where I will study and take two classes in the city of Puebla in southern Mexico.
I look forward to the new environment where I will make my home for two months. I look forward to living with a Mexican family and learning to speak fluent Spanish. I look forward to spending my time with new people, food, and traditions. Furthermore, I am so excited to see how these things will affect my creativity and my artwork.
Thank you for supporting me in my travels and in my passions.
Sincerely,
Eleanor Kaufman
Blog about Eleanor's journey:  http://eleanorpeacebypiece.blogspot.com/