In-house designers have a lot of power when it comes to their company's output. How can you harness that power and make it work for your company, your team and your soul?
Three stellar in-house design leaders shared some of their magic with attendees at our first INitiative event at EF's incredible new office in Cambridge.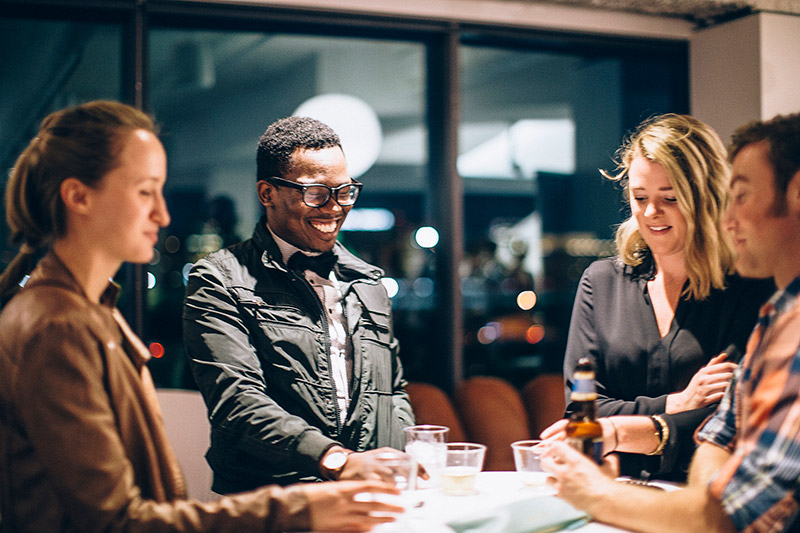 Attendees mingle at the event reception
Embracing the Awesome
Nate Cameron, creative director of the EF design team that might be best described as the cool kids of the in-house scene, named their secret sauce: Embrace your awesome. Don't suppress your individuality to fit in with the brand, use your individuality to bring the brand to life. One of their go-to problem solvers:
Climbing Decision Mountain
Has your team been stuck in the mud? Nate suggests to start by asking your project team simple questions that the whole team can agree and gradually increasing the complexity of questions until you arrive at your main objective. This exercise increases feelings of inclusivity, which, in turn, breaks down unnecessary barriers that prevent us from focusing on the important factors.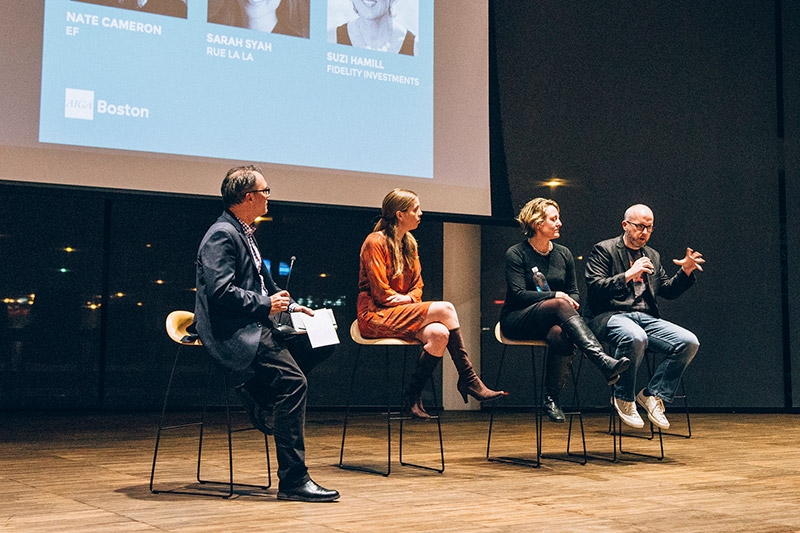 Be Legitimate
For those who find themselves in a slightly less idyllic world for designers, Sarah Syah, Creative Director of Rue La La, shared some pointers that have helped her re-shape her team and establish the legitimacy of the design team to other departments.
It's all business
Designers are emotional about our work, which can handicap us when communicating about it to business partners. Make sure to share how your design decisions are directly going to influence your company's business goals. If you can include hard numbers, absolutely do.
Use your words
Sarah cautions not to take this one for granted. Designers need to learn to speak the same language as their business counterparts. Learn the words and acronyms they use. Ask them why their goals are important. When people feel like they're being listened to, they will be much more willing and excited to work with you.
Objective + Strategy = Focus
Do you hate when a client suggests an alternate design solution? Of course you do! But Sarah points out that it's our responsibility as designers to teach clients to give the feedback they are looking for. To do so, bring every piece of feedback back to their business goals. Why is this graphic not accomplishing Business Goal #1? Often times business leaders are not expecting you to deliver results, so by discussing design in relation to their goals you will raise their expectations for your team.
Keeping it fresh
When designing for the same brand it can be hard keep coming up with new ideas. To counter this fatigue, Sarah's team co-creates a new mood board on Pinterest every month to determine their new design direction. This helps the many moving parts of Rue La La stay on the same page, and keeps everything fresh.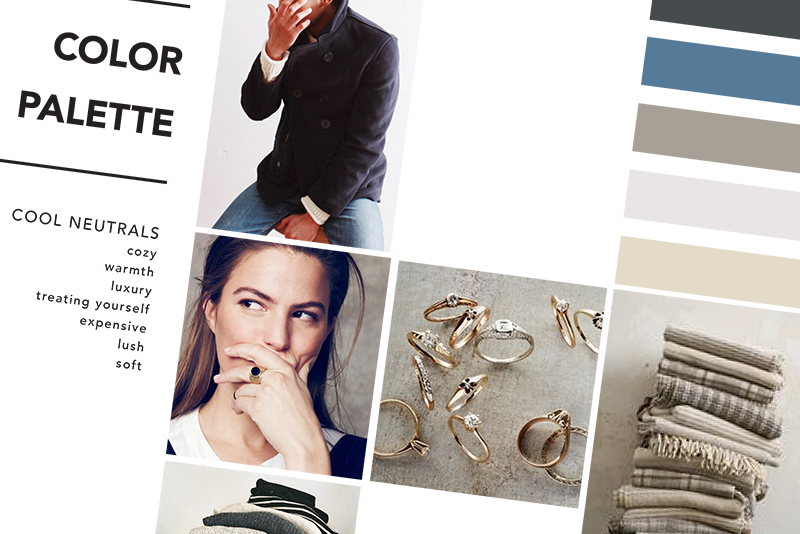 Mood board by Sarah Syah, Rue La La
The Outsiders
As VP of Design Thinking at Fidelity Labs, Suzi Hamill and her team deal with some heavy stuff: finances, human needs, living, dying. How does she ensure that her design team thrives in a historically stuffy industry?
Backstory nights
Working with others is tough, and a large part of that can be not knowing someone's background or experiences.. Backstory nights allow Suzi's team to share things that are important to who they are, such as family history, or a movie that shaped their path, in a safe place.
Get immersed in other peoples' spaces
For the same reasons as above, it can be helpful to see where others spend their time. Suzi's team makes a point to gather at places that are part of their colleague's lives.
Give room for "fun" ideas to grow
We all have ideas that aren't fully fleshed out, and that are in need of space and attention to grow into something viable. If your team allows some time to explore these ideas, you never know what might come out of it – a hat tip from the CEO, a partnership with a celebrated university, or even a large investment to further the project.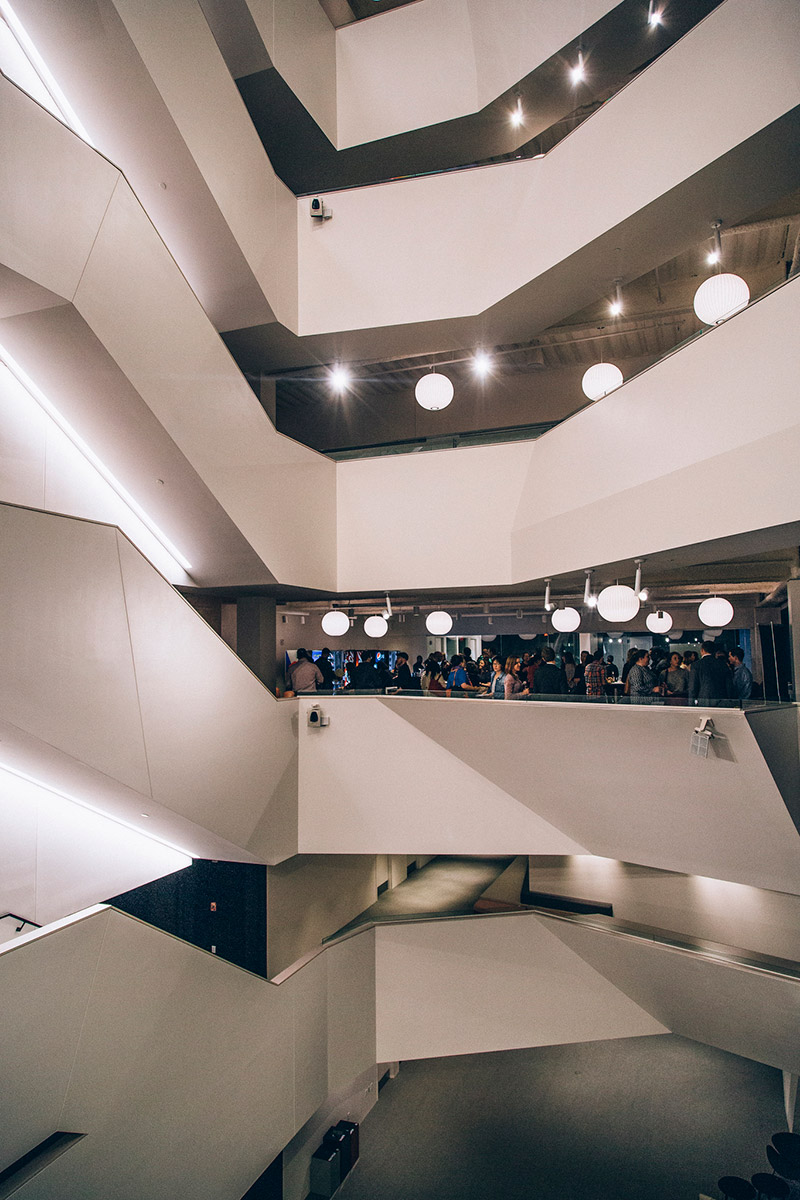 All event photos by Christian Gilbert, Art Director, EF Educational Tours. View more on our Flickr.
---
This event was part of INitiative, a comprehensive program developed by AIGA and The Creative Group to enable in-house designers to make a greater impact at work, evolve professionally, and connect with a wide network of their peers. Thank you, TCG, for making such a great event possible!