by Kathleen Byrnes
Director of Events, AIGA Boston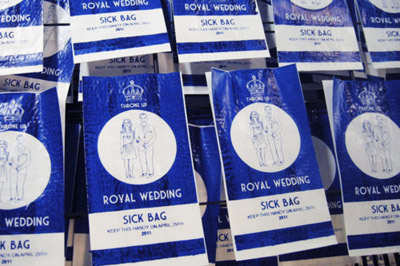 So, you'd have to be living under a rock to not know that the Royal Wedding is this Friday. I haven't received my invitation yet, but you know how the U.S. post office can be. I am sure my invite is just held up in some version of customs for the mail.
While I am waiting for my invite to arrive, I can't help but be sucked into the business of the wedding. It is expected to be one of the year's most watched events, with some estimating the viewership to reach over two billion people. Every news and TV station this side of the pond is reporting nightly – it is estimated that the wedding is getting mentioned every 10 seconds.
We all know that the last time we had a wedding with this magnitude was for Charles and Diana. However, this time, it will be different. Technology is changing the way the royal occasion is viewed around the world. We are living in an age of social media and the Royals are all over it. Palace officials have said that there will be a live blog and integrated Twitter feeds. The wedding has its own official website and Facebook page, laying out every detail down to the second. It will be streamed live on YouTube. Want to scope out the official royal procession? Google has created a 3D route tour so you can see where the couple will be. There is an official map, an official program, an official this and that.
You also can't help but notice the element of branding surrounding the wedding. Successful branding is essential to the success of any business, and let's face it, the Royal Wedding is proven to be big business. It seems that every major news outlet has designed a unique logo and slogan for the big event. The Huffington Post's tagline is "The Royal Wedding …Some News is so Big it Needs its Own Page." ABC has created a blog page with a logo showing Big Ben and the words "William and Catherine: The Royal Wedding" in a typeface that is decidedly modern. CBS opted to go the more traditional route, using a script typeface in gold with a crown strategically placed over the word Royal. There's even a logo for "The Countdown".
Is this much ado about nothing? Perhaps, and if you are sick of the shenanigans, don't worry. Lydia Leith, a British graphic designer, has created the unofficial Royal Wedding Sick Bags, just in case you can't take one more article or news mention on the subject.