by Carly Hagins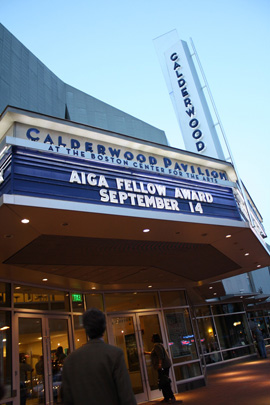 Photos: Carly HaginsThe AIGA Fellow Award is the highest honor an individual chapter can bestow on one of its members. It's essentially the equivalent of a lifetime achievement award. The theme of the evening devoted to celebrating Denise Korn, the 2012 AIGA Boston Fellow, tells you a lot about the recipient herself. With twenty years in design under her belt, the people closest to Denise chose the theme "The Work Ahead"—because she is not nearly finished yet.
Javier Cortés, Denise's partner at Korn Design, acted as emcee for the evening. He introduced Denise's nanny, her coworkers, and her collaborators to an audience full of friends and family. The speakers shared stories of Denise's colorful childhood, her boundless energy and insistence on excellence, and her ongoing passion to do good. They celebrated her professional accomplishments with both Korn Design and Youth Design and applauded her personal successes as a loving mother and wife.
When the Boston Ballet was in need of a rebrand, they turned to Korn Design for help. The resulting identity has been instrumental in increasing ticket sales and community engagement. So it was only fitting that they paid tribute to Denise with a special performance of one of her favorite pieces,
Tsukiyo.
Shortly after the dancers left the stage, it was time for Denise to accept her award from AIGA Boston President Matthew Bacon. She did so graciously, thanking everyone who played a part in making the night possible. Ultimately, though, she left the audience with a true call to action, urging people to get ready for "The Work Ahead," noting that often you have to "shock the system" in order to accomplish your goals. Her motivational words left us wondering if there might be a way to earn two Fellow Awards in one lifetime.
An achievement as big as this deserves a big celebration. So the festivities continued with a Cuban dance party in the Boston Ballet studios, complete with live music by Grupo Fantasia. There was laughing, eating, dancing, and drinking—by the end of the night, there was no question that a good time was had by all.
Congratulations to Denise on the humongous honor. We cannot wait to see what you do next.
Feeling inspired? AIGA Boston collaborated with Mohawk Paper, Deschamps Printing, ACME Bookbinding, and Ecological Fibers to produce The Work Ahead Journal. Each book is unique and includes sections of blank paper as well as assorted grids. It's the perfect place to plot your next project or keep track of on-the-go inspiration. They will be available for purchase online soon.
Carly teaches in the industrial design department at Wentworth Institute of Technology. In her free time, she likes to bake pies, ride bikes, and blog. Tweet hello @carlyhagins (she'll tweet back!)