Design for Good: To Go featured Jennifer Bennet of the Family Van at Harvard Medical School, Ekua Holmes of sparc! the ArtMobile at MassArt, Mei Li of Mei Mei Street Kitchen, and Ben Vainer of Boston's City Hall To Go.
We put together our recent Design for Good chat because we were curious about the revived model of operating a business out of a truck. Food trucks and beyond, mobile services seem to be popping up everywhere—what can we learn from this unconventional business model about improving our community?
Taking a service on the go is not a new idea. Bookmobiles, street food carts, and the classic ice cream truck have been fixtures in American neighborhoods throughout the last century. The enduring popularity of the mobile model speaks to its value, but what is resonating today to bring on this bloom of mobile services?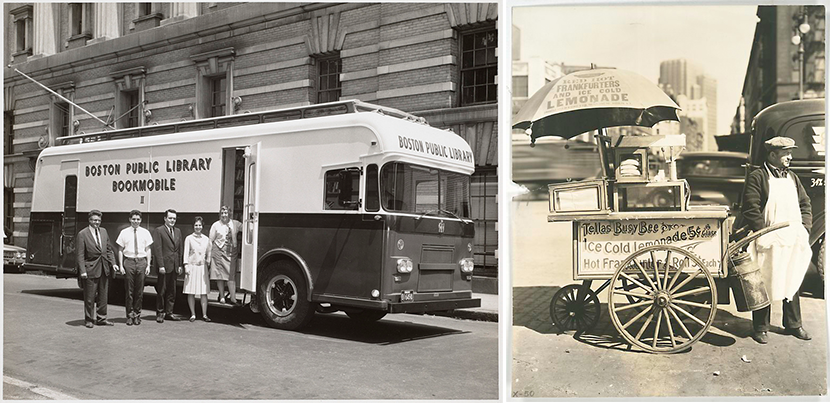 In recent years, many companies and organizations have embraced the design thinking process to create products and services that are better for their users. At the core of this process is an emphasis on building empathy with users and engaging them throughout the design process.
Enter a mobile business, which, in a sense, is the ultimate prototype—a flexible entity that can be tweaked daily based on interactions with real users. The relaxed aura of a van on the street maintains a low-pressure vibe that is ideal for exploring new ideas, both for the organization and the community it's serving.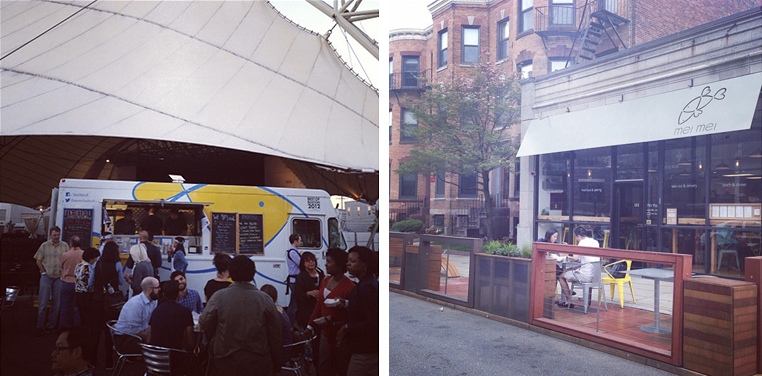 Inherently Approachable
A mobile service's perch on the street is fundamental to breaking down barriers and improving accessibility. Here, a truck is exposed, and in turn, more approachable and inviting. Absent are the built-in layers of exclusion found in traditional storefronts; no austere plaza, no doors to walk through, no reception desk, and no mysterious offices looming above.
Recognizing this terrific accessibility as the best part of operating a mobile service, Boston's City Hall To Go van is taking things a step further with their upcoming "Kitchen Table Talks." Wise to the idea that "the best conversations happen around the kitchen table," director Ben Vainer is excited to bring representatives from City Hall to cozy table chats with passersby to share what they're working on, and get feedback about how their projects are going in the community.
When people feel comfortable and invited to interact, they're more likely to embrace a new concept. To assuage the fears and uncertainties many people have with art, coordinator Ekua Holmes and her team at sparc! went to the neighborhoods they planned to work in and asked people the question "If there was an art mobile in your community, what would you want it to do?" The answers, from serious to silly, helped sparc! to develop programming based on what the community actually wanted, and helped the community familiarize themselves with MassArt as a public institution and part of their lives.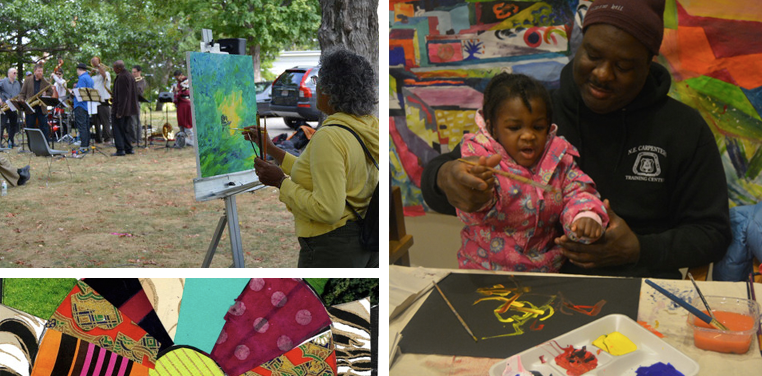 Abundant Feedback
Mobile organizations are positioned such that they are getting constant feedback, which has the potential to enlighten their practices. Incorporating this feedback is key to building trust and creating stronger ties with the community.
The Family Van's health services had been successful in the community for a few years when they determined that they needed to reach a younger audience in order to improve their preventative medicine practices. After reaching out to younger people in the area, Director Jennifer Bennet found out that their van's blue and white colors reminded people of the Immigration and Customs Enforcement (ICE) vehicle. This glaring concern pushed them to rework the interior and exterior of the van to make it more inviting and comforting.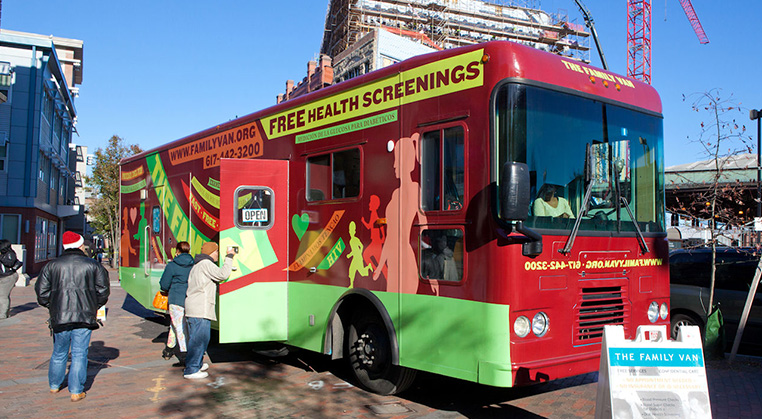 In addition to connecting directly with customers, there are many opportunities for mobile organizations to pair up with other community organizations that can help them realize their full potential. All of the speakers we heard from had examples of partnerships that are allowing them to increase their reach. From Mei Mei Street Kitchen operating a shipping container at the ID Building, to The Family Van embedding their services in community centers, it's clear the mobile model allows businesses to flourish in unexpected ways.
Upward Mobility
Not only can mobile organizations spread out, but their approaches can spread up. Because the model is low-cost, it is an attractive prospect for existing organizations looking to try out an idea in a fairly low-risk way. This flexible arm of the business can learn from the community in ways the rest of the company cannot, both physically and socially. The solutions the truck discovers can then make the more unnatural journey upstream.
Boston's City Hall To Go truck, for instance, discovered a better system for confirming customer addresses for parking registration. Often there is a lot of back and forth to prove residence, so the truck found it was easier to just cut to the chase and have residents load an appropriate bill online while at the window. Finding out this method was easier for both sides, it's now working its way into the City Hall home base.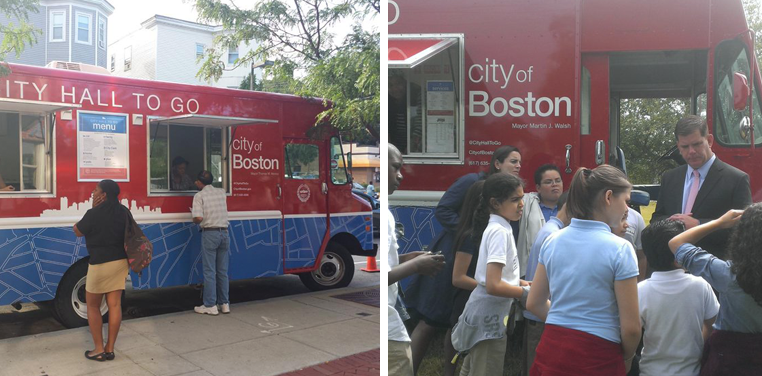 Mei Li and her siblings at Mei Mei Group are on an analogous path, but reaching beyond their organization. As their food needs have grown throughout the past four years, they have faced a variety of sourcing challenges. Finding an apparent lack of Massachusetts slaughterhouses that offer pasture-raised meats, little sister Irene is tossing around the clever idea for a mobile slaughterhouse that would help increase supply in the area. Their growing business has already improved the living conditions for chickens at one of their source farms, and the group looks forward for more opportunities to elevate the local food industry.
The Mobile Mojo
The magic of mobile services is that they are an intrinsically democratic approach to solving the world's problems. Their unconfined reach, and readiness to be shaped by the community, promise more voices in the solution, while their resourcefulness offers a remedy to institutional inertia. With more organizations working outside office walls we will find more solutions that thrive from bottom to top.
We encourage you to check out each of these organizations on your own. They are all doing great and inspiring things, so be sure to check out their websites for more information, and keep an eye out for their vans in your area!
---
About Design for Good
Design for Good is a passion-driven initiative to implement and teach, design thinking, for sustainable, social change.
This platform creates new opportunities for designers to engage with local organizations, produce actionable solutions with long-term impact, and build their own practice and visibility through new interactions.
Design for Good wishes to encourage the wide range of designers' work and leadership, with hope to broaden the impact of that work to benefit our communities, our country and the world.
Previous AIGA Boston Design for Good events have included, Rise | Creating Climate Action and DxB 360.