Who are you? What do you do for a living and where do you do it?
I'm often referred to as a ninja, a magician, a guru, and even a life saver… While those terms are flattering and sometimes synonymous with what we do, I consider myself more than a graphic & web designer. I'm a marketing professional, a small business owner, a traveler, a volunteer, a lover of the color teal, warm weather, and all things design.
I split my time between freelance projects and working in-house at Isenberg Projects, an experiential marketing company in Brookline. We work mainly with real estate companies by partnering with incredible brands on projects from temporary food and retail activations and pop-ups to placemaking events and neighborhood engagements.
What inspires you to do this kind of work?
Design truly makes a difference in the way people interact with brands and products, solves important issues and creates value. I'm constantly inspired by the talent, innovation and technology that surrounds me – in Boston, the community of creatives online, and all of the places and people I meet in my travels. The more I know, the more I want to learn and improve my skillset.
How long have you been in the field?
I can remember having a passion for design early on in high school (starting as yearbook editor) before I even knew Graphic Design was a field one could study, let alone build an amazing career in. It all progressed very naturally. I studied Graphic Communication at Millersville University and fell in love with my first job as an intern at Habitat for Humanity. I moved to Boston after college to do a year of Americorps and six years later I'm still here! In that time I've led the design team at Faneuil Hall Marketplace, worked at Entercom Boston for stations like WEEI Sports Radio, and built my own network of freelance clients.
Why did you get involved with AIGA? Why should someone become a member?
Sadly, I did not know about the college chapter of AIGA when I was in school – I wish I had! I got involved with AIGA by attending different events after moving to Boston. I wanted to learn and network outside of work since I wasn't around other designers. Soon after I began volunteering at events and even helped to plan the Design Exchange Boston conference, an initiative of AIGA. I went to the national conference the past two years and felt so inspired and re-energized by the design community and notable AIGA fellows/speakers. Any person interested in graphic design would benefit from membership.
What advice would you give your past self?
Don't take things so seriously or worry too much about what you'll become. Some 30 and 40-year-olds still have no idea what they want to do in life.
Describe your creative process. What are the major steps?
I always start by researching and understanding the design brief, the problem we're trying to address, and the client's expectations in order to set clear objectives and action items. While designing, everything is flexible and easily scalable. I'd rather present plenty of options, to begin with rather than lock a client into one concept with a set number of edits. With a few rounds of feedback, we refine the direction until it is ready to come to life. Whether that is taking their new logo and building a full creative suite of marketing materials, or developing the wireframe into a responsive website, the process is fluid and tailored to the deliverable.
Where can we find your work? Any projects you want to highlight?
You've probably seen a good amount of my work just walking around! It's really awesome to see your stuff incorporated into the fabric of Boston. From signage that hangs on Quincy Market to countless graphics found throughout Newbury Street, Allston's Zone 3, and the Innovation and Design Building, I can usually name a project that I've worked on in every neighborhood of the city.
You can visit madelinejacobson.com although I'll admit, I've been a little busy and haven't made enough time to add recent projects. I've been trying to post more recent work on Twitter and Instagram too.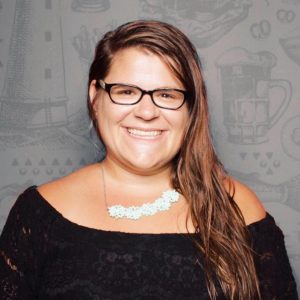 ---
Nominate an AIGA Member to be featured in our Member Spotlight