by Kathleen Byrnes
Director of Events, AIGA Boston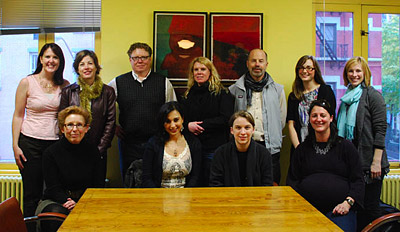 Milton Glaser is as much of an intelligent and articulate artist as he is a person. He has spent a lifetime creating art that informs and delights and, if possible, art that can even effect positive social change. We all know Milton Glaser for his ingenious work, but for the eleven AIGA members from Boston who had the opportunity to sit down with him one day last November, we got to know Milton not only as a brilliant artist but the mentor, the teacher, and the thinker that makes Milton Glaser, well, Milton Glaser.
We entered his studio expecting a tour, but instead sat in his conference room for well over an hour engaging in conversation. Yes, that's right – a one-on-one conversation with Milton Glaser. You could hear a pin drop in the room when he spoke. The thing that struck me the most was his modesty and nurturing spirit. He wasn't as interested in telling us about himself and his accomplishments as he was in learning about us as designers and as people. This is the man who designed some of the most famous posters and logos in the world (not to mention receiving the National Medal of Arts, presented to him by President Obama), and he just wanted to know about us, who we were, what we were up to.
We got a glimpse of the personal side of Milton Glaser. He is known for his directness, simplicity, and originality. He is a teacher, philosopher, and thinker. He enlightened us with such wisdom as "Anything one believes too deeply becomes an impediment to one's understanding", "Clarity precedes creativity", and "Aspiration transforms everything". We had the privilege of his generosity in sharing his time and knowledge with us. He enriched our visit to New York City.
Who better to inform and delight than Milton Glaser?
Don't miss out on opportunities like this in the future! Become an AIGA member today.