As a new programming season unfolds, I am thrilled to officially begin my term as President of AIGA Boston, running full speed ahead with the baton passed on to me by our extraordinary outgoing President, Chiranit Prateepasen.

When I began volunteering with this chapter, it was thanks to an encouraging mentor and two outrageously fun and talented then-board members who took me under their wings. Helping to produce and partaking in a special Fellow event at the Calderwood Pavilion that year introduced me to lively, driven and talented designers, and I quickly realized how much we had to celebrate in Boston.

I joined the board in 2014 as Director of Member Experience, a role that required me to consider the value of AIGA [Boston] membership. In it, I took great care to create thoughtful member dialogues, build partnerships that would enrich design practice, and help program events that met the needs of our members and encouraged community involvement. I am both proud to be part of this design contingent and moved by the many people who make Boston a creative, innovative and resilient city.

As president, I intend to promote the value of design and design professions while striving to learn more about how our chapter can further empower a broad range of designers and design teams. Under Chiranit's leadership, AIGA Boston developed countless experiences that brought education and inspiration to the Boston design community. I seek to continue and further strengthen our chapter's legacy of offering thoughtful programming that captures an accurate pulse of the community and encourages us all to dream bigger.

Joining me in the pursuit of these goals is a passionate board powered by AIGA members that are all volunteering their time. I would be remiss if I didn't mention some of their incredible work:
Programming
Nathan Pyritz, VP of Programming
Melissa Hines, Co-director of Diversity & Inclusion
Jess Charlap, Co-director of Diversity & Inclusion
Hannah Schindler, Director of Mentorship Programs
Amy Parker, Director of EMERGE Initiative
Natalie Ferro, Director of Design + Business Initiative

Nathan leads a diligent team that is intentional about how they plan monthly programming, producing content aligned with best practices, tradition and community needs. Melissa ensures our speakers represent diverse backgrounds, and that we secure safe spaces to have important conversations about equity in our industry. Jess recently joined us to help support the extensive initiative of diversity and inclusion, and has so much to offer. Hannah and Amy make certain that we are considerate of a vision for our collective future. They help designers grow and give back through our Mentorship Program and other EMERGE experiences. Natalie works to demonstrate the role of design in the broader context of solving business problems, and leads planning for our Hackathon events.
Communications
Sarah Croughwell Lincoln, VP of Communications
Michael Coleman, Co-director of Communications
Amelia Oon, Co-director of Communications
Grace Abe, Design Director

Sarah spearheads our online outreach and sees to it that the voice of AIGA Boston is welcoming and far-reaching. You often read her words at the bottom of our emails. Amelia recently teamed up with Michael so that more ground is covered with the podcast and the team can dedicate additional time to event communications. Grace collaborates with designers in our community to create event graphics and bold AIGA Boston swag. The team also manages a committee of dedicated volunteers who assist with our blog, social media channels and Threadless shop.

Engagement
Kenny Isidoro, Director of Partnerships
Kristie Erkkila, Director of Community Engagement
Tamara Fedde, Director of Membership
Some of our freshest set of hands belong to this bunch. Kenny is kicking off his second season building partner relationships, and has exciting collaborations in store for the year. Kristie connects with designers and design enthusiasts in the community who help our events go off without a hitch and in turn heighten their skill sets. Tamara moved from being a researcher with Communications to learning the ropes of AIGA membership. She has a background in this work and will seek out your feedback to add your voice to our initiatives.

Operations
Amanda Bakerlee, VP of Operations
Chiranit Prateepasen, VP of Finance

This pair keeps the chapter running smoothly. Amanda ensures we document all processes and have access to tools and resources that support our efforts. Chiranit is staying on to manage finances…along with the occasional sourcing of top notch event content, I'm sure. We're fortunate she's so invested.
---
I am honored to serve alongside such a talented and thoughtful team. However, nothing we do would be possible without a strong community of people passionate about supporting this chapter and our goals—people who share their knowledge and advice at events or on our podcast, offer up their space for our use, donate food or services, review portfolios, act as mentors and serve on committees or past boards. There are scores of people who helped make AIGA Boston what it is today. Thank you.
This year marks our chapter's 35th anniversary, and I cannot wait to celebrate! Today and throughout my term I commit to deepening our collaborative work within the community and creating a vibrant space for the present and future of our industry.

Cheers,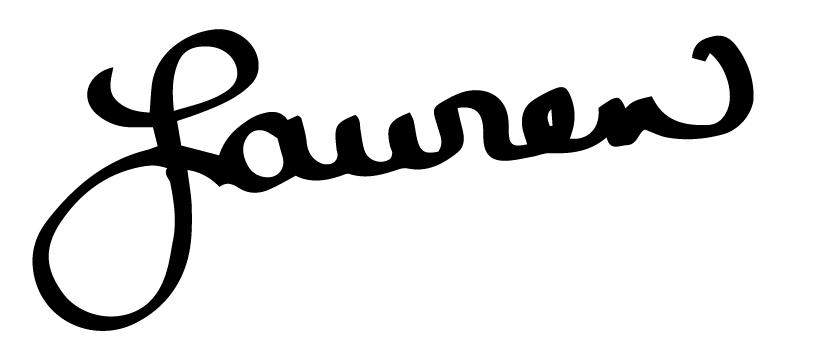 Lauren Yanko