Tomorrow night, AIGA Boston will present the AIGA Fellow Award to design visionary and youth advocate Denise Korn. While the purpose of this event is to celebrate Denise and her achievements over the last 20 years, it is also a call to action for everyone present. The event themed "The Work Ahead" promises to inspire but also remind us all that there is still important work to be done.
To understand how Denise became the powerhouse we now know, you'll hear slightly embarrassing stories from her upbringing, shared by Denise's Australian nanny, Janet Elders. From Denise's professional life, you'll hear from colleagues like Stacey Shoemaker Rauen of Hospitality Design Magazine. To grasp the depth of Denise's community engagement efforts, Robert Lewis Jr. of the Boston Foundationand South End Astros will share the impact design thinking is having on the community.
What Should She Do Next?
With all the accomplishments Denise has amassed, is there still work to be done? Close friends and colleagues have sent in videos from all over the country telling her exactly what she should do next. Hear what they said at the event.
Creative Collaboration
Korn Design collaborated with the Fellow Award production team to incorporate elements from their entire history of client work into a video production that will be featured throughout the ceremony. A "special prize" goes to anyone who can guess the inspiration behind elements used in the video.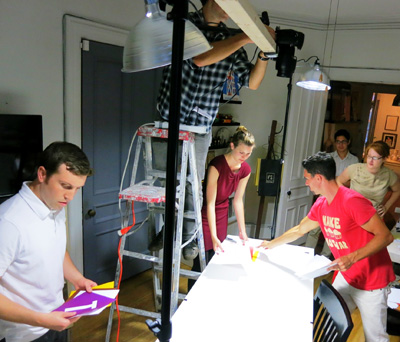 Producing video for the ceremony with Korn Design and Ben Gebo
The Work Ahead Journal
AIGA Boston has collaborated with Mohawk Paper, Deschamps Printing, ACME Bookbinding, and Ecological Fibersto produce a one-of-a-kind journal. It is the practical tool that embodies the theme: The Work Ahead and the chapter's way of giving individuals a platform for taking the next step. Journals will be available for purchase at the event.
Party Party Party
To top off the evening, we'll dance the night away to Cuban Band Grupo Fantasia. Tweet about the event using hashtag #TheWorkAhead.