We're sorry this event is now sold out.
AIGA Boston has invited Katie Greenman of HumanSide back for another fun event. By nature of being human we are social. We need other people to thrive, but it's not as simple as it sounds. In this two-hour, interactive session, you can expect a bootcamp on what it means to be human, why we need other humans, how we connect and what gets in the way of genuinely connecting with those around us.
You'll walk out with an understanding of complex human dynamics, how to navigate and overcome barriers (+ why you should) and tangible tools to create a more compassionate, supportive, and inclusive culture at home, work, or anywhere.
This event is casual, playful, and relatable. Pizza will be provided.
About the Speaker: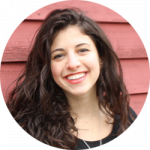 Katie Greenman, M.A. is the founder of HumanSide. She earned her undergraduate and master's degree from Tufts University where she focused on the social and emotional skills behind leadership effectiveness. Greenman has led hundreds of workshops for students, young professionals, executives and entrepreneurs and is based in Somerville.
Fees:
AIGA Members: $10
AIGA Student Member: $8
Non-Member: $15
Student Non-Member (ID Required): $12
Directions & Parking:
Use this link to find 36 Cameron Ave in Cambridge. Make sure that your map doesn't take you to Somerville. Map to 36 Cameron Ave, Cambridge, MA.
Your registration constitutes permission to use photos, audio, and video recording taken of you at the event for promotional and educational purposes in connection with AIGA Boston. AIGA Boston has adopted the AIGA Code of Conduct with regard to its activities. We reserve the right to refuse admittance for violations of this Code, or other unlawful or disruptive actions. Any concerns should be addressed to the Director of Membership or Community Outreach.
Graphic by: Michael Coleman