Roll out your mat, get ready to breathe in and out and move about in color! Please join us virtually to learn from certified Yoga instructor, Lisette Diamant, with her practice Seeking Spanda in Pantone Yoga – a yoga class designed for designers!
Whether you're a beginner or advanced yogi, all levels of yoga are welcome to join in this virtual vinyasa class on zoom. You'll have time to enjoy breathing and great body movement within a vibrant flow.
WHAT YOU'LL LEARN:
If you're new to Yoga, this is okay! You'll learn the foundation to get your breath and body in sync.

For advanced practitioners, you'll be given advanced modifications to challenge your pose.

What's color got to do with it?! Lisette will surely talk about her favorite colors and how it relates to practice.
WHO SHOULD ATTEND:
Anyone can do yoga. This event is for people who may have done yoga before or are using this as the opportunity to try for the first time. Wherever you are on your yoga journey, we welcome you!
Please see our VENUE ACCESSIBILITY section below for notes on accommodations.
WHAT YOU SHOULD WEAR + BRING:
Comfortable clothing to stretch in (& add cozy layers)
A yoga mat
A blanket/towel
A small washcloth (to cover the eyes at the end of class for blissful savasana)
A water bottle
Your computer to connect to zoom!
WHEN + WHERE:
FEBRUARY 17, 2022 @ 6:00PM EST — A virtual event on Zoom
SCHEDULE (all times EST):
6:00 [5 minutes] Welcome + Speaker Introduction
6:05 [70 minutes] Lisette Diamant's Yoga Instruction
7:15 | End
FEES:
This yoga class is free and open to the public on Zoom.
Donations and/or AIGA Membership are optional.
HOW TO SUPPORT OUR AIGA BOSTON CHAPTER:
Did you know AIGA Boston is run solely by volunteers? The best way to support our chapter is to become a member. Alternatively, your $5 - $10 donation helps support programming and ongoing initiatives for your design community! Please consider making a donation to help AIGA Boston continue to run events like this one.
Donate to the AIGA Boston chapter here.
YOUR INSTRUCTOR: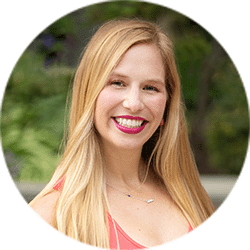 Lisette Diamant
With a foundation in dance, Lisette was drawn to yoga with the creativity and freedom of expression it offers. Having explored various styles of yoga for the past 14 years, she was drawn to the style of Prana Flow® Yoga, and completed her 200RYT training with Coral Brown. Syncing breath to movement and doing what feels good is something that she emphasizes in her classes. Lisette aims to create a space for all levels to explore and play to their edge.

Follow Lisette on instagram here.
Find more classes and workshops with Lisette on Seeking Spanda here.
Graphic by Samantha Knox
---
Join AIGA and get discounted tickets for our events and other benefits.
VENUE ACCESSIBILITY
AIGA Boston is committed to hosting events that are accessible for all. If you need special assistance to participate in this event, please contact Catherine Headen (catherine@boston.aiga.org) Co-Director of Diversity & Inclusion. For reasonable assistance accommodations to be provided, please notify us at least five business days in advance of the event. If we do not receive timely notification of your reasonable request, we may not be able to make the necessary arrangements by the time of the event.
CANCELLATION / REFUND POLICY
Your registration constitutes permission to use photos, audio, and video recording taken of you at the event for promotional and educational purposes in connection with AIGA Boston.
CODE OF CONDUCT
AIGA Boston has adopted the AIGA Code of Conduct with regard to its activities. We reserve the right to refuse admittance for violations of this Code, or other unlawful or disruptive actions. Any concerns should be addressed to the Director of Membership or Community Outreach.