Every business of course needs to have a website, but what should a business expect from its website? Oftentimes, the difference between having a site that creates business and one that is just a brochure is a matter of the perspective you have and the goals you set for it going in. This talk will review the core components of the Conversion-focused Website, what you should learn to expect from your website, and what work you'll need to do on a regular basis to make sure you're getting the most out of your site. This talk will be more about the perspective you can adopt to make the most out of what's possible with today's web strategies and technologies than it will be about any specific discipline.
If you are directly or peripherally responsible for marketing your own business or a business you work for, you will be sure to leave this session with a very clear idea of what your site can and should do for you, and what you need to do to make the most of it.
Mark O'Brien is the CEO of Newfangled, a Web development company specializing in working with agencies to create conversion-focused Websites for themselves and their clients. Mark speaks internationally on Web strategy topics at events for HOW, MarketingProfs, ReCourses, SecondWind, and Win Without Pitching (among others), and is the author of "A Website That Works: How Marketing Agencies Can Create Business Generating Websites" which was published by RockBench in June of 2011.
Member Exclusive: A Website That Works book raffle
We'll be drawing two lucky AIGA members to win a signed copy of A Website That Works written by Mark O'Brien.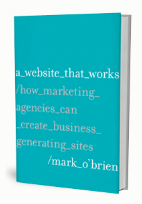 Schedule
6:30 – Lecture
8:00 – Q&A
8:20 – Book Signing
Fees
AIGA Members: $20
AIGA Student Members: $15
MassArt Alumni*: $20
MassArt Students*: $15
Non-Members: $35
*MassArt alumni and students, please email professional_development@boston.aiga.org for discount codes.
In partnership with:

Sites That Sell graphics by: Mary Ann Guillette