Agenda:
Doors Open & Networking Reception: 6 - 6:30 PM (Food and Drink Provided)
Screening: 6:30 - 7 PM
Panel Discussion and Q&A: 7 PM
Further networking and discussion in Lingo Bar after.
Fees:
AIGA Member: $10
AIGA Student Member: Free
Non-Member: $20
Student Non-Member (ID Required): $15
Become a members and save 50% on ticket prices online. Join now.
Speakers: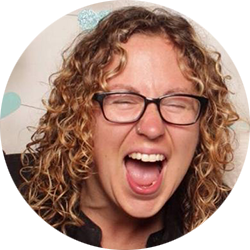 Amy Chenault, Panelist
Design Lead, Watson for Patient Safety at IBM Watson Health
Amy uses design, research, & passion to help improve the quality of everyday life. Currently, she is the Design Lead for Watson for Patient Safety at IBM Watson Health, where she and her team are working to improve the experience of pharmacovigilance to ensure patient safety. In some of her past design lives, she's had the opportunity to collaborate with amazing teams to improve radiologist workflows; democratize financial information, and empower individuals through the power of financial literacy (Society of Grownups); give local communities a voice while maintaining a newspaper's journalistic integrity (Neighborhood Square); find new and innovative ways to get kids moving in the classroom (Pearson); build an entirely new community platform for one of the most robust communities on the Internet (The Huffington Post/AOL). Work she has contributed to has garnered the 2011 Italian national prize for innovation, and a 2014 CODiE nomination for Best Professional Learning Solution for Education.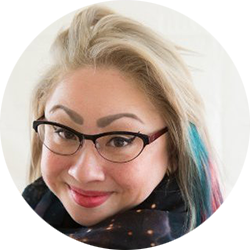 Astrid Chow, Panelist
Senior UX Designer & Researcher - Product Design Lead at IBM Watson Health and Co-Organizer at Action Design, Boston
Astrid Chow is a Senior UX Product Designer and Strategist who leads multidisciplinary teams with her experience in user experience design, information architecture, usability testing and research, content strategy and user-advocacy. With a background in graphic, interactive, and branding design, Astrid brings 10+ years of experience; first, in the agency world as a UX Designer and Graphic Designer for such clients as LEGO, Healthways, Adidas, PROJECT(RED) and Cadillac, to leading internal product teams developing analytic components for Blackboard and native mobile applications for Specialty Pharmacy at CVS Health. In the past year, Astrid has brought her passion for UX Product Design and Research to IBM Watson Health where she leads design teams working on complex health applications that utilize IBM's Watson's cognitive computing technology on such products as Watson for Genomics, and most recently, developing best practices around consumer health and wellness products to leverage behavior change and service design approaches.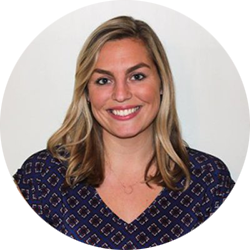 Jamie Lee Connor, Panelist
User Experience Designer at Epsilon and Leadership Committee Member & Teacher at Girl Develop It, Boston
Jamie works as a Senior UX Designer on the Product Management team at Epsilon, a global leader in data-driven marketing. She spends her time creating, testing and iterating on prototypes with the goal of building intuitive and easy to use products. Jamie has a background in front-end development and visual design, and she enjoys continuously learning and sharing her passion for design with others.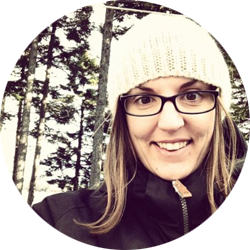 Kate Jacquet, Panelist
User Experience Manager at The Studio at EF Tours
Kate leads the User Experience team in the Studio at EF tours, overseeing research and design initiatives. She has a background in Psychology and holds her MS in Human Factors and Information Design from Bentley University. She's spent the past 8+ years learning about people and designing digital solutions to help make their lives a bit easier.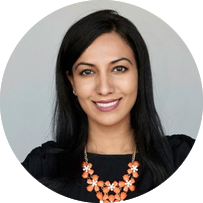 Neeta Goplani, Panel Moderator
Head of Experience Design at John Hancock/ Manulife
Neeta is the Head of Experience Design at John Hancock/ Manulife leading a team of UX designers, graphic designers and user researchers – or problem solvers as she calls them. In her previous life, she was a VP of Experience Design at DigitasLbi, a digital marketing agency, where she and her team of unicorms developed digital solutions for clients like Goodyear, General Motors, Bank of America, Intuit, Zimmer, Memorial Sloan Kettering Cancer Center, Baxter, and Baxalta. Neeta holds a master's degree in Human Factors in Information Design from Bentley University and an MBA from Nottingham University in UK.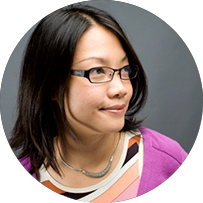 Chiranit Prateepasen, Event MC
Design & Innovation Lead at Pegasystems and President at AIGA Boston
Chiranit Prateepasen is a design & innovation lead at Pegasystems focused on exploring new business opportunities from a User-Centered Research and Design perspective. Previously, she worked as a design consultant at Continuum developing brands, services and user experience for clients such as Audi, BBVA, Philips, Sprint, and UnitedHealth Group. She has taught and given lectures on User Experience and Design Thinking at Lesley University and Bentley College, among others. Chiranit strives to give users easy access to complex information and powerful tools.
Parking and Transportation:
Parking
Museum of Science Garage (pay per hour)
Parking lot behind our building (Pay per hour)
Lechmere Parking lot (pay per hour)
Meters (only about 6 meters in front of building)
Public Transportation:
Red Line – Charles MGH stop (15 minute walk)
Orange Line – Community College Stop (12 minute walk)
Green Line – Science Park Stop – (1o minute walk)
Green Line – North Station Stop (12 minute walk)
Partners:
Fix My App
From the creator of Expose UX, comes a new web show: Fix My App. Watch users attempt to use an app for the first time during a usability test. It's easy to know how to use a product after using it a few times, but using it for the first time is when the issues are revealed. After all the problems are found, a team of user experience experts collaborate to solve the major problems. This special premiere episode is presented in partnership with Ladies that UX and features a female entrepreneur and panel of female UX experts.
EF Education First
For over 50 years EF has been working toward one global mission: Opening the World Through Education. Together with educators worldwide, we provide experiences that teach critical thinking, problem solving, collaboration and global competence.
International Women's Day
International Women's Day celebrates the social, economic, cultural and political achievement of women. Yet progress has slowed in many places across the world, so global action is needed to accelerate gender parity. Leaders across the world are pledging to take action as champions of gender parity - not only for International Women's Day, but for every day.
Graphic by Amanda Killam