Louise Sandhaus/ Designing History: BIG, small & mESsY
For over 15 years, ICA Boston and AIGA Boston have collaborated to highlight the work of today's leading designers and thinkers through this annual lecture series. Join this year's speaker Louise Sandhaus, to hear about her many successful projects including her book on the history of California graphic design, Earthquakes, Mudslides, Fires, and Riots: California and Graphic Design 1936-1986 and The People's Graphic Design Archive. After a presentation on her recent projects, Sandhaus will be joined in conversation with designer and educator Doug Scott, artist and curator Anne Thompson, and designer and educator Ramon Tejada.
WHEN + WHERE:
Thursday, Mar 23, 7–8:30 PM EST
Purchase tickets here.
TICKET PRICING:
$10 for ICA members, AIGA members + students /
$5 for AIGA student members / $15 for general admission
YOUR PROMO CODES!
AIGA Members – Enter promo code AIGAMEMBER and then select the AIGA Member ticket option (up to 2 tickets).
AIGA Student Members – Enter promo code AIGASTUDENT and then select the AIGA Student Member ticket option (up to 2 tickets).
HOW TO SUPPORT OUR DESIGN COMMUNITY:
Did you know AIGA Boston is run solely by volunteers? The best way to support our chapter is to become a member. Alternatively, your $5 - $10 donation helps support programming and ongoing initiatives for your design community! Please consider making a donation to help AIGA Boston continue to run events like this one. Donate to the AIGA Boston chapter here.
SPEAKER: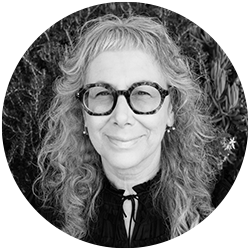 Louise Sandhaus is a graphic designer and faculty at California Institute of the Arts (CalArts). She is the founder and co-director of The People's Graphic Design Archive, a crowd-sourced virtual archive that expands, diversifies, and preserves graphic design history. Her book on the history of California graphic design, Earthquakes, Mudslides, Fires, and Riots: California and Graphic Design 1936-1986, was published in 2014 by Metropolis Books and Thames & Hudson. It received laudatory attention from The New York Times, The Guardian (London), and The Los Angeles Review of Books, among many others. In 2015, the book received the Palm D'argent from The International Art Book and Film Festival (FILAF). In 2019, A Colorful Life: Gere Kavanaugh, Designer, co-written and designed with Kat Catmur, was published by Princeton Architectural Press and was the subject of a full-page LA Times article. Her design office, LSD (Louise Sandhaus Design), in partnership with Tim Durfee and Iris Regn, is renowned for its ground-breaking approach to art museum exhibition design, including shows for the Los Angeles County Museum of Art, UCLA Hammer Museum, Center for Photography in New York, and others.
Louise is a Letterform Archive board member, former American Institute of Graphic Arts (AIGA) board member, former Chair of the AIGA Design Educators Community steering committee, an AIGA Los Angeles Fellow, and in 2017 was recognized with the Design Icon Award from Los Angeles Design Festival. In 2022 she was recognized for her contributions to the field of design with an AIGA medal.
SUPPORTING SPEAKERS
From 1974 to 2019, Douglass Scott was a graphic designer at WGBH Boston – public television and radio. He has been a teacher since 1973, and has been a visiting critic and workshop leader at over 40 schools. Currently, he is teaching at Northeastern University, at RISD, and at Yale University. Since 1978, Scott has given over 270 lectures and panel discussions on design history, WGBH work, and his own design work; and has curated and designed over 250 exhibits of graphic design history material at RISD and other venues.
Ramon Tejada is a DominicanYork (of Dominican-America, Afro-Caribbean, and LATINX descent) designer and educator based in Providence, RI, and occasionally in Los Angeles and Palm Springs, CA*. He works in a hybrid design/teaching practice focusing on collaboration, inclusion, unearthing, and the responsible expansion of design, a practice he has named "puncturing." His design practice focuses on elevating BIPOC voices. Ramon is an Assistant Professor in the Graphic Design Department at RISD.
Anne Thompson is an artist, writer and curator. Recent projects include Trail Signs at the Clark Art Institute and the Covid-era Bring It Home mail-order poster exhibition. Her nationally acclaimed I-70 Sign Show (2014-17) positioned the Midwestern Interstate as a public-art corridor for political commentary. Anne has edited numerous books on architecture and design. She currently is Director and Curator of Usdan Gallery and visual arts faculty at Bennington College in Vermont.
Graphic by Amy Parker
---
Join AIGA and get discounted tickets for our events and other benefits.
VENUE ACCESSIBILITY
AIGA Boston is committed to hosting events that are accessible for all. If you need special assistance to participate in this event, please contact Catherine Headen (catherine@boston.aiga.org) Co-Director of Diversity & Inclusion. For reasonable assistance accommodations to be provided, please notify us at least five business days in advance of the event. If we do not receive timely notification of your reasonable request, we may not be able to make the necessary arrangements by the time of the event.
CANCELLATION / REFUND POLICY
Your registration constitutes permission to use photos, audio, and video recording taken of you at the event for promotional and educational purposes in connection with AIGA Boston.
CODE OF CONDUCT
AIGA Boston has adopted the AIGA Code of Conduct with regard to its activities. We reserve the right to refuse admittance for violations of this Code, or other unlawful or disruptive actions. Any concerns should be addressed to the Director of Membership or Community Outreach.