Laura Fish will discuss the importance of vision and strategy, and why it is essential that designers play a leadership role in business.
REGISTER NOW ON ZOOM: https://aiga.zoom.us/webinar/register/WN_N_Lqb2EHTTec3wzAZjRGdA
In conversation with Heather Shaw, Laura will draw from her book (coauthored with Scott Kiekbusch), The Designer's Guide to Product Vision: Learn to Build Your Strategic Influence to Shape the Future, to share 4 valuable lessons for designers looking to find a better way forward for their contributions, their career, and their profession.
The lessons are:
Without a seat at the table, designers aren't positioned to reach their full potential.
We as designers have a higher calling, and that means reclaiming the discipline of design and redefining design for modern times.
Why harnessing vision is so important, and how the designer can lead the effort.
Why design must be recognized as an equal partner to business and engineering to make that vision a reality.
READ AHEAD:
"The Manifesto: The Designer's Declaration" is a great introduction to Laura's talk, and can be read for free in the book's Kindle preview.
LEARN MORE:
Now through March 31, Peachpit is offering a 35% discount on The Designer's Guide to Product Vision: Learn to Build Your Strategic Influence to Shape the Future. Enter code PRODUCTVISION during checkout. All orders include free U.S. shipping. eBook delivery includes EPUB, PDF, and MOBI files to read on your preferred device.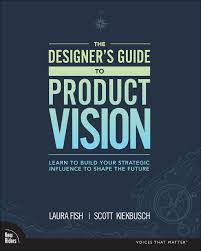 SCHEDULE:
12:00 Welcome + Speaker Introductions
12:05 Laura Fish, in conversation with Heather Shaw
12:50 Q&A
FEES:
This webinar is free and open to the public on Zoom.
SPEAKERS: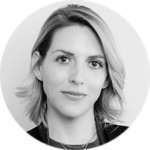 Laura Fish, is a Boston-based designer, strategist, and author focusing on bold vision to shape big real-world change for the better. With over 15 years embedded in digital product programs and user experience teams, her vision work, innovative mindset, and design expertise have consistently earned her a top spot influencing major enterprise decisions. She can now speak to the hard lessons learned and resulting expertise gained, that led her to appreciate that elevated influencer position and how she better harnessed that power as a designer. She co-authored The Designer's Guide to Product Vision (New Riders, 2020), now available at booksellers everywhere. @visionrngsherpa | guidetovisioneering.com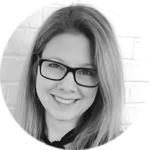 Heather Shaw is a professor and department chair of Design at Lesley University. She earned her MFA from the Dynamic Media Institute at the Massachusetts College of Art and Design, and BFA in Visual Design from the University of Massachusetts Dartmouth. Her professional experience spans print, motion, and interactive media. Her work focuses on local non-profit and educational clients including Perkins School for the Blind, The Lewis Family Foundation, and the Isabella Stewart Gardner Museum. She also serves on the Advisory Board for AIGA Boston.

Graphic by Grace Abe
---
Join AIGA and get discounted tickets for our events and other benefits.
Venue Accessibility:
AIGA Boston is committed to hosting events that are accessible for all. If you need special assistance to participate in this event, please contact Jess Charlap, Director of Diversity & Inclusion, at jess@boston.aiga.org. For reasonable assistance accommodations to be provided, please notify us at least five business days in advance of the event. If we do not receive timely notification of your reasonable request, we may not be able to make the necessary arrangements by the time of the event.
Cancellation / Refund Policy
Your registration constitutes permission to use photos, audio, and video recording taken of you at the event for promotional and educational purposes in connection with AIGA Boston. AIGA Boston has adopted the AIGA Code of Conduct with regard to its activities. We reserve the right to refuse admittance for violations of this Code, or other unlawful or disruptive actions. Any concerns should be addressed to the Director of Membership or Community Outreach.