Join AIGA Boston and MAARK in our debut of the 2023 GEN UX Symposium | Discussion on Audiences, Research and Digital Design.
Join AIGA Boston and Maark in our debut of the GEN UX Symposium | Discussion on Audiences, Research and Digital Design. Speakers invited to participate are experts within the UXUI design, research, social science and technology fields.
This morning symposium is crafted for you our audience — working practitioners in the field of UXUI; designers, researchers, social scientists and developers! You'll have a fantastic opportunity to genuinely connect with experts in the field, learn about ideas to explore further, and get excited with exchange of ideas to help you be smarter than when you walked in the door.
About the GEN UX Symposium
Communication and interaction design has almost fully transitioned to digital since the invention of human-computer interaction products in the 1980s. Since the iPhone debut in 2007, the dependency on devices in our everyday lives expedited. And in that time, designers have adapted to the demand. Designers now engage with audiences in new contexts — we research how audiences interact with our work in new ways, and design experiences that range from influencing consumer decisions to solving problems for real people.
As we continue on this path through Generation UX, we ask: how might we as designers bring our collective experiences together to engage new audiences, research deeper insights, and advance our craft for the experiences to come?
Coffee / Tea, Light Breakfast & Lunch is included with each ticket.
For lunch we will provide vegetarian options. For further dietary restrictions requiring gluten free or vegan, or if you have food allergies please email Leslie directly at Lbalbontin@maark.com.
SCHEDULE:
8:00 AM - 9:00 AM | Doors Open. Coffee, Light Breakfast & Networking
9:00 AM - 9:05 AM | GEN UX Symposium Introduction: Amy Parker, Alex Carr
9:05 AM - 9:30 AM | First Speaker: Britton Stipetic
9:30 AM - 10:00 AM | Second Speaker: Angela Shen-Hsieh
10:00 AM - 10:15 AM | BREAK
10:15 AM - 11:15 AM | Panel Speaker Discussion, Moderated by Chris Bransfield with: Astrid Chow, Juhan Sonin, Nigel Jacob
11:15 AM - 12:00 PM | Final Speaker: Meena Kothandaraman
12:00 PM - 12:05 PM | GEN UX Closeout: Amy Parker, Alex Carr
12:05 PM - 1:00 PM | Lunch (Provided) + Networking
FEES:
AIGA Members: $15

Non-Members: $25

Students: $10
Did you know AIGA Boston is run solely by volunteers? Your ticket helps support programming and ongoing initiatives for your design community, including speaker honorariums.
Join AIGA and get discounted tickets for our events, plus other benefits.
DIRECTIONS/PARKING:
Maark is located within a 5 minute walk from Sullivan Square T-stop on the orange line at 40 Cambridge St, Charlestown, MA 02129. 
Sullivan Square T Lot
Cost and Payment Information:
• Payment Methods: Mobile App, Invoice
• Mobile app: PayByPhone #4397
• Daily fee: Monday - Friday: $9 | Saturday - Sunday: $6
Spice Street Lot/Stanhope Garage
Cost and Payment Information:
• Payment Methods: Mobile App, Yellow Cash Box
• Mobile App: Honk Mobile, #7284
• Daily Fee: Monday - Sunday / 6:00 am - 6:00 pm: $6.00 | Monday - Sunday / 6:00 pm - 6:00 am: $6.00
Take a look on Google Maps.
SPEAKERS: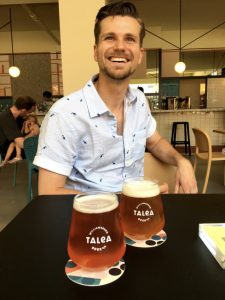 Britton Stipetic
https://www.linkedin.com/in/britton-stipetic-7332688a/
Britton Stipetic is the Founder & Creative Director of Rogue, a worldwide digital branding studio spanning from Cape Cod to Tokyo. Rogue's specialty is creating brands and experiences that are refreshingly human, culturally informed, and aesthetically relevant. When not designing, you can find Britton cooking up a storm, smoking meats over a fire, or walking on the beach with a Cold Brew in hand.
Angela Shen-Hsieh
https://www.linkedin.com/in/angelashenhsieh/
Angela Shen-Hsieh is an entrepreneur, technologist and designer and previously ran the Data Innovation Unit in Telefonica and the Watson Analytics and natural language artificial intelligence (AI) products at IBM Watson. Trained as an architect, Angela is a builder at heart. She has applied that to business and entrepreneurship, as the CEO and founder of four startups including Visual i|o, a venture-backed data visualization software company. She has been named a "Top Data Science Influencer" by The Data Standard, a Fast Company 'Master of Design', and one of "10 Cutting Edge Designers pushing the limits of design" by BusinessWeek. Angela holds six patents and has a BA from Columbia University and a Master in Architecture from Harvard University.  She currently lives and works in Cambridge, Massachusetts, where she is working on an AI startup in the home furnishings space.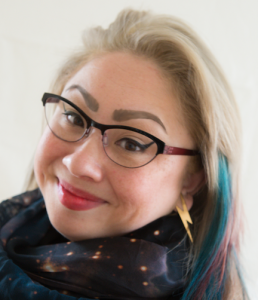 Astrid Chow
https://www.linkedin.com/in/astridchow/
Astrid Chow is the Principal Product Designer and Strategist building the UX Design and User Research practice at Eleanor Health, a healthcare startup that focuses on substance use disorders, alcohol use disorders, and mental health. She brings a passion for healthcare design experience from prior roles at Aetna/CVS and IBM Watson Health, where she led design on products and services related to AI, blockchain, and healthcare. Astrid emphasizes data-driven design: incorporating principles of behavior change to activate healthy behaviors and leveraging social determinants of health (SDOH) as a means to mitigate barriers to health equity. 
Astrid serves as the VP board member for the User Experience Professionals' Association (UXPA) Boston Chapter. Additionally, she is a frequent guest speaker and panelist on the topic of AI & Design Ethics at events such as Design Observer's The Design of Business, the Business of Design conference, the HFES Health Care Symposium, Connected Health conference, ACM CHI and CSCW conferences, O'Reilly's AI Conference, as well as UXStrat. In 2022, she taught an elective course on Design Ethics in Practice for the University of Washington MHCI+D program.
Astrid holds an MBA in Strategy and an MS in Human Factors in Information Design from Bentley University.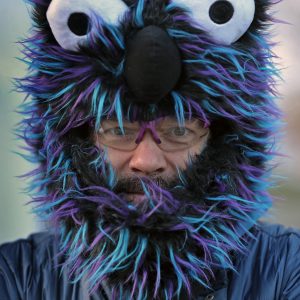 Juhan Sonin
https://www.linkedin.com/in/juhansonin/
Juhan Sonin designs the future of healthcare at GoInvo. His design infects local, state, and national healthcare systems from food stamps in Massachusetts to care planning for half of US residents. Our healthcare is too important to be closed, which is why he drives an open source agenda. Juhan also teaches engineering + design at MIT.
Nigel Jacob
https://www.linkedin.com/in/nsjacob/
Nigel Jacob is Co-Founder of the Mayor's Office of Urban Mechanics in Boston, and has been working on the cutting edge of civic innovation for the past several years. In particular, his goal is to create a network of civic innovation laboratories that spans the globe and enables cities to collaborate around the development of new kinds of civic technologies.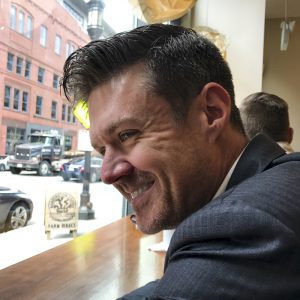 Chris Bransfield
https://www.linkedin.com/in/chrisbransfield/ 
Chris has worked in the User Experience field for over 15 years, in leadership roles at the American Institutes for Research, Kleimann Communication Group, Digitas, and Bose. Since 2014, he has been the co-founder of Woods Creative, a Boston and Portland based experience and design studio, where he serves as Executive Experience Director. He manages the strategy and user experience capability. His background is in formative and summative research methodologies as well as brand and project strategy. He studies people: Their interactions with each other, brands, products, and what compels them to make the decisions that they do. His professional work is founded in communication theory and history through the lens of social psychology. He believes in the axiom: "one cannot not communicate," and thinks there is always a message to be observed.
Chris holds a Master's degree from Clark University in Communication Theory & Research and a BA from Wheaton College with a focus in History, Psychology, and Political Communication.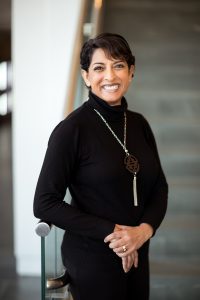 Meena Kothandaraman
https://www.linkedin.com/in/meenakothandaraman/
With 30+ years of experience, Meena has consulted to emphasize the strategic value and positioning of qualitative research in the design of product, space and service. Meena is fascinated by the complexity of human behavior, and applies a credible, structured and transparent approach to integrating human stories into mainstream processes. This ensures that research activities provide the best service to the organization, and that learning objectives are addressed to maximize potential.
Meena is a founding member of twig+fish, a research and strategy practice based in Boston, MA, that espouses these research beliefs, while maintaining a utopic work-life balance. She is also a key Lecturer in the Bentley University Human Factors and Information Design (HFID) graduate program. Over her 20+ year tenure, her capstone qualitative research course has guided now-leading practitioners to crafting meaningful and successful research practices. She has openly shared her experience as a lone WOC as part of the curriculum she has constructed, to invite more diversity into the discipline.
She holds an M.S. in Information Resources Management from Syracuse University and a B.Com. in MIS from the University of Ottawa, Canada. Meena is always inspired in her work by her other passions, namely performing as a South-Indian Classical Violinist, pursuing culinary arts by providing a learn-to-cook program, and immersing in the career pursuits of her two children!
EVENT PARTNERS:
In 2021, WillowTree acquired Maark, an end-to-end digital transformation agency specializing in Adobe Experience Platform. The acquisition further strengthened WillowTree's best-in-class digital strategy, design, development, and growth practices by adding specialized expertise across the Adobe stack. Today, WillowTree's Boston office remains the epicenter of our Adobe Practice. And we're growing fast.
LEARN MORE
https://maark.com/
-----
Symposium Brand Identity system by Amy Parker.
-----
AIGA Boston is committed to hosting events that are accessible for all. If you need special assistance to participate in this event, please contact Catherine Headen, Director of Diversity & Inclusion, at catherine [at] boston.aiga.org. For reasonable assistance accommodations to be provided, please notify us at least five business days in advance of the event. If we do not receive timely notification of your reasonable request, we may not be able to make the necessary arrangements by the time of the event.
Your registration constitutes permission to use photos, audio, and video recording taken of you at the event for promotional and educational purposes in connection with AIGA Boston. AIGA Boston has adopted the AIGA Code of Conduct with regard to its activities. We reserve the right to refuse admittance for violations of this Code, or other unlawful or disruptive actions.
Marketing Permissions:
By registering for this event, you are giving the Team at Maark permission to contact you about job opportunities. Unsubscribe at any time.