Sorry, this event is sold out. If you would like to be on the waitlist, please email events(at)boston.aiga.org.
Digital product designers are in high-demand around Boston and across the U.S. These designers are not only influencing how the latest crop of digital applications look, but they're helping define why these applications exist, how they work, and how they should be built. If you have had interest in UX/UI design in the past but have been unsure where to start, come learn about steps you can take to transition from graphic design to product design, what it means to be a product designer, and what you should know before diving into the world of digital product design.
This event will kick off with a presentation by Alex Carr, Creative Director of MAARK and followed by a fireside chat led by Gorham Palmer, Creative Director of IBM Interactive Experience.
Who should attend:
We have heard many of you, trained as graphic designers, ask about how to transition into UX design roles. We put this event together just for you.

Fees:
AIGA Member: $10
AIGA Student Member: $5
Educator: $5
Non-Member: $20
AIGA Members, sign in to AIGA to get your member fee.
Non-members, if you attend more than 3 of our events per year, consider joining AIGA to save money on your tickets. AIGA members receive discounts on event tickets and other great benefits.


Schedule:
6:30pm - Door opens
6:45pm - Presentation (45 minutes)
7:30pm - Fireside chat (30 minutes)
8:00pm - Q&A (20 minutes)
8:20pm - Wrap up
Speakers: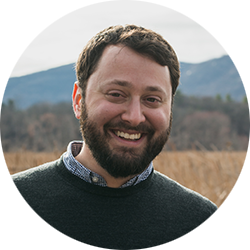 Alex Carr, Creative Director, MAARK
Alex Carr is the Director of Creative Services at Maark, where he leads a team of illustrators and designers focused on developing innovative, engaging, and empathetic design for their clients' businesses across digital marketing, branding, and digital product design. With over 10 years of experience designing and building products for the web, Alex has had the opportunity to work across many industries with clients such as Merck, Marriott International, Akamai, and John Hancock Investments. Alex graduated from the Rhode Island School of Design with a BFA in Graphic Design.
Gorham Palmer, IBM Interactive Experience
Gorham is an IBM Design Principal and the Group Creative Director for IBM iX's Cambridge studio. He has over twenty five years of experience as an illustrator, designer, and design thinker in creative services and customer experience consulting, with a particular emphasis on customer experience strategy, creative and brand strategy, conceptual problem-solving, and compelling creative execution in both traditional and digital media.
Graphic by: Grace Abe