TONIGHT! AIGA Boston invites you to participate remotely in Finding Your Place in the Design Industry, Wednesday, September 26, 2018 at 6:30 PM EST.
Join the Zoom meeting from PC, Mac, Linux, iOS or Android:
---
Join AIGA Boston for an interactive roundtable discussion exploring how designers can jumpstart their careers.
Bonus: September is Member Appreciation Month, and we're raffling off 2 AIGA memberships at this event!
For new and underrepresented designers*, accessing design roles with opportunities for growth can be a challenge. We've enlisted industry leaders in design and hiring to host a community-focused discussion about finding your place through personal branding, relationship building, and strategic job searching.
This event is a part of EMERGE, a national initiative led by AIGA Minnesota in partnership with AIGA's Diversity & Inclusion Task Force. The initiative features programming about employment, growth, leadership, entrepreneurship, and life skills for designers within the first five years of their careers.
Who Should Attend:

New designers who are ready to take the next steps in their careers
Hiring managers interested in learning more about Diversity and Inclusion
Fees:
This event is free and open to the public.
Select ticket type Remote Participation to be sent a webinar link as the event nears.
Speakers:
Shani Sandy, Executive Creative Director at S&P Global
Nathalie Heywood Smith, CEO at Heywood Smith Consulting
Melanie St. James, Associate Director of User Experience at Tufts University
Speakers' Bios: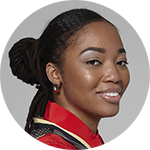 Shani Sandy is a creative leader who believes in the power of design to impact business. She is the Executive Creative Director at S&P Global where she has implemented creative strategies impacting the financial information and analytic industry globally. Noted accomplishments include integrated advertising campaigns, website experiences, multichannel global rebrands, and building creative teams from the ground up.

Shani holds an MBA from the Berlin School of Creative Leadership as well as a BA in Art History and BFA in Painting and Computer Art from Tufts University.

As an active member of the creative community, Shani has been honored by GDUSA's People to Watch, served on HOW Design's Judging Jury, and speaks at industry events nationally. Shani serves on the Arts Board of the Bronx Charter School for the Arts.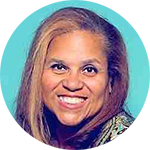 Nathalie Heywood Smith is CEO of Heywood Smith Consulting. She partners with companies at every stage of development from emerging companies to high-net worth corporations to build award-winning creative teams that are strategic and produce revenue.
Nathalie also sits on the board of InSource, as Director of Memberships. InSource is the professional association for in-house creative leadership and management, committed to excellence and sharing best practices within the ever-growing in-house corporate creative community.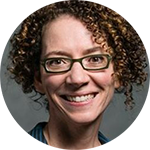 Melanie St. James is Associate Director of User Experience at Tufts University. Using a blend of Design Thinking, Service Design, and UX, Melanie is passionate about helping teams across the university innovate and deliver products and services that meet increasingly complex stakeholder needs — all this at a time of tremendous change in Higher Education.
* Who is an underrepresented designer? Someone who identifies as part of one or multiple communities that have been historically considered the minority as they pertain to race, ethnicity, gender, sexual identity, age, ability/disability, geographic location, and more. For additional details, visit emerge.aiga.org.
Directions and Parking Information
Alley Powered By Verizon is located at 10 Ware Street in Cambridge.
There is no on-site parking at the venue, but ample metered parking is available nearby. Alley is also within an 8 minute walk from the MBTA Red Line.

About the Initiatives:

The goals of EMERGE 2.0 are to achieve AIGA strategic core values of leadership and social impact. By partnering with the Diversity & Inclusion Task Force, we can facilitate an inclusive outreach dialog amongst all chapters, members, and prospective members that supports the well being of our communities and encourages civic engagement.
Your registration constitutes permission to use photos, audio, and video recording taken of you at the event for promotional and educational purposes in connection with AIGA Boston. AIGA Boston has adopted the AIGA Code of Conduct with regard to its activities. We reserve the right to refuse admittance for violations of this Code, or other unlawful or disruptive actions. Any concerns should be addressed to the Director of Membership or Community Outreach.
Graphic by Eileen Riestra