She'll discuss the career of noted mid-century African American designer Addison Bates, whose work has been overshadowed by white counterparts such as Charles Eames. Using Life and Ebony as a window into the consumer marketplace of the 1950s more broadly, she will explore how modern design circulated through the editorial landscapes of both magazines and how mid-century modernism influenced—and was influenced by—racial identities of the period. 
"​​Mr. Bates is significant in the history of design because he played a key role in Black artistic networks in New York City in the middle decades of the 20th century," Wilson writes, adding that "design historians tend to privilege the stories of those who could claim to be designing for the masses — but the industry connections to achieve such large-scale work were often limited to white men."
We'll be joined by Clark alumnus, and American history enthusiast, Chris Bransfield, to discuss ideas from Wilson's book for an exciting conversation!
WHAT YOU'LL LEARN:
History of 20th Century design approached through a lens of racial identity in the US. 

The story of Addison Bates, and the racial discrimination he faced.

How design narratives shape the makers who are recognized and celebrated today.

History is an unfinished project, and the work we do to better understand the past can change how we shape our present and future.
WHO SHOULD ATTEND:
Folks interested in design, design history, racial injustice, and reshaping narratives within the design field.
WHEN + WHERE:
FEBRUARY 2, 2022 @ 6:00PM EST — A virtual event on Zoom
Register here.
SCHEDULE (all times EST):
6:00 [5 minutes] Welcome + Speaker Introductions
6:05 [20 minutes] Kristina Wilson presentation
6:25 [25 minutes] Moderated discussion: Kristina Wilson + Chris Bransfield
6:50 [10 minutes] Your turn to ask! Q&A
7:00 | End
FEES:
This webinar is free and open to the public on Zoom.
HOW TO SUPPORT OUR AIGA BOSTON CHAPTER:
Did you know AIGA Boston is run solely by volunteers? The best way to support our chapter is to become a member. Alternatively, your $5 - $10 donation helps support programming and ongoing initiatives for your design community! Please consider making a donation to help AIGA Boston continue to run events like this one.
Donate to the AIGA Boston chapter here.

LIVE ATTENDEE PERKS | YOUR DISCOUNT ON HER NEWEST BOOK:
Princeton University Press is offering a special 30% discount on Wilson's book, "Mid-Century Modernism and the American Body: Race, Gender, and the Politics of Power in Design." Details will be announced for attendees during the event!
SPEAKERS: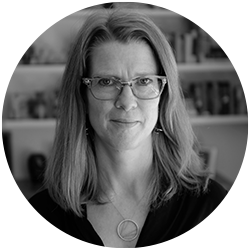 Kristina Wilson is Professor of Art History at Clark University in Worcester. She is an award-winning author and curator who writes about design history, the history of museums, and the history of photography. She received her Ph.D. in the History of Art from Yale University. She is the author, most recently, of Mid-Century Modernism and the American Body: Race, Gender, and the Politics of Power in Design, published by Princeton University Press in spring 2021. She is also the author of The Modern Eye: Stieglitz, MoMA, and the Art of the Exhibition, which won the Eldredge Prize for Outstanding Scholarship in American Art in 2011; and Livable Modernism: Interior Decorating and Design During the Great Depression (2004), which won the Charles Montgomery Book Award from the Decorative Arts Society. She has contributed articles to a wide variety of journals, including Art Bulletin, Journal of Design History, American Art, and Winterthur Portfolio. She co-curated the exhibition Cyanotypes: Photography's Blue Period (Worcester Art Museum 2016), which won an Award for Excellence from the Association of Art Museum Curators. 
Website | LinkedIn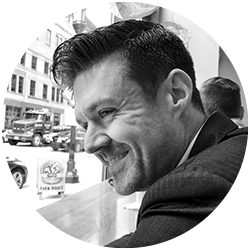 Chris Bransfield has worked in the User Experience field for over 15 years, in leadership roles at the American Institutes for Research, Kleimann Communication Group, Digitas, and Bose. Since 2014, he has been the co-founder of Woods Creative, a Boston and Portland based experience and design studio, where he serves as Executive Experience Director. He manages the strategy and user experience capability. His background is in formative and summative research methodologies as well as brand and project strategy. He studies people: Their interactions with each other, brands, products, and what compels them to make the decisions that they do. His professional work is founded in communication theory and history through the lens of social psychology. He believes in the axiom: "one cannot not communicate," and thinks there is always a message to be observed.
Chris holds a Master's degree from Clark University in Communication Theory & Research and a BA from Wheaton College with a focus in History, Psychology, and Political Communication.
Website | LinkedIn
Graphic by Amy Parker
---
Join AIGA and get discounted tickets for our events and other benefits.
VENUE ACCESSIBILITY
AIGA Boston is committed to hosting events that are accessible for all. If you need special assistance to participate in this event, please contact Catherine Headen (catherine@boston.aiga.org) Co-Director of Diversity & Inclusion. For reasonable assistance accommodations to be provided, please notify us at least five business days in advance of the event. If we do not receive timely notification of your reasonable request, we may not be able to make the necessary arrangements by the time of the event.
CANCELLATION / REFUND POLICY
Your registration constitutes permission to use photos, audio, and video recording taken of you at the event for promotional and educational purposes in connection with AIGA Boston.
CODE OF CONDUCT
AIGA Boston has adopted the AIGA Code of Conduct with regard to its activities. We reserve the right to refuse admittance for violations of this Code, or other unlawful or disruptive actions. Any concerns should be addressed to the Director of Membership or Community Outreach.