This event is for emerging, intermediate, or even advanced designers who are looking for clarity with their next career move.

Whether you're a recent or soon-to-be graduate, an aspiring career changer, or a seasoned pro, any designer can set achievable goals to grow into the profession — and ultimately, land that first, second, or seventeenth role.

REGISTER NOW ON ZOOM:
https://aiga.zoom.us/meeting/register/tJwkcemvqDgrG9EOGTGu-rEy1MQT_zjQUrBo
WHAT YOU'LL DO:
Learn the anatomy of a SMART goal and how to make one
Use a values-based approach to consider the right area to set your goal(s), such as building skills for the job you want, networking, public speaking, and more
Get tips for meeting your goals and staying accountable
Create at least one goal that you can take with you to get set up for success in 2022!
FEES:
This webinar is free and open to the public on Zoom.
Your donations help support our programming and ongoing initiatives. Consider making a donation to help AIGA Boston continue to run events like this one.
SPEAKER: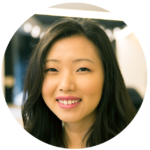 Phim Her splits her time between being the founder of HAWJ Studio, a multidisciplinary design, strategy and coaching studio, and doing business development strategy with Friendly Design Co. Phim's coaching practice includes working with clients on career transitions, leadership development, confidence building and navigating challenging work environments and personalities.
Phim's previous work incarnations include being a senior product manager and a global marketing solutions manager at The Washington Post, a senior designer at POLITICO and co-chair of AIGA National's Diversity & Inclusion Task Force.
QUESTIONS?
Reach out to Bernie Smigel (bernie@boston.aiga.org).
---

Join AIGA and get discounted tickets for our events and other benefits.
VENUE ACCESSIBILITY
AIGA Boston is committed to hosting events that are accessible for all. If you need special assistance to participate in this event, please contact Catherine Headen (catherine@boston.aiga.org) or Jess Charlap (jess@boston.aiga.org), Co-Directors of Diversity & Inclusion. For reasonable assistance accommodations to be provided, please notify us at least five business days in advance of the event (November 11, 2021). If we do not receive timely notification of your reasonable request, we may not be able to make the necessary arrangements by the time of the event.
CANCELLATION / REFUND POLICY
Your registration constitutes permission to use photos, audio, and video recording taken of you at the event for promotional and educational purposes in connection with AIGA Boston.
CODE OF CONDUCT
AIGA Boston has adopted the AIGA Code of Conduct with regard to its activities. We reserve the right to refuse admittance for violations of this Code, or other unlawful or disruptive actions. Any concerns should be addressed to the Director of Membership or Community Outreach.