Design has the ability to shape the way people interact with the world. So it's important that the teams shaping those interactions are inclusive or we risk leaving people behind. The business case for diversity and inclusion tells us that diverse teams are more likely to outperform teams that lack diversity.

So how do we as designers and creative hiring managers interested in diversity and inclusion put our interest to work? How can we get our colleagues excited about diversity and inclusion? How can we build design teams that are reflective of our diverse community? How do we find and attract diverse talent? These are a few of the questions that we'll answer during AIGA Boston's first Design for Hire event!
Join us for an interactive talk with Julianna Akuamoah, SVP of Human Resources at Arnold Worldwide. We'll discuss how we can leverage diversity and inclusion to build creative teams. There will be an audience-led Q&A at the end. 
This event is a part of Design for Hire, an AIGA Boston event series focused on providing designers and creative hiring professionals with the education, resources, and network needed to incorporate diversity and inclusion practices into their workplaces.

Light refreshments will be provided.
Who should attend:
Designers and hiring managers who are interested in diversity and inclusion and are looking for ways to include it in their work.
Please note that registration for this event is required as part of Arnold Worldwide's security policy.
Speakers: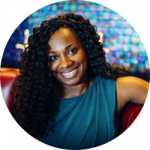 Julianna Akuamoah, SVP of Human Resources, Arnold Worldwide
Julianna Akuamoah is the SVP of Human Resources at Arnold Worldwide where she develops strategy related to recruitment, talent management, retention, workplace culture, and more. With over 10 years of human resource experience within the marketing and advertising fields, she provides industry-specific thought leadership on Diversity & Inclusion. Her work has been covered by Adweek, Campaign, and The Ad Club. Julianna holds a degree in Neuroscience with a focus in Psychobiology from Wellesley College.
Directions/Parking info:
Arnold Worldwide is located at 10 Summer Street in Downtown Boston. There is limited street and metered parking near the venue. We encourage attendees to utilize public transportation. Arnold Worldwide is within a 5-minute walk from the MBTA Green, Orange, and Red Lines.
Event partner:


Cancellation Policy & other info:
Your registration constitutes permission to use photos, audio, and video recording taken of you at the event for promotional and educational purposes in connection with AIGA Boston. AIGA Boston has adopted the AIGA Code of Conduct with regard to its activities. We reserve the right to refuse admittance for violations of this Code, or other unlawful or disruptive actions. Any concerns should be addressed to the Director of Membership or Community Outreach.
Graphic by:
Melissa Hines