Please join us for our annual design lecture organized in conjunction with ICA, The Institute of Contemporary Art/Boston.
Online registration through ICA Boston website. AIGA members must register by phone to receive AIGA member discount. Call 617-478-3103 and use code AIGA2018. Note: If you are a member of the ICA, you can use your ICA membership to get the discount online.
Influential graphic designer Paul Sahre reflects on his 30-year career in his latest publication, Two-Dimensional Man: A Graphic Memoir. He describes the designer's life as one of constant questioning, inventing, failing, dreaming, and ultimately making. 
Join Paul after the event for a book signing of Two-Dimensional Man. A limited number of books will be available for purchase at the ICA.
SCHEDULE:
Doors open at 6:30 pm
Talk starts at 7:00 pm
FEES:
AIGA Member: $10
AIGA Student Member: $10
ICA Member: $10
Non-Member: $15
Student Non-Member (ID Required): $10
Members save $5 off the regular ticket price. That's an 33% discount!
Join AIGA and get discounted tickets and other benefits.
SPEAKER: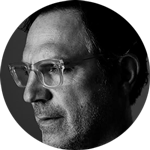 Paul Sahre is one of the most influential graphic designers working today. He has doggedly remained independent, operated his own practice since 1997. He is a frequent visual contributor to The New York Times; designed book covers for authors such as Chuck Klosterman, Malcolm Gladwell, Ernest Hemingway, and Clarice Lispector; authored books; and built and destroyed a life-sized monster truck hearse for the band They Might Be Giants. Paul received his BFA and MFA from Kent State University and has taught graphic design at the School of Visual Arts for the past 13 years. He lectures extensively all over the world and is a member of Alliance Graphique Internationale.
DIRECTIONS/PARKING:
The ICA is within walking distance from downtown Boston and is easily accessible by public transportation, car, bike, or water taxi.
If taking public transportation, take the Red Line to South Station and transfer to the Silver Line. The ICA is a short distance from either Courthouse Station or World Trade Center Station.
Parking in the area is limited. Paid parking is available at 100 Northern Avenue, Boston.
Graphic by Stoltze Design