For our final book group meeting of the season, we'll be reading Ellen Lupton's Design Is Storytelling. 
Design is problem-solving, yes. But that, by itself, may be a limited definition. In this book, renowned curator, design educator, and AIGA medalist Ellen Lupton argues that to leave out the narrative power of design is to ignore one of the most potent tools a designer has.
Available in paperback. Or check your local library.
The AIGA Boston Book Group meets every other month at a local restaurant to talk books about design over dinner with fellow members of the Boston design community.
FEES:
This event is FREE and open to the public.
LOCATION:
*The location of this event will be announced after registration.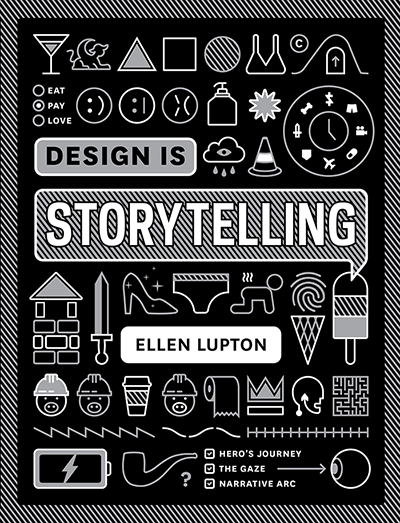 Venue Accessibility
AIGA Boston is committed to hosting events that are accessible for all. If you need special assistance to participate in this event, please contact Melissa Hines, Director of Diversity & Inclusion, at melissa [at] boston.aiga.org. For reasonable assistance accommodations to be provided, please notify us at least five business days in advance of the event. If we do not receive timely notification of your reasonable request, we may not be able to make the necessary arrangements by the time of the event.
Your registration constitutes permission to use photos, audio, and video recording taken of you at the event for promotional and educational purposes in connection with AIGA Boston. AIGA Boston has adopted the AIGA Code of Conduct with regard to its activities. We reserve the right to refuse admittance for violations of this Code, or other unlawful or disruptive actions. Any concerns should be addressed to the Director of Membership or Community Outreach.
Join AIGA and get discounted tickets for our events and other benefits.
Graphic by Nathan Pyritz