Join us for the first meeting of the new AIGA Boston Book Group. Read and discuss books about design over dinner with fellow members of the AIGA community. 
For our first meeting, we'll be reading Design Is a Job, by Mule co-founder Mike Monteiro. From how to choose clients to how to get paid, the book contains valuable insights for anyone working in the design field (and even for those who aren't). Monteiro shares the mistakes he's made in his own career and how to avoid making them yourself. Design Is a Job is a witty, blunt, and humorous book that packs a ton of great advice into a quick read.
September is Member Appreciation month. This month's Book Group meeting is for AIGA members only.
We will be meeting at a local restaurant. Attendees will be responsible for buying their own dinner.
BONUS PROJECT (optional):
Design your own cover for this month's book. Bring it to the meeting and share with the group!
FEES:
This event is FREE and open to AIGA members only.
LOCATION:
The location of this event will be announced after registration.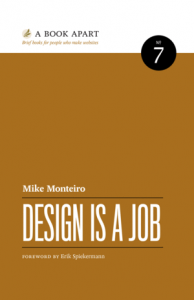 Your registration constitutes permission to use photos, audio, and video recording taken of you at the event for promotional and educational purposes in connection with AIGA Boston. AIGA Boston has adopted the AIGA Code of Conduct with regard to its activities. We reserve the right to refuse admittance for violations of this Code, or other unlawful or disruptive actions. Any concerns should be addressed to the Director of Membership or Community Outreach.
Graphic by Nathan Pyritz