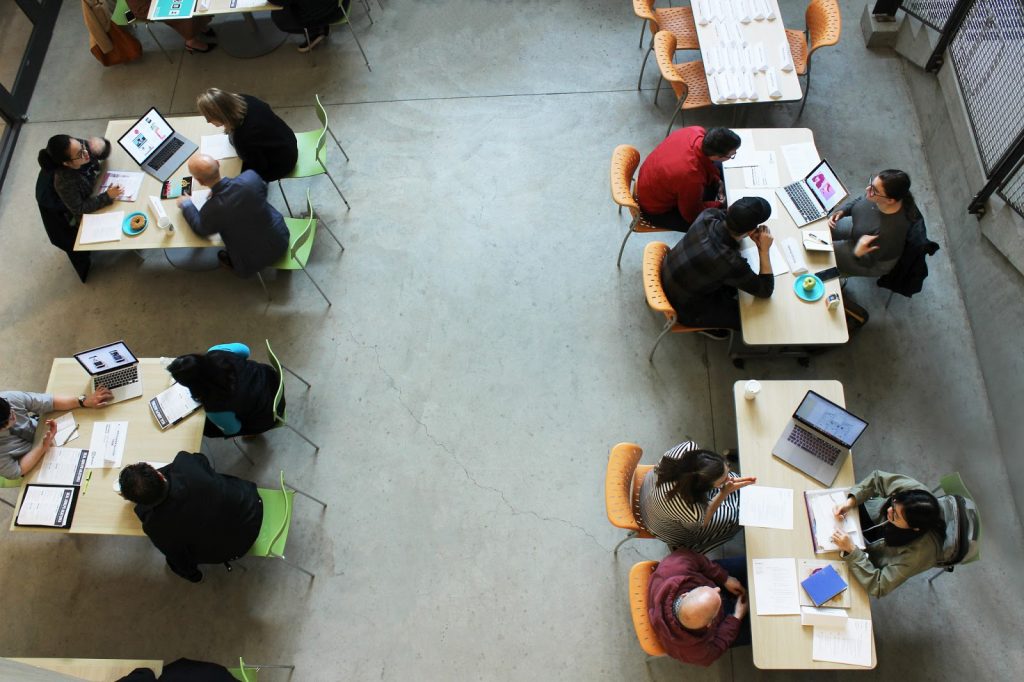 On Sunday, April 28, 2019, novice and seasoned designers alike gathered at the Lunder Arts Center in Cambridge for AIGA Boston's Annual Portfolio Review, part of the EMERGE Initiative. Open to designers with 0-5 years experience, the program aimed to provide design professionals early in the careers or about to enter the field with the chance to receive professional feedback on their portfolios, and to practice their interview skills. Many of the novice designers were Boston area design students, but some traveled from others parts of the country or beyond — one student made the trip from Japan to connect with the participating designers.

The feedback rounds were set up like speed dating. One novice designer sat with two seasoned designers at each table, where they presented their portfolios, received feedback, and had a free discussion for about 15 minutes before the seasoned designers switched tables to meet with a new designer. There was a two-hour session in the morning at 9:30 a.m., and another two-hour session in the afternoon at 12:30 p.m., and of course, no participant left on an empty stomach: Those in the morning session were treated to donuts from The Holy Donut in Portland, while participants in the second session enjoyed pizza to complement their afternoons of giving or sharing wisdom.

Soon-to-be designers like Nicole Hosking, a student at Montserrat College of Art, appreciated the bite-sized rounds of feedback and the opportunity to network with professionals in the field.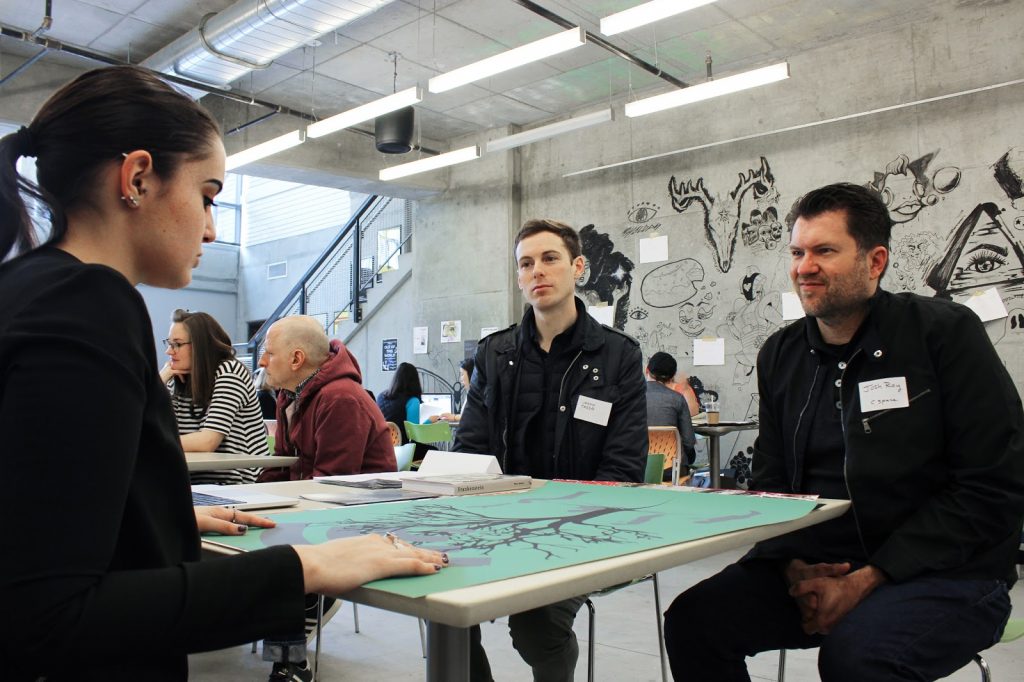 "It was wild, and I was nervous, but they gave me a lot of positive feedback," Nicole said. "Many people said to work on my typography, so I'm definitely going to work hard on that."

But it wasn't just the up-and-coming designers in the room who found a growth opportunity in the event. For some of the seasoned professionals, it was their first time applying industry knowledge to the benefit of newer designers, which proved to be a learning experience in and of itself. Bora Hwang, a product designer, enjoyed the opportunity to see various types of work beyond her normal area of UX design, such as animation and anthropology design pieces. But being on the other side of the review table was nostalgic as it was meaningful.

"It's great that as a young professional, I had this opportunity to be a reviewer," Bora said. "It would be great for anyone transitioning into a leadership role to be able to practice what it means to coach someone."

Also at the event, Prachi Jain represented American Graphic Institute (AGI) at a table to share the institution's learning opportunities, which include workshops and courses on design, marketing, and coding.

"AIGA's portfolio review day is a perfect representation of the association's commitment toward providing resources, mentorship and community for up and coming designers," Prachi said. "The event was filled with design professionals supporting one another in a collaborative way."

At the end of the review day, there was a sense in the room that each participant walked away with new connections and meaningful takeaways. Seasoned designers found it especially worthwhile after recalling their own challenges they faced in the early days of their design careers.

"It wasn't so long ago that I was in their same shoes," Bora said. "I was in the same portfolio review, nervous and talking to many different people. It brought back memories and it was just a great opportunity for young professionals."

AIGA Boston relies on design professionals to support the growth of up and coming professionals in the Boston design community. Learn more our mentorship programs and how to get involved here.A


Credits:
Written by Bernie Smigel.
Photography by Amelia Oon.

Special Thanks:
Heather Shaw, Department Chair and Professor of Design at Lesley University
Prachi Jain, Marketing Director at AGI
Gretta Olton, Vocational Design Program Coordinator, Design and Visual Communications Faculty at Boston Arts Academy, and her student volunteers
All our Volunteer Reviewers!