Designers across experience levels and industry sectors are realizing the importance of advocating for users in their work — but doing this effectively requires skills that fall outside of the traditional designer's toolkit. So, it was only natural that a community-wide survey inspired the UX Design Principles Workshop by AIGA Boston and the American Graphics Institute (AGI), which took place on December 4.

The workshop was taught by AGI's own Jennifer Smith, a designer, educator, and consultant to a number of Fortune 100 companies — not to mention a three-time Microsoft MVP award winner for her design work in desktop and mobile apps.

The workshop took place in the downtown offices of VitalSource Technologies, an e-learning company that designs digital products to maximize learning potential for students in higher education.

Speaking of which, after touching upon every stage of the UX process from research to prototyping, Jennifer gave the attending designers plenty of subject areas to study more deeply after the workshop of fundamentals concluded.

Designing With "Why" in Mind
Jennifer explained that research is key for laying out a solid foundation for the many design decisions that go into a website or mobile app. This is mainly done through interviews and surveys of current and potential users, either in collaboration with a dedicated research team or as part of the UX specialist's core responsibilities.

"Don't ever build something without talking to people," Jennifer said. "That's just you making a guess as to what goes where. But if you actually talk to people — that's user experience design. You're taking their wants and their needs, and making sure that they are heard."

As an example, she pointed to research she conducted for a pizza shop website. Among the main takeaways, most people wanted to call to order pizza, rather than fill out an online form. The team rearranged menu information and gave the phone number an attention-grabbing spot at the top of the page, reflecting what users would expect and find useful.

Research also helps to prevent meaningless decisions made to "fill space." The original design of the pizza shop website featured a weather widget in the side navigation that displayed the area's weather forecast.
"In what scenario, when you want to know the weather, would you go to your favorite pizza shop's website? You probably wouldn't," Jennifer said.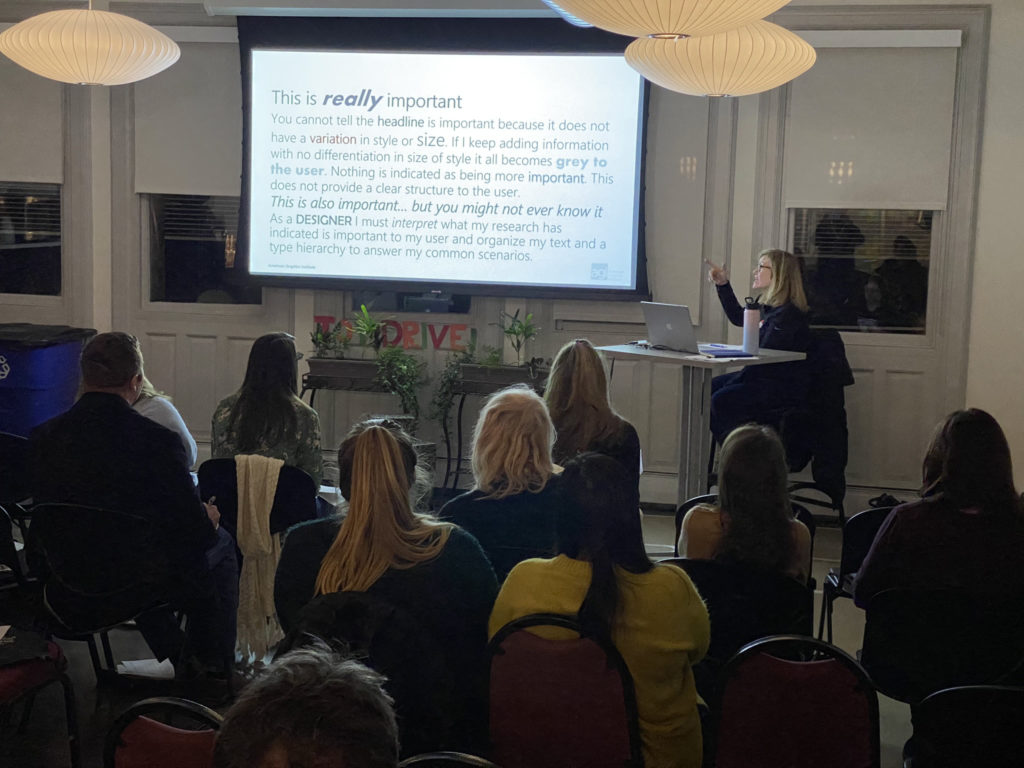 Assembling a Seamless User Experience
She proceeded to explain the benefits of paper concept sketching and making collaborative design iterations, as well as provide an overview of visual design fundamentals, showing how headings and subheadings can be used to display blocks of text in a clean and organized way. Jennifer also discussed effective web page layout, and how using guides and rulers can help a designer arrange page elements in a way that doesn't distract or frustrate visitors.

After the workshop and a brief Q&A session, event participants were free to mingle and network over pizza in the VitalSource kitchen area.

Inspiring UX in the Boston Design Community
Victor L. Cabrera, Senior Graphic Designer at VHB, felt that the event shed some light on a design practice overlooked by far too many companies.

"The major takeaway for me was the emphasis on focusing on the user, or group of users," Victor said. "I'm shocked to find products and services that I can clearly tell have never asked the question, 'who are our users and what are they trying to do?'"

Adrienne Fitzgerald, Design + Research Specialist at Dyer Brown Architects, found the workshop inspiring, and considers UX design to be a curious and motivating practice.

"UX principles are fundamental for organizing critical information, and for creating thoughtful, inclusive spaces," she said. "Good design makes people's lives better. That's potent."

AIGA Boston hosts a variety of skill-building workshops and networking events for design professionals, students, and enthusiasts. Learn about upcoming events here.

Credits:
Recap by Bernie Smigel
Photos by Nathan Pyritz