For this year's HUBweek, AIGA Boston hosted a panel of five designers and design-adjacent speakers to talk about how design in Boston is changing. Chris Bransfield of Woods Creative moderated the panel and it included Neeta Goplani from Manulife / John Hancock, Lesley Mottla from M.Gemi, Nigel Jacob from Mayor's Office of New Urban Mechanics, and Juhan Sonin from Involution Studios. The speakers explored who design serves, the roles and responsibilities of designers as well as what design challenges might emerge in the coming decades.
The Changing Role of the Designer
Design has traditionally been an afterthought at most companies. They were brought in at the end of the planning or not considered at all in the case of engineering and software companies. However, over the course of the last fifteen years the way companies see design has dramatically shifted.
Designers now are an integral part of the planning and execution process, and it seemed to happen almost overnight. Lesley Mottla told us of her experience at Zipcar, where they were thinking about how to build the company from a more holistic perspective. By shifting the focus from the technical requirements to customer experience they were able to grow the company.
Neeta Goplani said that her "Aha" moment in design was when business shifted from a waterfall process to focus on design thinking and creating an agile process where designs could be tested and iterated on faster than before.
As these companies look to design thinking to solve some of their most difficult challenges, designers became crucial to the process.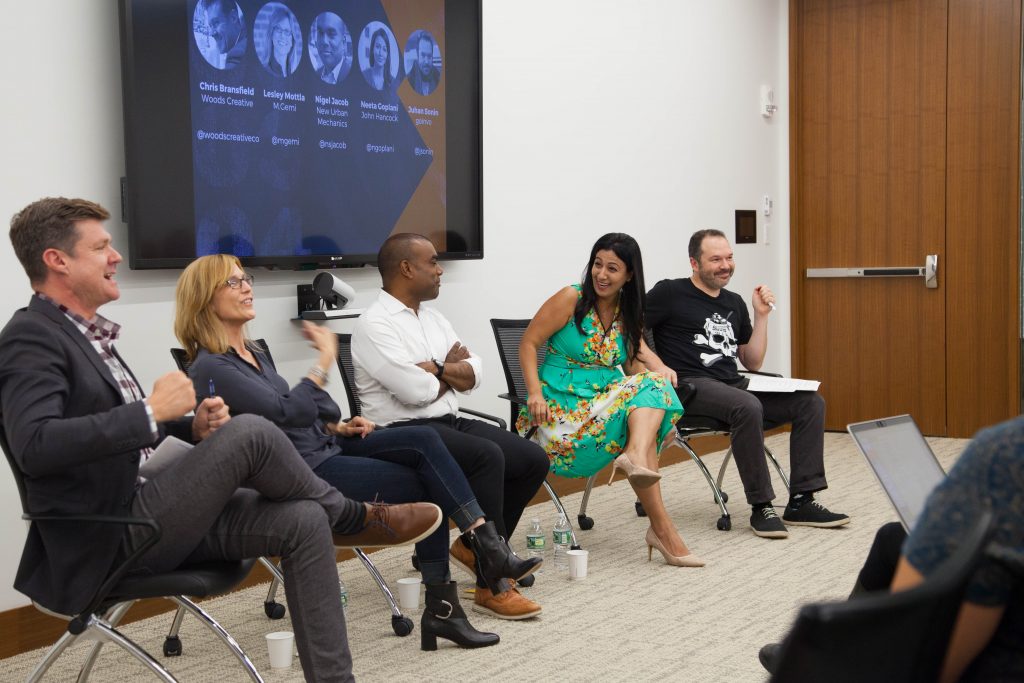 With Great Power Comes Great Responsibility
Each speaker discussed how designers now have a seat at the table and that comes with a bigger responsibility to those they serve. Nigel Jacobs spoke about the work he does for the Office of Urban Mechanics. He and his team go into the community and understand how they can use civic design to make the spaces better for the people who live there. Boston has had a tumultuous relationship with the people who live in some of the most vulnerable neighborhoods, so building that relationship and keeping the communities at the forefront of the process is key to making design successful.
Jacobs said that they don't have the luxury to fail fast and move on. It's vital to building trust in these communities in order to do the job well. Understanding the needs of the community, over designing for a fad, becomes the moral compass which they operate from in order to succeed.    
"I worry designers have too much of a golden halo," said Juhan Sonin. "We used to be the underdogs with something to prove. I worry now that we've lost an edge." Sonin said about how design is losing its impact because designers aren't working as hard as they once needed to.
Empathy and compassion are what drive good design. When designers lose sight of who they serve, it's those people who are affected the most.
Bridging Gaps
There is a convergence of policy, infrastructure, and technology emerging in today's society.  "Our world is changing so fast," said Goplani, "Designers are translators. They figure out what's happening so people can use it." Designers will be the ones to educate people on these changes.
In some ways, design is used as a way to keep people out. Sonin gave an example, "How do you design the law that everyday humans can understand?" The language of the law is something designed to turn people off from reading it, but designers can shift this.
Whether its advances in artificial intelligence, healthcare technology, or changes to local government policy, designers will be the ones who can make sense of the world for those who can't.
"The world around them has a better understanding of what they are trying to accomplish," said Mottla when describing what design will look like in fifty years.
Diversity of Perspective
Though with slightly different takes on what diversity means, the panel spoke about how important it is to bring different voices to the table. "Empathy is not enough, what I look for is compassion," said Jacobs. Especially when designing for cities, designers need to build trust within the communities they are serving and not enforcing design that hasn't taken the needs of the neighborhood into account. Jacobs looks for this in his team.
Goplani looks for diversity of thought: "I want to hire a diversity of thinking and solutions. We have shared values but I want to make sure there are different backgrounds and experience," she noted, "Contradiction brings about the best ideas." She hires fine artists as well as UX designers to explore what emerges.
One theme that resonated throughout each discussion is that the world changes faster than we can keep up with it.
Designers, now more than ever, have a vital role in how the future is shaped–all of it–from shoes, to software, and going beyond. Bringing their skills to a diversity of industries to create a world for everyone.
Miss the event? You can check out the full event on our Facebook page. https://www.facebook.com/aigaboston/videos/1458001654290487/
---
Amanda Bakerlee