Artwork: Loose Fit by CO—G
website: co-g.co
social: @co_g.co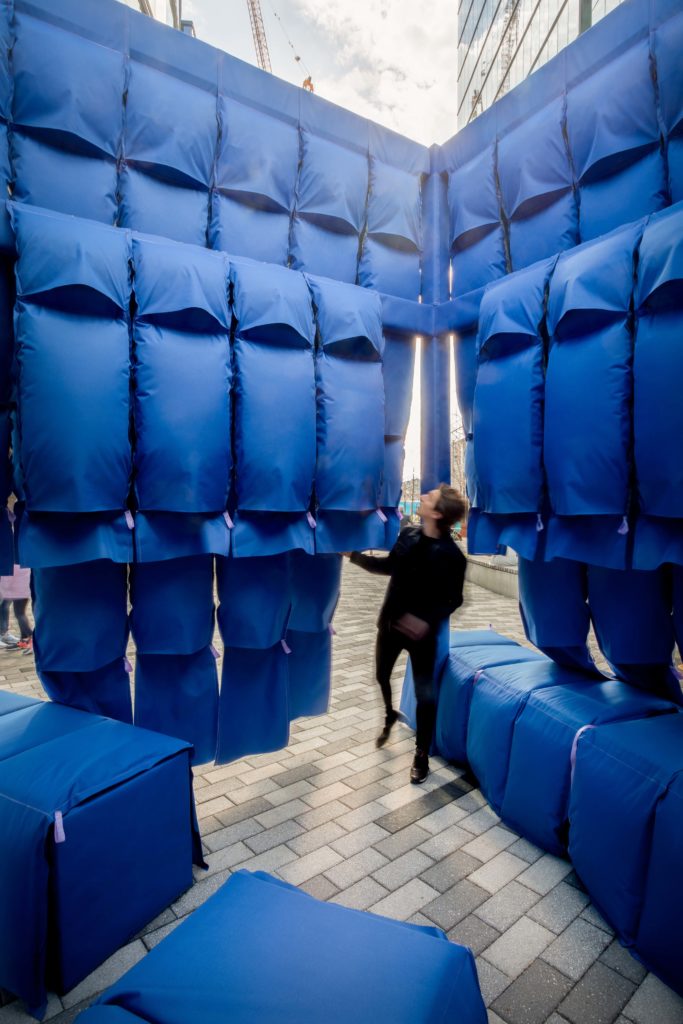 *Note: Loose Fit is no longer on view in Boston's Seaport.
Artist Statement:
Elle Gerdeman is a licensed architect, Design Critic in Architecture at the Harvard Graduate School of Design, founder of CO—G Architects, and recently named "Next Progressives" by Architect Magazine. The work of her studio, CO—G, produces architecture that is simultaneously familiar and unusual, even mischievous—through material, cultures of construction, and maintenance. Gerdeman held the Rotch fellowship, where her continued research examines cultural production amongst regional identity and altered resources through the lens of weather. Previously, she taught studios at MIT exploring design through alternate forms of representation and authorship and as Associate at Höweler+Yoon, led architecture and public art projects in Dubai, Shanghai, and the US. This included FloatLab, a submersible ring designed to experience a contaminated river, which won a Progressive Architecture Award, and the 2020 Empathy Pavilion in collaboration with the MIT Media Lab. She worked in New York, Los Angeles, Seattle, and Rotterdam, where at OMA she contributed on the Timmerhaus Cultural Center, the Qatar National Library, and the Venice Biennale. Her work has been exhibited and published internationally, including the Hong Kong Shenzhen Biennale, ACADIA 2014, and Gallery A4 Tokyo. Gerdeman received a Master of Architecture from Harvard University GSD with commendation and a BFA in Design with arts and computation with honors from Miami University.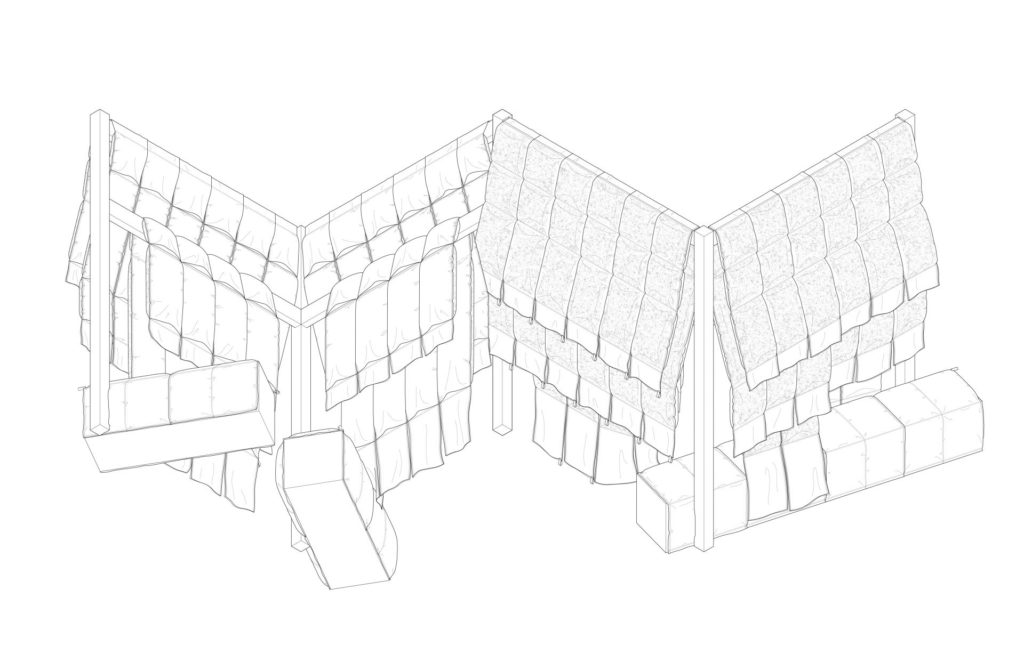 What subject matter does your work focus on? Do you have specific interests in your art making process?
Whether art, a building, or object, we're interested in researching given cultures of construction and to use design to advance or find new uses for those techniques. We are also interested in reappropriating these techniques and we see value in otherwise ignored or dismissed methods. For example, we have researched using tilt up concrete construction practices, typically associated with banal strip mall construction, to find unique formal expressions. Or, we have researched the application of New England cedar shingles extremely curved, and otherwise impossible to build, geometries.
We also look to expand the vocabulary of architecture. What does an architecture that can erode, droop, smudge, dimple, or crinkle look like? How is that architecture made? What materials are used? Buildings are typically described as being solid, long-lasting, precise, clean and these terms are often at odds with the environments and cities within which architecture is built. By simply reevaluating the language by which we talk about architecture, we think, can lead to promising new futures.
Further, we are interested in investigating an alternate perspective from which material and tectonic systems are conceptualized; how material, maintenance and weathering can be viewed, and for ways in which cultural, as well as architectural, production is oftentimes defined by this. If the most intimate relationship between building and use is its maintenance, how is this act designed? How might time and material lifespan act as protagonist – is the act of maintenance simply a continual refurbishment or part of the design process?
Our goal is to codify within construction, the variety and appearance of the visible, and invisible, world – in a way that resonates with the fluidity between culture and atmosphere, authorship and lifespan. We love to unpack familiar building techniques, details, and systems in order to frame material consequence as well as thoughtful misuse.
How did you start conceptualizing the idea for Loose Fit?
We have been interested in New England shingles for several years now. They are ubiquitous in the area – a kind of caricature of Boston. In our Plum Island House project, we explored the geometric and weathering qualities of shingles, but in this project, we were more interested in the familiarity and playfulness of them – in creating a version of an architecture with familiarity, one which could evoke a collective or shared memory. By using ideas of architectural memories (maybe cedar shingles) or even object memories (perhaps a quilt or the draping of a garment), the project really emerged as a type of found object that we are all a little familiar or even nostalgic with. The project then became about making the shingles accessible and interactive, as well as to allow them to drift into something more dreamlike – soft, puffy, pillowlike. When in the center, the thickness of the panels helps dampen the surrounding sounds of the city, creating a quiet, dreamy blue experience. As a breeze picks up, the curtain-like ends sway and flutter. Between the billowing of the fabric and the interaction from guests, the pavilion is always in movement.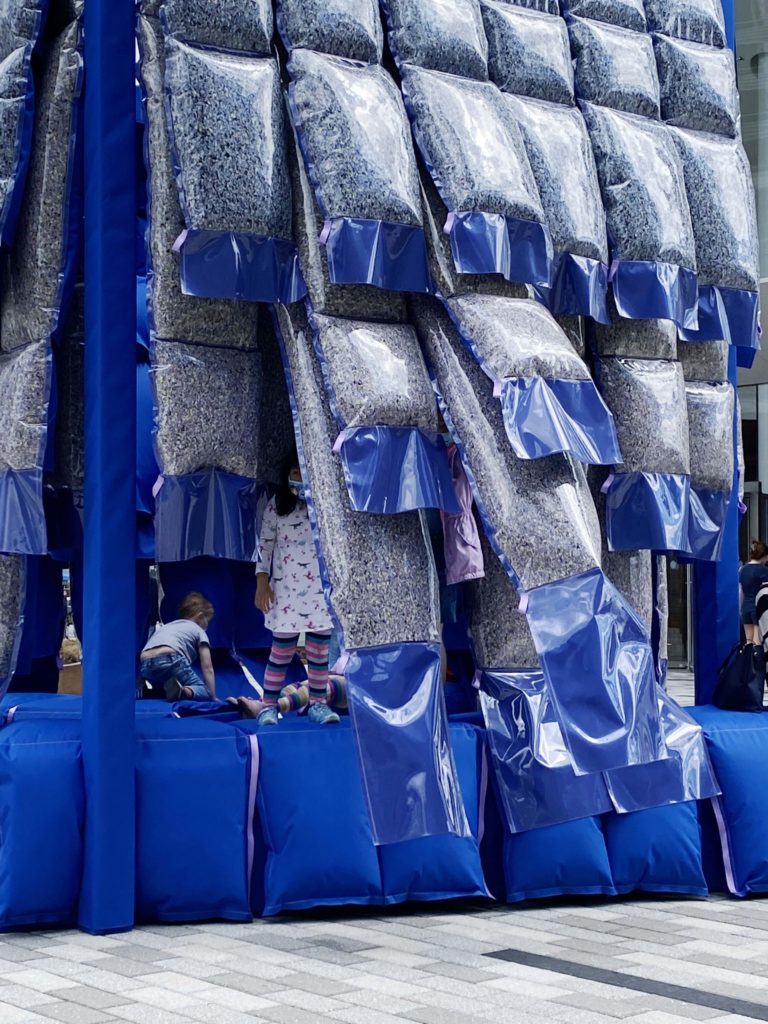 Did you work with a team, and if so, what was that experience like?
The design team was in house, but we worked with a structural engineer to take into consideration the wind loads on the frame. There was quite a bit of back and forth determining the most effective solution to weight the structure down without damaging the pavement, while simultaneously acting as a cushy seating element.
Which community resources or funding opportunities enabled you to pursue the project?
Design Seaport is a program generously supported by WS Development. It was partnered with the BSA and Over Under.
Please describe your process! Which materials did you use and did you need to shift your materials? Did concept influence your material choice?
In Elle's early days, she considered going into fashion design and had apprenticed at tailoring shops that construct their own patterns. Through this, she learned how to design and produce garment patterns and properly sew. This came in handy when conducting the research and development of the panels as well as the sleeves for the structural frame.
This application of garment making coincided with the making of architecture, creating a 'double take' from one to the other.
In architectural terms, the panels are constructed in the dimensions of a typical American wall – 16" "On Center". Essentially, a typical stud wall is built using metal or wood vertical studs, which are spaced to allow insulation and other items to fit into the cavities between the drywall on either side of the wall. We all are a little familiar with what this looks like, which allows the pavilion to play on a kind of playful ability to walk right through the wall.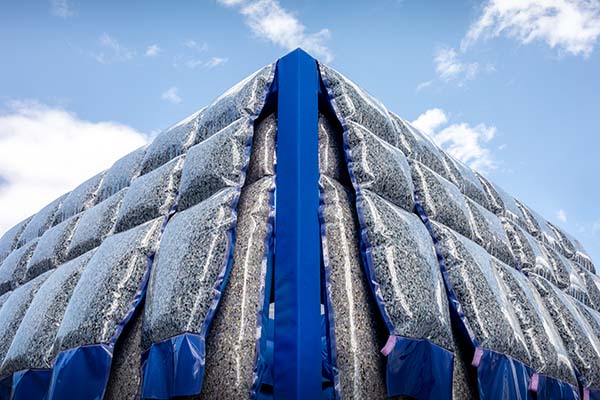 What is your intention behind the piece and what impact do you hope to make? What do you want your audiences to take away?
The project started with the ambition to create a "soft" architecture. We have been interested in the application of familiar things; like materials, building conventions . . . in unfamiliar ways. In this case, we took a pillow and applied it to the scale of a small building. This object then elicits an ordinary response like hugging, bumping, even punching, but at an architectural scale that we haven't really seen before. Buildings are designed to last decades, even centuries, and given the temporal nature of the pavilion it allowed us to think about opportunities that this provided.
The pavilion is also somewhat primal in nature. When we were installing it, people passing by kept asking "what is it?" We are less interested in "what it is" than "what it does." It allows for an engagement with the built environment that we think is new and highly unusual.
Temporality allowed us to move beyond some of the traditional constraints of architecture. Like has already been discussed, these are things like cleanliness, longevity, etc. The site is located in an area of Boston which is basically brand new, all built up (by our developer client) over the last 5-10 years. We see the project as a contrast to the hard flat and glassy corporate architecture that is all around it. This juxtaposition is clear in the project images and the pavilion plays in interesting ways against it. The Pavilion has reflections (like glass) but is soft and squishy. It is gridded in a way like a building facade curtain wall, but you can bump in between the panels.
Which challenges did you overcome during the process?
The pavilion sits light on the ground, or is rather very heavy. Due to the site constraints, we were not permitted to do any fastening or anchoring to the ground. With the site being windy, it meant we needed to add a significant amount of weight to hold down the pavilion should a strong wind emerge and uproot the pavilion. To combat this, we designed 3 hollow benches, which are filled with reusable concrete blocks. The benches are also covered with puffy panels, such that guests can experience the softness directly.
*Note: Loose Fit is no longer on view in Boston's Seaport.