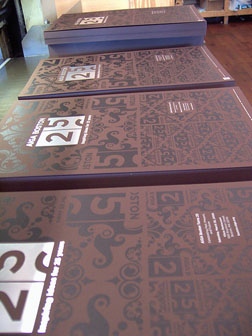 Hot off the (letter)press! These hand numbered, limited edition posters were designed by Stoltze Design, printed on Crane's Palette Espresso, and letterpress printed at EM Letterpress in New Bedford, MA.
The posters are only available this Saturday, March 28 for AIGA's 25th Anniversary celebration at Vlora Boston. Posters are designed as a one-time gift to all who attend.
In addition to printing the 25 Years invitations and posters, EM Letterpress is also hosting a Wood Type Iron Press workshop this Saturday in conjunction with the day's festivities. This hands-on workshop is a rare opportunity for designers to work with wood type and an antique iron hand press under the guidance of master printer, Elias Roustom.
EM Letterpress is a fully-functioning, commercial printing house "dedicated to making the art of letterpress printing available as a viable option to designers, stationers, publishers, and all those who value craft."
View more 25 Years poster photos.
View more information about EM Letterpress.
AIGA Boston: Inspiring ideas for 25 years
Workshops and evening celebration, this Saturday, March 28, 2009.