And, they're off! With introductions, insights, and pizza abound, AIGA Boston kicked off its 2019 Mentorship Program on Tuesday, March 5. The event found a fitting home at the North American headquarters of EF Education First, a company that fosters global citizenship and rich education through experiential learning. The building itself radiates creativity and expression with artwork around every corner and a glistening view of the city across the Charles River.

Over 40 mentees participated in the workshop-style kick off event, which was facilitated by Leora Viega Rifkin, a career coach at Just-A-Start Corporation who teaches career exploration courses for local youth and adults.

After shaking hands for the first time, mentors and mentees had the chance to learn about one another — but not just about their backgrounds and favorite colors. Leora asked mentors and mentees alike to examine a list of 24 character strengths developed by the VIA Institute of Character, ranging from creativity to perseverance to self-regulation. (See the full VIA character assessment here).

She asked program participants to find their top five signature strengths. Signature strengths are character traits that make you say "That's me!" when you come across them, and that you feel you couldn't live without. Each person had three minutes to share with their partner their signature strengths and how they use them in their personal and professional lives. Almost instantly, the room burst into loud, energetic chatter.

Once the six minutes were up, Leora pointed out why the room grew so noisy: because, when we as humans, focus on our strengths, we naturally feel good and it results in an incredible amount of positive energy. This infectious positivity is key for tapping into during an effort like working with a new mentor or mentee.

"Do this after an afternoon meeting, and you don't even have to serve coffee," she said. "Just have people talk about what's awesome about themselves! We should ask ourselves, 'How do we light up more?'"

She explained that knowing your own character strengths helps individuals understand the best way for them to go about a new challenge or journey.

"We're often taught that we can be whatever we want to be, but I can guarantee you that I will not be an olympic swimmer at this point. However, I can be a teacher. I can share my 'love of learning' character strength with other people. I can share my 'curiosity' strength with other people."

The idea is that mentors and mentees alike will be able to consider their character strengths as they teach and learn. Over the course of the five-month program, they can develop their skills and hone their strengths.

"I really enjoyed the workshop and the focus on strengths of skills rather than a deficit of skills," said Sarah Lincoln, one of the mentors involved in the program. "I learned that my top strength according to the VIA character assessment is 'Perspective' and I'm excited to use my assessment to build up the relationship with my mentee."

Daniel Smelansky, a senior Industrial Design student at MassArt, joined the program to get a feel for the creative world outside of college and appreciated Leora's workshop approach.

"I think having Applied Positive Psychology as a framework for a kick-off event was really novel and was a nice change of pace for a type of event that usually exists in the context of sterile and awkward networking," he said. "The activities [my mentor and I] did together prompted self-reflection and a type of sharing that allowed us to be more vulnerable with one another, which I found really valuable."

After the VIA character strengths exercise, the pairs began to fill out a goal setting document. The document asked mentees to list their aspirations for the relationship, and to set several short-term goals, which could include: a performance goal that focuses on bottom line measures like applying for a certain number of jobs, a learning goal that entails developing a plan or process to master a task or program, or a behavioral goal that focuses on growing in a professional area such as teamwork and collaboration.

Leora advised the pairs to think practically when it comes to goal-setting. They should only set SMART goals (Specific, Measurable, Attainable, Realistic, and Timely). Under that criteria, she pointed out that "getting a job" isn't a proper SMART goal because it's not in the mentee's control. The smaller, the better — adding a certain number of finalized pieces to a portfolio and having an informational interview with another design professional are examples of goals that can be attained in the given time frame.

Because the program lasts a duration of five months, the pairs have set five-month goals. The pairs were advised to decide exactly how many hours the mentee will need to create or revamp their portfolios, and then plan in a granular capacity by mapping out how many hours they will allocate to their portfolios per week (for example, working on their portfolio for three hours weekly on Sunday mornings). Finally, pairs were asked to establish regular times to check in with each other, which is essential for holding mentees accountable to their set SMART goals.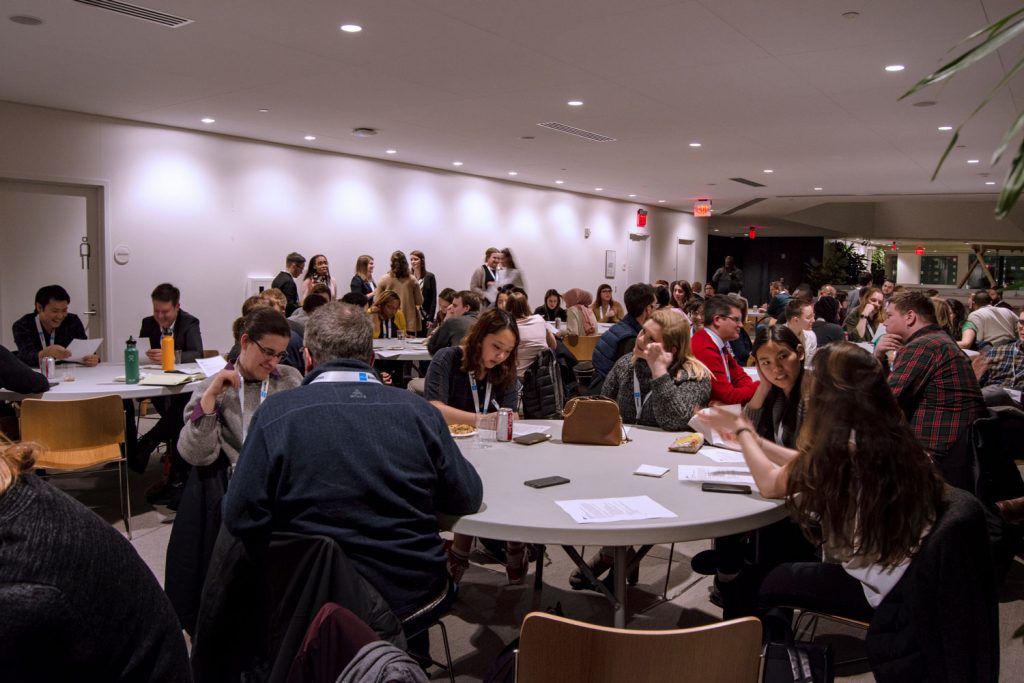 As the program continues through August, AIGA Boston plans to schedule more events for program participants, and has set up a Slack channel for mentees to share their work and collaborate with each other and their industry mentors. Now that the ice has been broken and the character strengths understood, the aspiring designers are in the midst of creating, collaborating, and taking exciting steps on their career journeys.

"I felt great energy from the diversity of the group," said Peter Chao, a mentee enrolled in the program. "I'm excited to see through the lens of someone from a different discipline."

AIGA Boston's Mentorship Program takes place on a yearly basis and relies on volunteer professionals in the design industry. Learn more our mentorship programs and how to get involved here.