On December 10th, 2018, the AIGA community joined Alex Carr, Creative Director at MAARK, and IBM's User Experience Director, Gorham Palmer at IBM Cambridge. Both Creatives shared strategies on how they turned their BFA design backgrounds into a unique User Experience design career.

Prior to an audience-driven Fireside Chat with both speakers, we listened to Carr's solo lecture. The dominant audience ranged from new folks in the creative industry to seasoned Creatives, curious about the transition from design to UX. These independent contractors, in-house designers, agency dwellers, and business owners, gathered to first learn Carr's perspective on how UX helps define digital products, how the creative process is used, and how we can become practicing UX designers ourselves.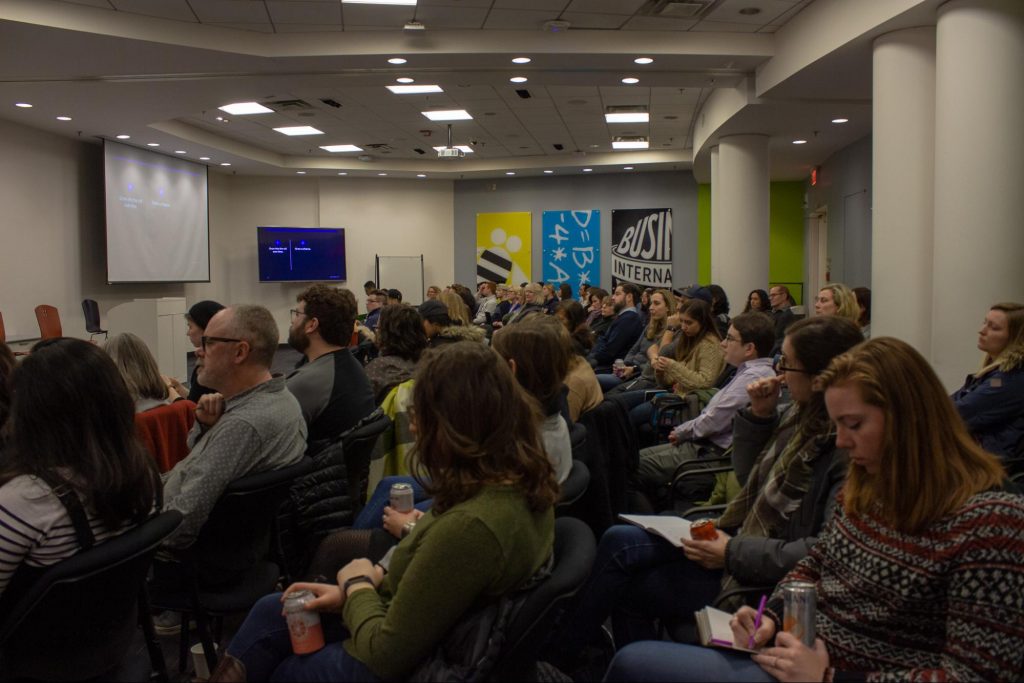 The Digital Design Background
Carr brought us back to the late 2000s. As the internet was coming of age, Alex Carr was growing into his profession. During the introduction of his talk, we learned he attended the Rhode Island School of Design to study graphic design, but curiosity drove his passion to build websites for friends and colleagues outside of classes. Carr taught himself how to code using HTML and CSS and became well versed in the development of websites and applications. In order to organize the vast amounts of data in his personal work, he devised a content management system (CMS), where tags and keywords could find documents to enhance his efficiency in keeping track of all the content. Carr's portfolio of design, custom CMS work, and inherent drive to experiment with code landed his job at MAARK, a digital innovation agency. One of the first digital products he made there was the Intuit Sphere, an application built using Flash.

The Transition from Graphic Design to UX Design
In true UX fashion, Carr simplified the definition of UX in one clear sentence, "Graphic design is static; user design is dynamic." He explained the key to user experience design is defining the problem and only after the problem is clearly understood, a designer can begin to create the solution. "As a graphic designer," he stated, "you have a foundation of skills that set you up to be great [digital] product designers. The best way to begin is to learn new skills and start working. Your work will be your door into this emerging industry."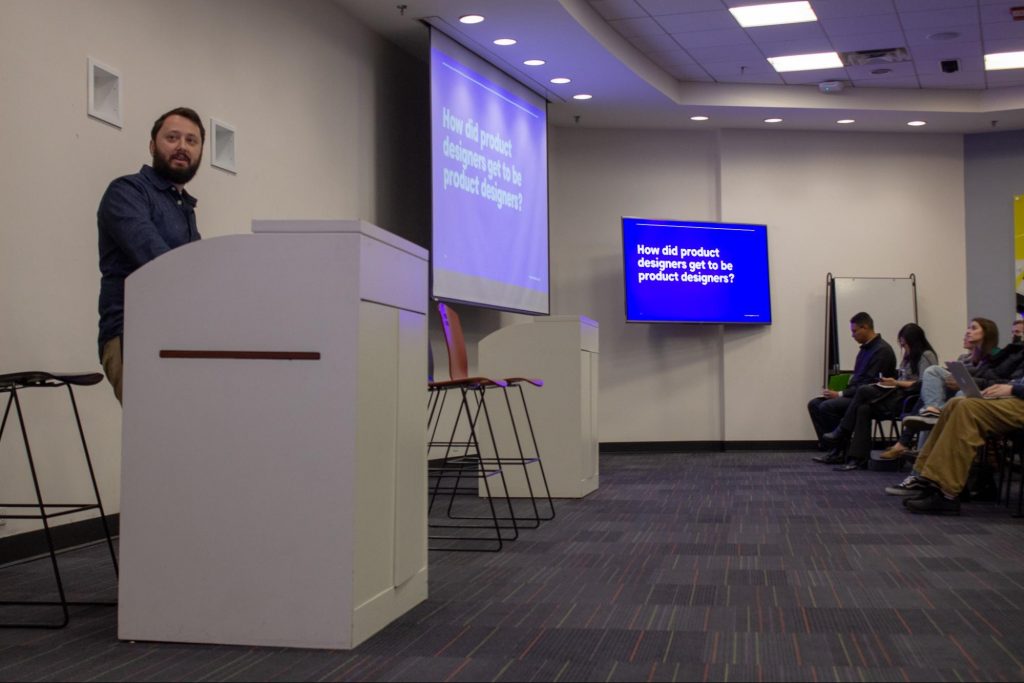 Carr elaborated on how traditional designers can transition to the field of UX if they are willing to expand beyond designing works of art to understanding how humans respond. He mentioned the five main components for successful UX design includes having the ability to:

Understand the problem by way of research in order to learn what the user needs and why
Define the product and outline the capabilities of what the function should be
Understand how and why users make contextual decisions within an experience
Design the product to define how form and function work together
Understand the technology, how the product is created and how it is maintained for longevity
"[Digital] Product designers," Carr adds, "help define what an application does, how it works, how it looks, and how it feels."

Formative Research to Understand Users
Carr emphasized the most effective method for understanding your users is through the research and discovery process. He offered tips on how to become comfortable interviewing users if a designer works with a UX researcher. Some high-level ideas include:

Listen intently and remember the interview is about the user, not you.
Never correct or make the user feel incompetent.
Embrace moments of silence—silence is essential to help you listen and delve deep to uncover the user's experience.
Carr concluded this segment with a recommended read, titled Just Enough Research by Erika Hall, quoted, "Conducting a good interview is actually about shutting up."1
Flows and Mapping the Experience
With research completed, a designer is ready to tackle application mapping. Carr shared his flowchart that outlined all the interactions a user could take within an application. A designer is responsible for this mapping to show all product screens and steps for an in-depth illustration of each interaction within the flow. This even includes the steps a user might make that were not intended by the solution. Carr advised, "Have a clearly defined goal for every mapping document you produce." He recommended Communicating Design by Dan Brown and Visual Vocabulary by Jesse James Garrett as two great resources to learn how to map out your product or application successfully.2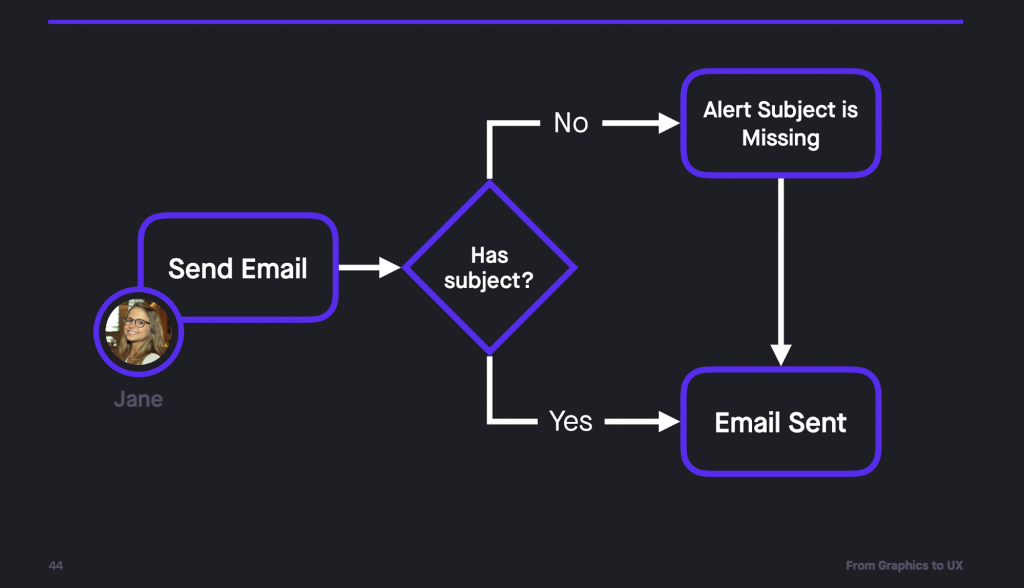 The Critical and Iterative User Test
After users are interviewed in the research process, the product/application is mapped, and the digital product is created in a tangible design, the final step is to put the work to the test. We learned testing is the most critical step because it illuminates where the design works and most importantly, where the design does not work. As UX designers, we must ensure the product is learnable, efficient, memorable, error-free, and that the user loves it. Carr suggested working with colleagues as guinea pigs in lightning lab scenarios before testing with study participants. Fixing issues in a design before a product release is considerably more cost-effective than fixing problems after the release.
When Carr and his team do research tests, they record the screens of their participants. If it makes sense for the study, they will also record the users' facial expressions to capture non-verbal reactions in addition to any dialogue they may contribute. Carr mentioned he and his team patiently watch and listen to gain insight to bring back and use that information to refine the product.
Where to Find Our Own UX path

For the Fireside Chat portion of the event, we invited Gorham Palmer into the conversation for a collaborative dialogue with the audience to answer specific questions. Among our curiosities of how to learn UI and UX, where to get started, and nuanced questions about different industries, Carr and Palmer both agreed the best way to learn is by doing. Designers naturally find problems in the real world and we have the ability to design solutions using the UX process Carr shared with us.

Both leaders left us with advice on a few places to look to build our own UX/UI skills:

DailyUI.com sends you daily prompts in your inbox to create new UI ideas
Coding and software design boot camps can be found in our local community, like General Assembly
Play and experiment with different tools and/or coding languages
Become familiar with programs such as Sketch, InVision Studio, Adobe XD, Figma, and Framer X. Each company has a different design process and might use different tool sets, but these programs are easily accessible and essential to honing skills.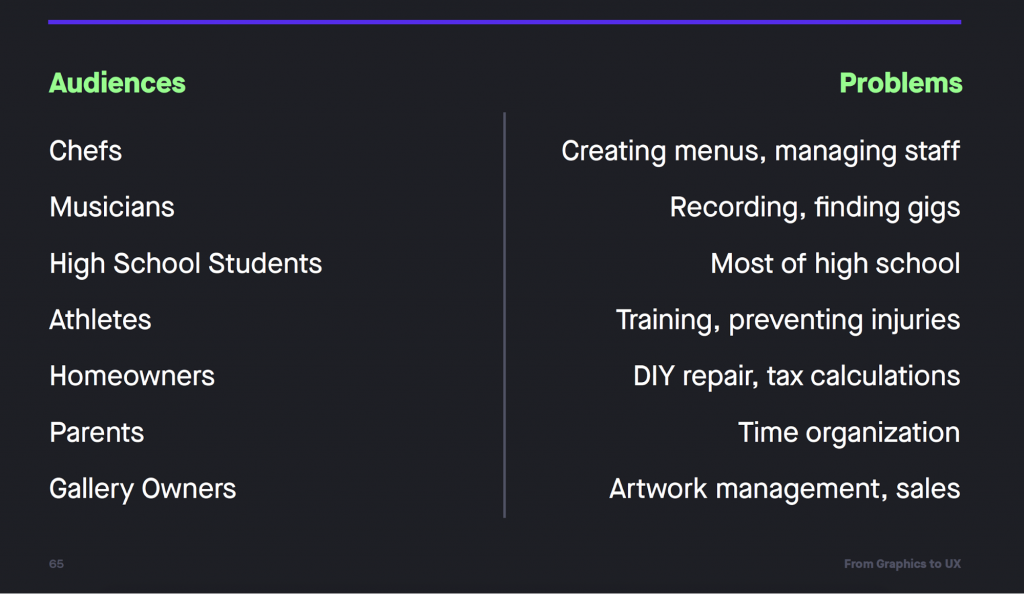 Now that UX has the attention it deserves within organizations, to be the next hire on a UX team is possible for the traditional graphic designer. Carr and Palmer affirmed that Human Resource teams are looking to hire graphic designers because they have the required foundational skills to be successful UX designers. The job of the designer is to reassure they know how to transfer those skills to successful user experience work. Carr concluded, "Transferring your graphic design skills to UX is totally possible. Start by focusing on case studies and existing UX designs. Look at other designers' works to become inspired."


---
1 https://www.amazon.com/Just-Enough-Research-Erika-Hall/dp/1937557103
2 Other great resources include Designing Web Interfaces: Principles and Patterns for Rich Interactions by Bill Scott and Theresa Neil, and the Google Design Library.