Get your tickets to 2016 Fellow Festschrift on December 13 here.
Please join the Boston design community in congratulating the legacies and ongoing contributions of our AIGA Boston 2016 Fellows — Doug Scott, designer and educator at Northeastern University, RISD, and Yale, and Fritz Klaetke, design director and founder of creative agency, Visual Dialogue.
The AIGA Boston Fellow Award recognizes seasoned designers and other major figures who have made a significant contribution to raising the standards of excellence in practice and conduct within the Boston design community and the AIGA Boston chapter.
Our 2016 Fellows are being honored in parallel for their shared qualities. Both honorees:
Are involved and engaged with the community and world in which they practice
Mentor, teach, and share their knowledge with others
Honor and are fully committed to the design profession at the very highest level
Have career-long commitments to AIGA at both the local and national levels
Love their craft as designers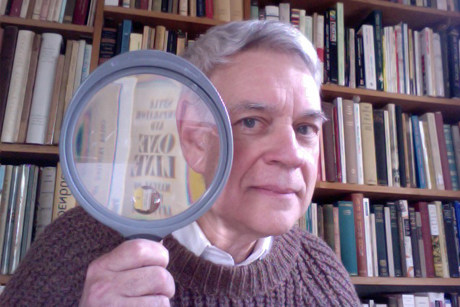 Doug Scott
Doug's devotion to the profession and its role in society is contagious to anyone who has had the pleasure to work or study with him. A significant presence in the Boston design scene since the mid 70s, his design and typography was highly influential on the ground breaking design team at WGBH. He is a kind and supportive mentor, a beloved educator and "a treasure trove of knowledge" that we are lucky to have in the AIGA community.
Biography:
Douglass G A Scott was, until January 2010, Creative Director at the WGBH Educational Foundation in Boston – a producer and broadcaster of public television and radio programs, where he had worked since 1974. His major projects at WGBH include: Masterpiece Theatre, This Old House, Nova, Evening at Symphony, The Victory Garden, Evening at Pops, The Caption Center, and WGBH Radio. He currently runs a design practice doing book and identity design, and is consulting Creative Director of Davis Publications, an art education publisher in Worcester, Massachusetts. Before coming to WGBH, Scott worked for Schmidtke & Layer Architects in Elgin, Illinois; was a principal of two architecture/graphic design firms in Lincoln, Nebraska – Art Coalition and Rainbow Studio; and has maintained a freelance practice since 1968. From 1971–1977, Scott was a draftsman/cartographer and Operations & Intelligence Sergeant in the United States Army Reserve.
He has designed books for many publishers, including Davis Publications; Little, Brown; Houghton Mifflin; Addison-Wesley; Beacon Press; Alfred A. Knopf; Prentice-Hall; and Harper & Row. Other clients include Suffolk University, Emmanuel College, John F. Kennedy Presidential Library, Society for the Preservation of New England Antiquities, Boston Design Museum, John Carter Brown Library at Brown University, Harvard University's School of Public Health and John F. Kennedy School of Government, Abt Associates, and Boston Musica Viva. He has designed exhibitions for the Boston Public Library, Museum of African American History, Mid-America Arts Alliance, Nebraska State Historical Society, Art Institute of Boston, the RISD Library, and the National Park Service.
Scott teaches graphic design, information design, typography, and graphic design history at Northeastern University (since 2010); graphic design, information design, design history, exhibit design, and typography at the Rhode Island School of Design (since 1980); and teaches graphic design and design history at the Yale University School of Art (since 1984). He has also taught at University of Massachusetts/Dartmouth, Rhode Island College, Connecticut College, Boston Architectural Center, Harvard University, Maine College of Art, and at both RISD and Maine Summer Institutes of Graphic Design Studies.
In 2011, he was the recipient of the John R. Frazier Award for Excellence in Teaching at Rhode Island School of Design.
Since 1978, Scott has given over 250 lectures on the history of design and printing, as well as his own work, at various colleges, universities and symposia. He was a curator of the history of American typography section of the 1989 exhibition Graphic Design In America, which opened at the Walker Art Center in Minneapolis and traveled to Phoenix, New York City, and London. Scott also curated The Roots of Modern American Graphic Design, a 1987 AIGA Boston exhibition at the Art Institute of Boston which included 400 works by 21 American designers from 1930s–50s.
Scott has been collecting and preserving historical examples of graphic design since the 1960s, and in 2001, he began displaying these pieces in monthly exhibits in the Design Center at Rhode Island School of Design; and at Northeastern University in Ryder Hall beginning in 2010. He has been a visiting critic at over 35 colleges and art schools. Since 1989, Scott has been actively constructing and exhibiting paper collages and assemblages
Scott's design work has won awards from the American Institute of Graphic Arts, Society of Typographic Arts, Boston Hatch Awards, New York Art Directors Club, Boston Art Directors Club, Broadcast Designers Association, and Bookbuilders of Boston. He first joined the American Institute of Graphic Arts in 1974, and served on its national board of directors from 1989–1992. He was member of the board of directors of Design Inquiry from 2005 to 2011.
Scott holds a Bachelor of Architecture degree from the University of Nebraska, a Master of Fine Arts from Yale University, and studied the history of graphic design with Louis Danziger at Harvard University.

Fritz Klaetke
Fritz has been a leader in the Boston design community since the early 90's. His quiet yet thoughtful and engaging personality has gained him respect from leading designers from around the world. He is a great collaborator who brings a unique perspective that drives his highly detailed and inspiring work. He has a sincere interest in mentoring young designers, always pushing hard and with purpose. We're happy to have his influence in our AIGA community.
Biography:
The offspring of an architect and a painter, Fritz Klaetke was genetically predestined to be a graphic designer. He grew up in Detroit and founded the firm in 1988 while still a student at the University of Michigan. Since that time, Fritz's work has received every major award in the industry and has also has been exhibited at the Detroit Institute of Arts, Corcoran Gallery in Washington, D.C., The Institute of Contemporary Art in Boston, and is included in the permanent collection at the Cooper-Hewitt, Natonal Design Museum in New York City. Fritz is a featured speaker both locally and nationally, and a critic and lecturer at schools including the Art Institute of Boston, College for Creative Studies in Detroit, Massachusetts College of Art, Northeastern University, and Yale University. Fritz has served as a juror for competitions sponsored by AIGA, Communication Arts, and the Advertising and Design Club of Canada.
Visual Dialogue has received honors from organizations including the Ad Club, American Institute of Graphic Arts (AIGA), Art Directors Club (ADC), Massachusetts Interactive Technology Exchange (MITX), and The Webby Awards. Our work has been featured in major publications such as Communication Arts, HOW, I.D., and Sports Illustrated, and is included in the permanent collection of the Cooper-Hewitt, National Design Museum. Design director In 2013, Fritz Klaetke won a Grammy Award for Best Boxed or Special Limited Edition Package for Smithsonian Folkways Recordings Woody at 100: The Woody Guthrie Centennial Collection.