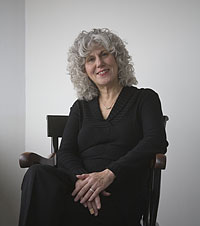 AIGA Boston is pleased to announce that Elizabeth Resnick has been named the 2007 AIGA Boston Fellow.
Elizabeth Resnick is an Associate Professor in the Communication Design Department at the Massachusetts College of Art, Boston. She holds both a BFA and MFA in Graphic Design from the Rhode Island School of Design, Providence.
Elizabeth is the principal in Elizabeth Resnick Design, specializing in publication design and design for artists and non-profit organizations. She served on the Board of Directors of the AIGA Boston chapter, organizing numerous graphic design lectures and events from 1989-2005, and on the AIGA National Design Education Steering Committee from 2003-2005.
She is a design curator and has organized four large design exhibitions with faculty partners: "Russell Mills: Within/Without" (1991) with Teresa Flavin; "Dutch Graphic Design: 1918-1945" (1994) with Alston W. Purvis; "Makoto Saito: Art of the Poster" (1999) with Jan Kubasiewicz, and "The Graphic Imperative: International Posters for Peace, Social Justice and The Environment 1965-2005" with Chaz Maviyane-Davies and Frank Baseman.
Her publications include "Design for Communication: Conceptual Graphic Design Basics" for John Wiley & Sons Publishers (2003) and "Graphic Design: A Problem-Solving Approach to Visual Communication", Prentice-Hall Publications (1984). Elizabeth also writes short critical commentaries and event reviews, and has published interviews with prominent designers and design educators in EYE (UK), AIGA Journal of Graphic Design (USA), Graphis (USA), Graphics International (UK), TipoGrafica (Argentina), and IDEA (Japan).
AIGA Boston bases the selection of the AIGA Fellow on a number of criteria, including involvement with the local AIGA chapter and dedication to the graphic design industry not only as a practitioner, but also as a leader and mentor to the community. Ms. Resnick certainly fills all of those criteria and more and she is in good company with past AIGA Boston Fellows, who include Michael McPherson, Nancy Skolos, Clif Stoltze, and Chris Pullman.
Ms. Resnick was recognized as AIGA Boston's 2007 Fellow at a celebration held at the Massachusetts College of Art in November.