Pivotal Labs has recently moved, please make sure your map shows 255 Main St. Cambridge. The entrance (glass doors) to the building is across Rebecca's Cafe and Au Bon Pain.
--------
SORRY, THIS WORKSHOP IS SOLD OUT.
Please join us at Pivotal Labs for a fun night of learning and networking. Make connections and take home some new knowledge. Food will be served!
It's in our nature to have biases. Our brains use them to make sense of our fast paced world. Having biases isn't the dangerous part; it's how they affect our decisions and behaviors without our knowledge. The good news, is that there are things we can do to limit their impact and make sure our thoughts and behaviors align with our actual values.
In this workshop, we'll explore different types of unconscious biases, examine what they look like, and discover where they might show up in your personal and professional lives.

WHAT YOU'LL LEARN:
Gain knowledge about different types of unconscious biases
Learn to detect biases and discuss ways to limit their impact
Fun night of learning and meeting other like-minded design professionals
WHO SHOULD ATTEND:
Designers
Strategists
Researchers
Design Managers
Anyone interested in behavioral science
FEES:
AIGA Member: $15
AIGA Student Member: $10
Non-Member: $25
Student Non-Member (ID Required): $20
SPEAKER: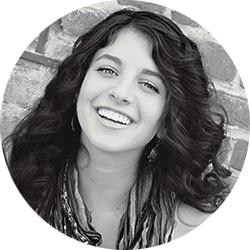 Katie Greenman is a recognized facilitator, speaker, strategist and scholar who bridges translational research, experiential program design, and improv comedy. She is an expert in transformational leadership, human development, and millennial engagement. Katie is the founding partner of HumanSide, a consultancy firm that delivers exceptional experiential programs to bring people together and accelerate leadership. She is a published author, most recently in Forbes, and has facilitated events on Capitol Hill, at the United Nations, in colleges across the U.S. and in teepees on mountains. Among the programs she leads are The Nexus Network's Invest in Yourself Program (building leadership skills among young communities of wealth and entrepreneurship), Dear World (an internationally acclaimed storytelling project), and City Awake (Boston's leading millennial engagement platform). Born and raised in the Florida Keys, Katie lives in Boston and is a Certified Coach, Comedy School Graduate, and earned her master's degree from Tufts University's Eliot-Pearson Department of Human Development where she focused on social and emotional intelligence. For her, it is all about embracing humanness, inspiring connection, and filling life with more humility, levity, and empathy.
EVENT PARTNER:

CANCELLATION POLICY:
Cancellation / Refund Policy
Your registration constitutes permission to use photos, audio, and video recording taken of you at the event for promotional and educational purposes in connection with AIGA Boston. AIGA Boston has adopted the AIGA Code of Conduct with
regard to its activities. We reserve the right to refuse admittance for violations of this Code, or other unlawful or disruptive actions. Any concerns should be addressed to the Director of Membership or Community Outreach.
Graphic by Cindy Tsai