Fees:
AIGA Member: $9
Non-Member: $13
Students: $5
Check-in:
You must present a government issued, photo ID to lobby security in order to be allowed access to the building.Please note that doors open at 6:30, and the discussion will begin at 7:00 p.m.
In collaboration with Boston Design Week
About the speakers: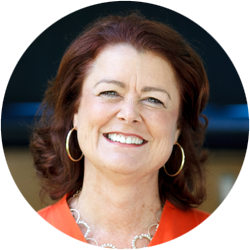 Jennifer Bennet, Executive Director, The Family Van at Harvard Medical School
Jennifer Bennet has served as the Executive Director of The Family Van at Harvard Medical School since 2005. The van has been a pioneer in the growing trend in public health practice, mobile health vans that successfully reach populations that typically do not or cannot access primary healthcare. Ms. Bennet also co-founded Mobile Health Map with Dean Nancy Oriol to raise awareness about the impact of the mobile health sector across the U.S. She also co-founded and led the Community Entrepreneurs Program at the Center for Women & Enterprise, an economic development organization dedicated to empowering women to become economically self-sufficient and prosperous through entrepreneurship.
Ms Bennet's diverse background also includes positions in operations, community relations, business development, management, and crisis intervention at both for profit and non-profit organizations. She has also dedicated her time to a variety of non-profit organizations in a board and advisory capacity including Beyond the 11th, Healthier Roxbury, The Mobile Health Clinics Association, The Hawthorne Youth and Community Center, The Economic Justice Project, and Giving New England.
She holds a certification in mediation from UMass Boston and a Bachelor of Arts in history from Williams-Smith College.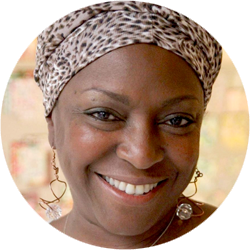 Ekua Holmes, Manager and Coordinator, sparc! the ArtMobile at MassArt
Ekua Holmes is the Assistant Director in the Center for Art and Community Partnerships at MassArt. She is also the manager and coordinator of the sparc! the ArtMobile, an art-inspiring, art-transforming vehicle retrofitted to create and contribute to community based, multidisciplinary arts programming currently focused in Mission Hill and Roxbury and Dorchester, MA. Ekua Holmes received her BFA in Photography from MassArt in 1977. She has created and led workshops, been a visiting artist and lecturer, and held artist residencies in public and private institutions throughout New England.
Ms. Holmes currently serves as Commissioner and Vice Chair of the Boston Art Commission, which oversees the placement and maintenance of public works of art on city of Boston properties. She is the recipient of many honors and awards, including a Brother Thomas Award from the Boston Foundation, an Avery Foundation Fellowship from the Vermont Studio Center, and an Entrepreneur Award from the Urban League of Eastern, MA among others. Most recently Holmes is the recipient of a Caldecott Award, a Coretta Scott King John Steptoe New Talent Award, and a Robert Sibert award for her illustrations in "Voice of Freedom: Fannie Lou Hamer, Spirit of the Civil Rights Movement.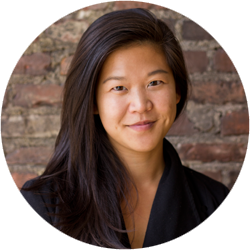 Mei Li, Co-owner, Mei Mei Group
Mei Li co-owns and operates the Boston-based food truck, restaurant, shipping container and sauce enterprise collectively known as the Mei Mei Group. Founded with her two siblings Irene and Andrew, their award-winning food businesses merge modern techniques and genre-bending creativity with sustainable practices and tech-savvy communications.
She brings entrepreneurial experience in bootstrap fashion startups, real-world adventure games, secret supper clubs and an MBA in Innovation, Entrepreneurship and Design to manage the business and marketing side of the Mei Mei Group.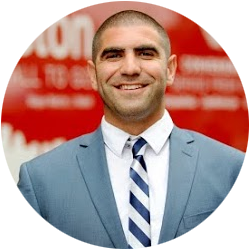 Ben Vainer, Director, City Hall to Go with the City of Boston
Ben Vainer is the Director of City Hall to Go with the City of Boston, part of Mayor Marty Walsh's Civic Engagement Cabinet. City Hall to Go creates and manages innovative ways of bringing civic engagement and City services directly to people in their own neighborhood. Ben is also the founder of Good Question Ink, an innovative lifestyle brand which uses questions and t-shirts as tools for creating and inspiring human connections. Before joining the City of Boston, Ben was the Program Director for The Hole in the Wall Gang Camp, a non profit serving children with chronic and life threatening illnesses. Ben lives in Boston, eats way to much Ben and Jerry's, and believes that there are still a lot of problems out there that need solving.
Moderator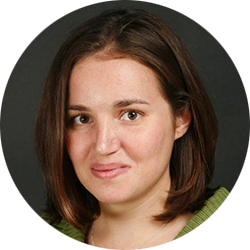 Elizabeth Kneen, Senior Mechanical Engineer, Continuum
Elizabeth is a MacGyver-style engineer focused on finding creative solutions for highly constrained challenges to improve peoples' lives. She works at the intersection of engineering, user research, and business strategy to design creative products and experiences that meet both stakeholder and manufacturing needs.
At Continuum Elizabeth has worked with clients such as Novartis, Daktari Diagnostics, Abbott, Daisy Brand, and Insulet. Her contributions have included the concept development, mechanical design, and prototyping for numerous medical devices, including a sensored body-worn medical device and fluidic actuation for portable microfluidic diagnostic devices. She has also designed packaging for food and beverage products found in millions of homes across the US. She is also one of the founding members of Continuum's Social Innovation research community.
Prior to Continuum, Elizabeth worked with a major German OEM to develop the technical product roadmap for their electric and hybrid automotive offerings. She has conducted user research in Ethiopia to develop next-generation treadle pumps for small scale farmers. Elizabeth is also a co-inventor of JustMilk, a discrete medical device that prevents mother-to-child transmission of HIV during breastfeeding. The organization she helped found to support its product development has received support and accolades from organizations such as the Gates and Clinton Foundations.
She earned a B.S. in Mechanical Engineering from Olin College of Engineering and a M.S. in Management + Technical Entrepreneurship from Babson College.