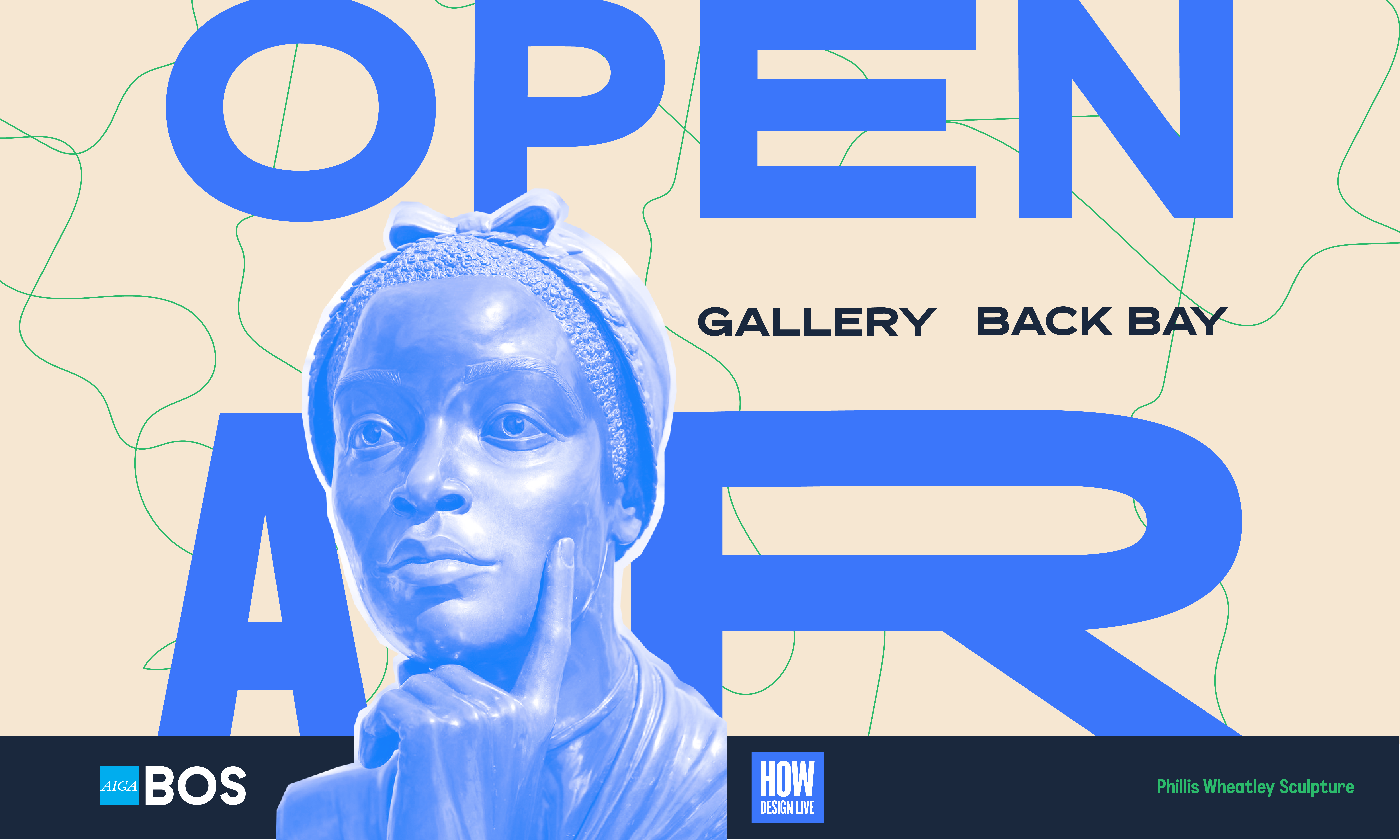 A Public Art Walk and Open-Air Museum Experience

Curated by AIGA Boston in partnership with HOW Design Live!
Recommended Museum Hours: 7:00 am – 7:00 pm
HOW Design Live Conference Map: https://tinyurl.com/c37c4de7
We recommend starting at Eataly to gather artisan inspiration and to grab a snack for the walk.
Expanded Map: https://tinyurl.com/2p9f265s
Much like the neighborhoods it resides in, public art transforms us as it brings new life and perspective to the everyday. Activated by Boston's Back Bay neighborhood, our third Open Air Gallery is a continued museum experience unlike any other. Open 24 hours a day, 7 days a week, this public art walk is transformed by the historic heart of Boston's and our country's history. Featuring bronze statues and national figures, the exhibited artworks create a dialogue that makes us question our environment as it is and encourages us to be catalysts for change. As you explore, we challenge you to not only view and appreciate the artworks from your own perspective, but to immerse yourself in the lense of each piece. 
In partnership with HOW Design Live, we have curated a custom tour that is open and accessible to conference goers and the Boston public alike. Engage with fellow creatives as you tour Gallery Back Bay and immerse yourself into what these works may teach you. For more information on HOW Design Live and our exclusive discounted rate for AIGA members, please click here.

To participate, download the Google Maps app and follow along with our curated map at https://tinyurl.com/c37c4de7 (recommended for HOW Design Live conference goers) or if you have time, with our extended curated map at https://tinyurl.com/2p9f265s. For specific directions to each location on the map, click your location of interest and select the directions icon (this symbol looks like a 'Y' with an arrow on the right arm). All viewpoints are accessible by public transportation, driving, and/or walking. 
We want to see your favorite piece! Take a photo and follow and tag @aigaboston and #MakeWayforBackBay on Instagram with your Open Air photos.
ARTISTS AND ORGANIZATIONS:
We want to see more of you! Take a picture with your public art work and tag @aigaboston, #MakeWayforBackBay, and the location. Check out these artists below for a sneak peak of our Open Air exhibition. 
@heidischork
@ronnie_diz
@merelymerry
@nancyschon
@arthurhalvorsen
@domenic_esposito_metal
LINKS AND RESOURCES:
For more information and resources on public art in the Back Bay area, please visit the links below.
www.boston.gov/parks/public-garden
www.friendsofthepublicgarden.org/
www.wbur.org

PARKING:
There are numerous metered street parking spots and parking garages located in the Back Bay area. For the closest parking to this location or for parking directly in the Back Bay area we recommend either the Prudential Center Garage or the parking garage located at ​​118 Huntington Ave. For more information on parking in the area, please visit en.parkopedia.com. 
PUBLIC TRANSPORTATION:
Boston's MBTA provides regular service to the Back Bay area. We recommend starting the walk at Eataly to gather artisan inspiration and to grab a snack first. The closest T stops for this location are Hynes Convention Center or the Copley T stop. For more information regarding specific routes, lines, and locations please visit www.mbta.com.
ADDITIONAL NOTES:
Like the city it resides in, this artwork is alive and in a state of constant transition. AIGA Boston aims to provide a map for audiences to engage in the artworks as they exist within the city. The messages of the artworks in both their purest or altered states do not reflect the views of AIGA Boston or its affiliate organizations.

Please remember to maintain state and federal public health guidelines as you participate on this walk. For more information and updated health guidelines please visit https://www.mass.gov/. 
For more information, questions, concerns, or suggestions on how to improve the experience, please contact Brittany Latham at brittany@boston.aiga.org.