As part of our Mental Health Series, please join us and Jayati Doshi, co-founder of Sensemaking Lab, for a virtual workshop on care-mapping.
There is so much being said about care, but the reality is that our relationship to care is muddled. Not receiving enough care, giving too much care, not doing enough for everything we care about… there are big and small ways that the idea of care causes anxiety, exhaustion, and guilt. This workshop intends to take you on a journey of redesigning your relationship to care as something not only collective, inclusive, and nourishing but also enabling and empowering. We will begin by "mapping" care in our lives (literally!) through a playful exercise that involves metaphors and imagination, and then use that map to have a conversation about how we can "design" for better and more expansive care - not just for ourselves but within our worlds

FEES:
This workshop is free and open to the public on Zoom.
Space is limited. Register now.
SPEAKER: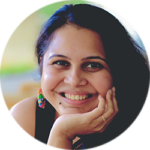 Jayati Doshi is a facilitator, story-curator, and learning designer helping organizations and groups move beyond "aha"s to transformation. She builds collective sense-making and co-imagines spaces and tools using narrative, dialogue, learning design, adult development framework, art, and play. She also wonders about ways to redesign love, care, connection, vulnerability, and other "touchy-feely things"! She is the co-founder of Sensemaking Lab and has a Master's from Harvard Graduate School of Education. You can learn more about her work at jayatidoshi.com.
Graphic by Grace Abe
---
Join AIGA and get discounted tickets for our events and other benefits.
VENUE ACCESSIBILITY
AIGA Boston is committed to hosting events that are accessible for all. If you need special assistance to participate in this event, please contact Jess Charlap, Director of Diversity & Inclusion, at jess@boston.aiga.org. For reasonable assistance accommodations to be provided, please notify us at least five business days in advance of the event. If we do not receive timely notification of your reasonable request, we may not be able to make the necessary arrangements by the time of the event.
CANCELLATION / REFUND POLICY
Your registration constitutes permission to use photos, audio, and video recording taken of you at the event for promotional and educational purposes in connection with AIGA Boston.
CODE OF CONDUCT
AIGA Boston has adopted the AIGA Code of Conduct with regard to its activities. We reserve the right to refuse admittance for violations of this Code, or other unlawful or disruptive actions. Any concerns should be addressed to the Director of Membership or Community Outreach.