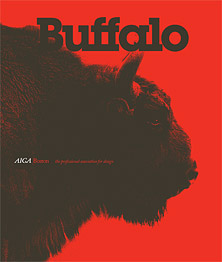 Buffalo: The "green" issue that demands to be read
The 2008 issue of AIGA Boston's The Journal – the theme of which is waste reduction and sustainability – poses some important questions. Among them:
What's with the buffalo?
Why, if the content is about going green, is every page red?
How can designers reduce their impact on the environment?
Really, only the last question is important, and most important is the fact that not only does The Journal pose this question, it also begins to answer it. For example, the article titled, "Designer's Guide to Green," opens with a list of 11 things to consider "before you design, specify or buy anything," then provides tips on how to use less energy and materials in terms of your computer, paper, printing, ink, and more.
In addition, interviews with designers, a printer, and an artist on issues of sustainability, reuse, and cause-oriented design provide important insights that will enlighten and inspire you to examine your own practice and behavior.
Contents
| | |
| --- | --- |
| 3 | Letter from the Editors |
| 6 | AIGA Achieves Carbon Neutrality |
| 7 | Cause-Oriented Design: An Interview with Elizabeth Resnick |
| 10 | Designer's Guide to Green |
| 14 | Doing Well By Doing Good |
| 16 | Buffalo Landscape |
| 22 | Designer Guilt |
| 28 | Peter Harris On The Bottle |
| 36 | Kalle Lasn Interview |
| 44 | Cradle To Cradle Book Review |