Experience matters. People decide within seconds whether your app or website is useful and engaging. Crafting a great user experience requires more than just visual design. Adobe XD is an app for doing it all – wireframing, visual design, interaction design, prototyping, previewing and sharing. In this session, we will show you how to design and prototype a complete experience using the new Adobe XD. Learn tips and tricks to immediately be more productive creating a great user experience.
Food will be provided from Flour Bakery + Cafe.
WHAT YOU'LL LEARN:
• Crafting a design with Adobe XD
• Re-using assets from Photoshop and Illustrator
• Creating an interactive prototype from your design
• Seeing your design in action with Live Preview
• Sharing the prototype with others to get feedback
WHO SHOULD ATTEND:
Students and professionals interested in or working in digital design, web and mobile app design
FEES:
AIGA Member: $15
AIGA Student Member: $10
Non-Member: $25
Student Non-Member (ID Required): $15
SPEAKER: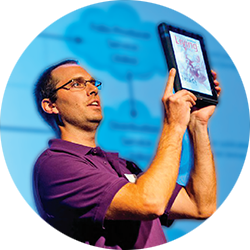 Brian Wood is a web developer, the author of 10 books covering Muse, Dreamweaver, InDesign, Illustrator, and more. In addition to training many clients, including Nordstrom, REI, Boeing, Starbucks, Nintendo, and many others, Brian speaks regularly at conferences, such as Adobe MAX and HOW Design, as well as events hosted by AIGA and other industry organizations. Brian has a YouTube channel and a corporate training site at brianwoodtraining.com.
DIRECTIONS & PARKING INFO:
Lesley University is a short walk from the Porter Square stop on the MBTA Red Line.
Paid parking is available at the University Hall lot, 1815 Massachusetts Ave, Cambridge. Metered spaces are also available along Massachusetts Avenue.
EVENT PARTNER:
ABOUT THE INITIATIVE:
Take it From Me is an event series organized by AIGA Boston giving students and emerging professionals the opportunity to interact with established professionals in the design field. This initiative will encourage engagement and discussion through a range of events—including workshops, panel discussions, roundtables, lectures, networking events, studio tours, online activities, etc.—that address different aspects of the design discipline. These events will provide newer designers the opportunity to ask questions, seek advice, and participate in career development focused activities, while giving established designers the opportunity to support the emerging design community. The Take it From Me series will create a structure that is self-perpetuating, providing tools and support for younger designers to develop rewarding careers and become tomorrow's leaders.
CANCELLATION POLICY:
Cancellation / Refund Policy
Your registration constitutes permission to use photos, audio, and video recording taken of you at the event for
promotional and educational purposes in connection with AIGA Boston. AIGA Boston has adopted the AIGA Code of Conduct with
regard to its activities. We reserve the right to refuse admittance for violations of this Code, or other unlawful or
disruptive actions. Any concerns should be addressed to the Director of Membership or Community Outreach.
Graphic by Laura Grey